Charles Foweraker was born in 1887. He worked for the Lancashire and Yorkshire Railway Company. Foweraker was also employed part-time by Bolton Wanderers as a gateman. He was eventually recruited to become assistant manager of the club.
Tom Mather was called up to join the Royal Navy during the First World War. Foweraker was asked to replace Mather as manager. He was paid £400 a year.
After the war, Foweraker, built a team that included Joe Smith, Billy Jennings, Jimmy Seddon, John Reid Smith, David Jack, Billy Butler, Walter Rowley, Ted Vizard, Harry Nuttall, Dick Pym, Alex Finney and Bob Haworth.
Bolton Wanderers beat West Ham United 2-0 to win the 1923 FA Cup Final. The goals were scored by David Jack and Joe Smith.
Bolton finished in 4th place in the 1923-24 season. The following season Bolton moved up to 3rd in the First Division. Bolton Wanderers had another good cup run in the 1925-26 season. The club beat Bournemouth (6-2), South Shields (2-0), Nottingham Forest (1-0) and Swansea City (3-0) to reach the final against Manchester City. Bolton won the game 1-0 with David Jack scoring the only goal of the game in the 76th minute.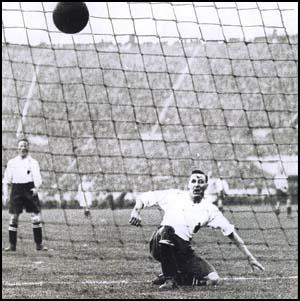 Joe Smith was now 38 years old and in March 1927 he was sold to Stockport County. Smith had the great record of scoring 277 goals in 492 games. The following month, Foweraker paid £2,150 for Harold Blackmore. He joined a team that included David Jack, Jimmy Seddon, John Reid Smith, Billy Butler, Ted Vizard, Dick Pym and Alex Finney.
In October, 1928, Herbert Chapman, the manager of Arsenal, decided to pay a transfer fee of over £10,890 for David Jack. He was Bolton's top scorer for five of the eight seasons he was there, scoring 144 goals in 295 league matches. Sir Charles Clegg, president of the Football Association, immediately issued a statement claiming that no player in the world was worth that amount of money. Others thought that at 29 years old, Jack was past his best. However, over the next few years Jack did everything he could to show that he was worth the money. Chapman later told Bob Wall that the buying of Jack was "one of the best bargains I ever made".
Bolton missed the goals scored by Joe Smith, David Jack and John Reid Smith and only finished in 14th place in the 1928-29 season. However, they had another good FA Cup run. They beat Liverpool (5-2), Leicester City (2-1), Blackburn Rovers (2-1) and Huddersfield Town (3-1) to reach the final against Portsmouth. Bolton won 2-0 with goals from Billy Butler and Harold Blackmore. Under the leadership of Foweraker, Bolton had won the FA Cup three times in seven years.
Bolton was less impressive in the next decade and finished 14th (1930-31), 17th (1931-32) and 21st (1932-33). After spending two seasons in the Second Division, Bolton was promoted in the 1934-35 season. Once again they struggled in the First Division finishing 13th (1935-36) and 20th (1936-37). During this period the stars of the team included Harry Goslin, Jackie Roberts, Don Howe, Ray Westwood and George Eastham.
In July 1938 Foweraker was awarded the Football League's Long Service Medal in recognition of more than 21 years' service to Bolton Wanderers.
In August 1944 Foweraker was forced to retire through ill-health. He had worked for the club for 49 years.
Charles Foweraker died in Bolton in July 1950.