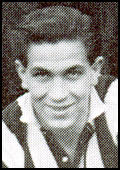 George Robledo was born in Chile on 14th April 1926. His mother was from Yorkshire and in 1932 the family moved to Brampton. After leaving school he worked at a local coalmine. He played junior football before joining Barnsley in April 1943. An inside-forward, Robledo scored 45 goals in 105 games for the club.
In January 1949, Robledo was transferred to Newcastle United for a fee of £23,000. He made his debut against Charlton Athletic on 5th February 1949. The team that year included Bobby Cowell, Joe Harvey, Frank Brennan, Jack Fairbrother, Bobby Corbett, Charlie Crowe, Tommy Walker, Ernie Taylor, Jackie Milburn and Bobby Mitchell. That season Robledo scored 6 goals in 15 games.
Newcastle United finished 4th in the 1950-51 season. Once again Jackie Milburn was top scorer with 17 goals in 31 league games. George Robledo was also in great form with 14 goals in 38 appearances. Newcastle also enjoyed a good FA Cup run beating Bolton Wanderers (3-2), Stoke City (4-2), Bristol Rovers (3-1) and Wolverhampton Wanderers (2-1) to reach the final against Blackpool. The defences were in control in the first-half. The deadlock was broken in the 50th minute when Milburn collected a pass from Robledo to fire home. Five minutes later, Ernie Taylor cleverly back-heeled the ball and Milburn scored with a powerful shot. As Milburn later recalled: "I struck it with all my might and from 28 yards it flew straight as an arrow into the back of the net." The game ended 2-0 and Newcastle had won the cup.
Paul Joannou points out in The Black 'n' White Alphabet: "Robledo was the grafter, always chasing for the ball, tackling, and lethal whenever an opening came his way." Bobby Mitchell later commented: "He (Robledo) used to blast them in from all directions - and they went like a bullet."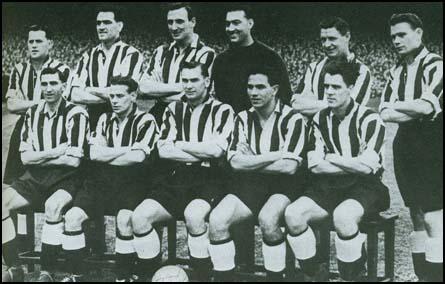 Newcastle United finished in 8th place in the 1951-52 season. This was their lowest position since promotion in 1948. That year Newcastle scored 98 goals and had the most feared attack in the First Division. Robledo was top scorer with 33 goals in 39 league games. Other scorers included Jackie Milburn (25 in 32) and Bobby Mitchell (9 in 30).
Newcastle also had another good FA Cup run in the 1951-52 season, beating Aston Villa (4-2), Tottenham Hotspur (3-0), Swansea City (1-0), Portsmouth (4-2), Blackburn Rovers (2-1) to reach the final against Arsenal. The London club had finished 3rd in the First Division championship and were the post-match favourites.
In the 19th minute Wally Barnes was injured in a tackle with Jackie Milburn. He tried to carry on but he was forced to leave the field in the 35 minute. Arsenal's ten men fought magnificently against the marauding Newcastle forwards. They held out until the 85th minute when George Robledo headed in a Milburn cross. Newcastle had become the first team to retain the FA Cup since Blackburn Rovers in 1891.
In May 1953 Robledo was sold to Colo-Colo in Chile. Robledo scored 82 goals 146 league games for Newcastle United. Robledo ended as top scorer in the Chilean league in 1953 and 1954. He retired in 1961 and as well as being director of his former football club he was employed by a mining company. Later he was head of sport at St Peters School in Viña del Mar.
George Robledo died in Chile on 1st April 1989.