Robert (Bobby) Mitchell was born in Glasgow on 16th August 1924. He joined Third Lanark in June 1942 but his football career was interrupted by the Second World War. He was a telegraphist in the Royal Navy during the conflict and served in the Mediterranean and the Pacific during the conflict.
In February 1949, George Martin, the Newcastle United manager paid £17,000, a record fee for a winger, for Mitchell. He joined a team that included Bobby Cowell, Joe Harvey, Frank Brennan, Jack Fairbrother, Bobby Corbett, Len Shackleton, Charlie Wayman, Charlie Crowe, Tommy Walker, Ernie Taylor, Jackie Milburn and George Robledo. That season the club finished in 4th place in the First Division.
Mitchell was an immediate success. As Paul Joannou points out in The Black 'n' White Alphabet: "Tall and willowy, he was famed for his immaculate ball control and wing wizardry and scored many an important goal for Newcastle... Able to raise his game for the important fixture, he thrilled the crowd with magic footwork and ball skills."
Newcastle United continued to do well in the First Division finishing 5th in the 1949-50 season. Jackie Milburn was top scorer with 18 goals in 30 league games. Mitchell, who made a large number of Milburn's goals, scored 8 in 38 league games. The club finished 4th in the 1950-51 season. The club also enjoyed a good FA Cup run beating Bolton Wanderers (3-2), Stoke City (4-2), Bristol Rovers (3-1) and Wolverhampton Wanderers (2-1) to reach the final against Blackpool.
The defences were in control in the first-half. The deadlock was broken in the 50th minute when Jackie Milburn collected a pass from George Robledo to fire home. Five minutes later, Ernie Taylor cleverly back-heeled the ball and Milburn scored with a powerful shot from 25 yards. Mitchell had won his first FA Cup winners' medal.
On the 12th May 1951 Mitchell won his first international cap for Scotland against Denmark. Mitchell scored one of the goals in the 3-1 victory. Four days later, Mitchell played in the 1-0 victory over France.
Newcastle United had another good FA Cup run in the 1951-52 season, beating Aston Villa (4-2), Tottenham Hotspur (3-0), Swansea City (1-0), Portsmouth (4-2), Blackburn Rovers (2-1) to reach the final against Arsenal. As the holders, Newcastle were aiming to become the first team to retain the FA Cup since Blackburn in 1891. Arsenal had finished 3rd in the First Division championship whereas Newcastle managed only 8th place, their lowest position since promotion in 1948.
In the 19th minute Wally Barnes was injured in a tackle with Jackie Milburn. He tried to carry on but he was forced to leave the field in the 35 minute. Arsenal's ten men fought magnificently against the marauding Newcastle forwards. They held out until the 85th minute when George Robledo headed in a Milburn cross. Mitchell had won his second FA Cup winners' medal.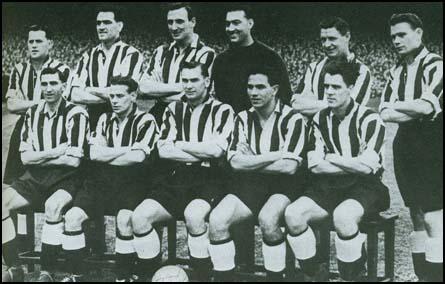 Newcastle United struggled in the First Division in the 1952-53 season and finished in 16th place. Mitchell scored 10 goals in 35 games. The following season Newcastle secured a top ten position. Stan Seymour was developing a good team that included Mitchell, Jimmy Scouler, Bobby Cowell, Frank Brennan, Alf McMichael, Tommy Walker, Bob Stokoe, Ronnie Simpson, Jackie Milburn, George Hannah, Vic Keeble and Len White.
Mitchell was in great form in the 1954-55 season finishing top scorer with 19 goals in 40 league games. That season the club finished in 8th place in the First Division.
Newcastle also had a good FA Cup run in the 1954-55 season, beating Plymouth Argyle (1-0), Brentford (3-2), Nottingham Forest (2-1), Huddersfield Town (2-0), York City (2-0) to reach the final against Manchester City. Jackie Milburn later recalled how the game started: "I won a corner on the right and Len White ran over to take it. Manchester City's captain, Roy Paul, was standing next to me as Len placed the ball, but he suddenly yelled, 'Bloody hell, I should be marking Keeble,' so off he darted to find big Vic, who was more widely noted for his prowess in the air. Len fired the ball in my direction and there was I standing all alone like Grey's Monument. I headed the ball past their keeper, Bert Trautmann and that was it."
The situation got worse for City when Jimmy Meadows suffered a serious knee injury in the 18th minute. Just as in 1952 Newcastle had just ten men to beat. Despite this disadvantage City equalized when Bobby Johnstone beat Ronnie Simpson with a diving header after good work from Joe Hayes. In the second-half Newcastle United made their numerical advantage count. In the 53rd minute Bobby Mitchell made a run down the wing before scoring from an acute angle. Soon afterwards George Hannah scored from a pass from Mitchell. Mitchell and Newcastle had won the FA Cup for the third time in five years.
Mitchell remained a regular in the Newcastle United team for the next three seasons. However, in the 1958-59 season he played in only 16 games. It was the same story for the next two seasons and in 1961 he was granted a free transfer. Mitchell had scored 95 goals in 367 league games. A total of 40,993 fans turned up for his testimonial fixture that year.
Mitchell became player-manager of Gateshead between May 1963 and February 1966. After his retirement he ran two pubs The Cradlewell in Jesmond and The Lochside in Heaton.
Bobby Mitchell died in Newcastle upon Tyne on 8th April 1993.