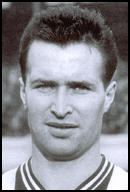 Leonard (Len) White was born in Skellow on 23rd March 1930. He worked as a plate layer at Bullcroft Colliery. He played football for Upton Colliery before joining Rotherham United in May 1948. Playing on the right-wing he scored 15 goals in 43 games during the next two seasons.
In February 1953, Newcastle United paid £12,500 for White. The initial idea was to replace Tommy Walker who appeared to be coming to the end of his career. He made his debut against Liverpool later that month. That season he scored two goals in 12 appearances.
The following season he became a regular member of a team that included Bobby Cowell, Frank Brennan, Charlie Crowe, Alf McMichael, George Hannah, Jackie Milburn, Vic Keeble, Jimmy Scoular, Ronnie Simpson, Bob Stokoe and Bobby Mitchell. That season Newcastlefinished in 8th place of the First Division with White scoring 14 goals in 29 games.
Newcastle United had another good FA Cup run in the 1954-55 season, beating Plymouth Argyle (1-0), Brentford (3-2), Nottingham Forest (2-1), Huddersfield Town (2-0), York City (2-0) to reach the final against Manchester City.
Newcastle's star player, Jackie Milburn, later recalled how the game started: "I won a corner on the right and Len White ran over to take it. Manchester City's captain, Roy Paul, was standing next to me as Len placed the ball, but he suddenly yelled, 'Bloody hell, I should be marking Keeble,' so off he darted to find big Vic, who was more widely noted for his prowess in the air. Len fired the ball in my direction and there was I standing all alone like Grey's Monument. I headed the ball past their keeper, Bert Trautmann and that was it."
The situation got worse for City when Jimmy Meadows suffered a serious knee injury in the 18th minute. Just as in 1952 Newcastle had just ten men to beat. Despite this disadvantage City equalized when Bobby Johnstone beat Ronnie Simpson with a diving header after good work from Joe Hayes.
In the second-half Newcastle United made their numerical advantage count. According to Jackie Milburn, the Newcastle captain, Jimmy Scoular, was the best player on the pitch: "Scoular kept spraying great crossfield balls to Bobby Mitchell and between them they tore City apart." Charlie Buchan later commented: "I have never previously seen a wing-half display as good as that of Scoular's in any big game."
In the 53rd minute Bobby Mitchell made a run down the wing before scoring from an acute angle. Soon afterwards George Hannah scored from a pass from Mitchell. Newcastle United had won the FA Cup for the third time in five years and Len White had won his first FA Cup winners' medal.
White only played in 21 games in the 1955-56 season. However, injuries to Vic Keeble and Jackie Milburn meant that he was switched to play centre-forward the following year. By the 1957-58 season White was the club's regular wearer of the number 9 shirt. In the 1958-59 season he was top scorer with 25 goals in 30 league games. He added 28 goals more in 40 league games in the 1959-60 season.
As Paul Joannou points out in The Black 'n' White Alphabet: "He had terrific strength on the ball, weaving in and out of challenges at speed and was able to finish with a power-packed shot. White loved to attack defences on his own and he set the Gallowgate crowd roaring with many a spectacular goal."
White was in great form in the 1960-61 season and had scored 28 goals in 33 games before being seriously injured in a game against Tottenham Hotspur on 22nd March 1961. He was out of action for over six months and by the time he was available for selection, the club had been relegated to the Second Division.
White never fully recovered from his injury and February 1962 he was sold to Huddersfield Town. He had scored 153 league and cup goals in 266 appearances for Newcastle United. At the time, only Jackie Milburn scored more goals than White for the club. After spending three seasons with Huddersfield (37 goals in 102 games) he moved to Stockport County in January 1965. He retired from professional football in 1965.
Len White died in Huddersfield in June 1994.