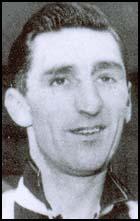 Thomas (Tommy) Walker was born in Cramlington near Newcastle upon Tyne on 14th November 1923. He joined Newcastle United in October 1941. Initially, a centre-half, he developed into a fast, attacking winger.
Walker played 29 games for the club during the Second World War but he did not make his Football League debut until the match against Coventry City on 11th October 1946. He played in 9 games that season. The team that year included Joe Harvey, Len Shackleton, Bobby Cowell, Jackie Milburn, Ernie Taylor, Frank Brennan and Charlie Wayman.
In the 1947-48 season Newcastle United won promotion to the First Division. Walker only scored 3 goals in 8 games that year. The following season Walker played in 22 of the 42 league games. It was not until the 1949-50 season that Walker became a regular member of a forward line that included Jackie Milburn, Bobby Mitchell, Ernie Taylor and George Robledo. That season Walker scored 14 goals in 40 cup and league games.
Walker was ever-present in the 1950-51 season. Newcastle United finished 4th in the First Division. Once again Jackie Milburn was top scorer with 17 goals in 31 league games. The club also enjoyed a good FA Cup run beating Bolton Wanderers (3-2), Stoke City (4-2), Bristol Rovers (3-1) and Wolverhampton Wanderers (2-1) to reach the final against Blackpool.
The defences were in control in the first-half. The deadlock was broken in the 50th minute when Jackie Milburn collected a pass from George Robledo to fire home. Five minutes later, Ernie Taylor cleverly back-heeled the ball and Milburn scored with a powerful shot from 25 yards. Walker had won his first FA Cup winners' medal.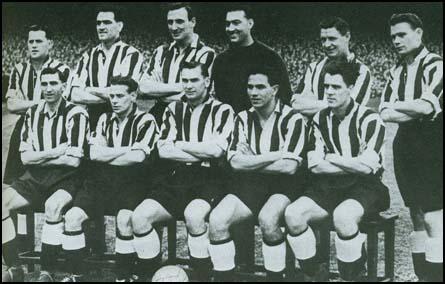 Paul Joannou points out in The Black 'n' White Alphabet: "Fast and direct, he (Walker) tended to pick the ball up deep and storm down the touchline and proved a very effective forward, especially when in direct contrast to the tricky ball-play of Bobby Mitchell on the opposite wing."
Newcastle United had another good FA Cup run in the 1951-52 season, beating Aston Villa (4-2), Tottenham Hotspur (3-0), Swansea City (1-0), Portsmouth (4-2), Blackburn Rovers (2-1) to reach the final against Arsenal. The London club had finished 3rd in the First Division championship whereas Newcastle managed only 8th place, their lowest position since promotion in 1948.
In the 19th minute Wally Barnes was injured in a tackle with Jackie Milburn. He tried to carry on but he was forced to leave the field in the 35 minute. Arsenal's ten men fought magnificently against the marauding Newcastle forwards. They held out until the 85th minute when George Robledo headed in a Milburn cross. Newcastle had become the first team to retain the FA Cup since Blackburn Rovers in 1891 and Walker had won his second cup winners' medal.
Walker lost his place in the first-team in the 1952-53 season and in February 1954 he was transferred to Oldham Athletic for a fee of £1,250. He had scored 38 goals in 204 league and cup games for Newcastle United.
After playing 120 games for Oldham he moved to Chesterfield in 1956. The following season he moved back to Oldham and played another 38 games before retiring from football. Walker moved to Middleton where he ran a newsagents.
Tommy Walker died in 2000.