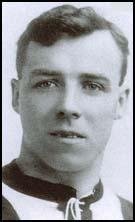 George Stanley (Stan) Seymour was born in Kelloe on 16th May 1893. An outside left he had a trial for Newcastle United in 1909 but was rejected and played non-league football for Shilton Athletic and Coxhoe.
In 1911 Seymour signed for Bradford City but only managed one first-team game before moving to Scotland to play for Greenock Morton.
Seymour was transferred to Newcastle United for a fee of £2,500 in 1920. He established himself as the first-team's outside left and in his first season scored 9 goals in 30 games. The club finished in 5th place in the First Division.
Newcastle reached the FA Cup Final in 1924 after beating Portsmouth (4-2), Derby County (5-3), Watford (1-0), Liverpool (1-0) and Manchester City (2-0). Seymour had scored four goals in the cup run. He also scored one of the goals in Newcastle's 2-0 victory over Aston Villa.
However, it was not until the signing of Hughie Gallacher for £6,500 in 1925, that Newcastle United began to challenge for the championship. Gallacher made an immediate impact and during his first season scored 23 goals in 19 games. The following season Newcastle won the First Division league title. Gallacher, who had been made captain of the side, scored 36 goals in 38 league games.
Stan Seymour left Newcastle United in 1929 over a dispute with the club over benefit payments. He had scored 73 goals in 242 games for the club. He opened a sports shop in Newcastle upon Tyne and also worked as a journalist in the city.
In 1938 Seymour joined the board of Newcastle United. The following year he became the manager of the club. In 1943, Newcastle gave a trial to the 19 year old Jackie Milburn. In a game at St James Park Milburn scored six goals after coming on for the regular Newcastle centre-forward, Albert Stubbins. After the game Seymour told Milburn that if he signed for the club he would go straight into the first team.
At the beginning of the 1946-47 season Seymour sold Albert Stubbins to Liverpool. In October 1946 he signed Len Shackleton for a record fee of £13,000. He joined a forward line that included Tommy Walker, Jackie Milburn, Ernie Taylor and Charlie Wayman. Shackleton made his debut for his new club against Newport County on 5th October. He scored six goals in the record 13-0 win.
It was hoped that Newcastle United would get promotion to the First Division. However, they only finished in 5th place. The average home gate was 56,350, the largest in the world. Newcastle did much better in the FA Cup and reached the semi-final where they were beaten by Charlton Athletic 4-0.
In March 1947 George Martin became the new manager. He decided to switch Jackie Milburn to centre-forward in a game against Bury. The move was a great success and Milburn scored a hat-trick. He continued in this position for the rest of the season.
Stan Seymour returned as manager in December 1950. Newcastle United finished 4th in the 1950-51 season. Once again Jackie Milburn was top scorer with 17 goals in 31 league games. The club also enjoyed a good FA Cup run beating Bolton Wanderers (3-2), Stoke City (4-2), Bristol Rovers (3-1) and Wolverhampton Wanderers (2-1) to reach the final against Blackpool.
The defences were in control in the first-half. The deadlock was broken in the 50th minute when Milburn collected a pass from George Robledo to fire home. Five minutes later, Ernie Taylor cleverly back-heeled the ball and Milburn scored with a powerful shot from 25 yards. Milburn had won his first FA Cup winners' medal.
Newcastle United had another good FA Cup run in the 1951-52 season, beating Aston Villa (4-2), Tottenham Hotspur (3-0), Swansea City (1-0), Portsmouth (4-2), Blackburn Rovers (2-1) to reach the final against Arsenal. As the holders, Newcastle were aiming to become the first team to retain the FA Cup since Blackburn in 1891. Arsenal had finished 3rd in the First Division championship whereas Newcastle managed only 8th place, their lowest position since promotion in 1948.
In the 19th minute Wally Barnes was injured in a tackle with Jackie Milburn. He tried to carry on but he was forced to leave the field in the 35 minute. Arsenal's ten men fought magnificently against the marauding Newcastle forwards. They held out until the 85th minute when George Robledo headed in a Milburn cross. Milburn had won his second FA Cup winners' medal.
Newcastle United struggled in the First Division the following season and finished in 16th place. Jackie Milburn had a niggling knee problem and only played in 16 games. He eventually had his cartilage removed but even when back to full fitness he only managed to score 16 goals in 39 games in the 1954-55 season. That year Newcastle secured a top ten position. Stan Seymour was developing a good team that included Milburn, Jimmy Scouler, Bobby Cowell, Frank Brennan, Alf McMichael, Tommy Walker, Bob Stokoe, Ronnie Simpson, Bobby Mitchell, George Hannah, Vic Keeble and Len White.
In December 1954 Seymour resigned as manager and became chairman of the club. A position he held until 1956. He was appointed president of the club in April 1976. A post he held until his death in Newcastle upon Tyne on 24th December 1978.
The big boss was Stan Seymour, who was always reminding us about how he'd won the Cup in 1924 and, as all footballers will tell you, there's nothing more galling than the gaffer going on about success in his day. But he was crafty, was Stan, and he knew what would egg us on. It certainly worked!

Stan knew soccer inside out and had a knack for collecting talent. What's more, he handled the players marvellously. We might have been paupers in comparison with today's stars but we were treated like kings. Everything was first-class with Newcastle United, and everyone knew it. We had our own special carriage attached to the back of the train when we travelled away and our own chef to prepare our food. Special training at either Blackpool, Brighton or Buxton was a feature of our Cup years because Seymour believed the best way to know each other was to live together. Besides, we were paid an extra £2 a day spending money and we looked forward to that.

We were all men to Stan, not little boys. Joe Harvey believed that a couple of pints of Guinness On a Saturday morning were good for him so he was allowed to have them.. Often on a Friday night Stan would stride up to the hotel bar and buy Ernie Taylor a pint, with little Ernie hardly able to see over the top of the counter. It was all above board and in moderation which is better than having players sneak round the corner for a bevvy. No fewer than nine of our team smoked and on three occasions at Wembley in a Cup final I've sat at half-time having a fag. Doing what comes naturally relaxed us and brought out the best results.