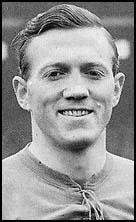 Albert Stubbins was born in Wallsend on 13th July 1919. His family moved to the United States in 1923 and he spent most of his childhood in New York City and Detroit. He returned to the North-East and he joined Newcastle United in April 1937.
A centre-forward, Stubbins made his debut against Luton Town on 7th May 1938. As Paul Joannou points out in The Black 'n' White Alphabet: "Tall and forceful, he would run at defenders, and scare them to death with his ability, possessing frightening pace and a mighty shot from his size 11 boots." In the 1938 season he scored 4 goals in 23 appearances.
His football career was interrupted by the Second World War. Instead of joining the armed forces Stubbins remained in the area on essential work in local shipyards as a draughtsman. During the conflict he scored 231 goals in 188 appearances for Newcastle United. This included 23 hat-tricks.
At the beginning of the 1946-47 season George Kay, the manager of Liverpool, managed to persuade Stan Seymour to sell Stubbins for a club record fee of £12,500. He joined a team that included Bob Paisley, Billy Liddell and Jack Balmer. Stubbins scored on his debut against Bolton Wanderers.
Liverpool won the First Division championship in the 1946-47 season. Bob Paisley claimed that Kay "took Liverpool through the War to come out a bit like West Ham did after the First War ...He was one of the people who laid the ground for the way Liverpool teams would play in the future ...keeping the ball on the ground and passing it well ...but being strong on the ball as well." The club owed a great deal to Albert Stubbins and Jack Balmer who ended up joint top-scorers with 24 goals each. Liverpool also reached the semi-final of the FA Cup, but was unfortunately beaten by Burnley 1-0.
The club could only finish in mid-table for the next three seasons but they did reach the final of the 1950 FA Cup against Arsenal. Unfortunately Liverpool lost the game 2-0.
Stubbins and his wife found it difficult to settle in Merseyside. The club refused permission for Stubbins to live and train in Newcastle upon Tyne. This created a great deal of bad feeling and in September 1953 he moved to Ashington who played in the North Eastern League. He had scored 83 goals in 180 appearances for Liverpool.
After retiring from playing in May 1954 Stubbins became Liverpool's North-East scout. He also spent time coaching in the United States.
In November 1960 Stubbins began work as a journalist for the Sunday People. He also worked in local radio.
Albert Stubbins died in Cullercoats on 28th December 2002.