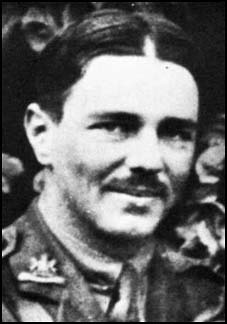 Wilfred Owen, the eldest of the three sons and one daughter of Thomas Owen, a railway clerk and his wife, Susan Shaw Owen, was born at Plas Wilmot, near Oswestry, on 18th March, 1893. His father, a railway clerk, was transferred to Birkenhead in 1898, and between 1899 and 1907 Owen was educated at the Birkenhead Institute. In 1907 the family moved to Shrewsbury, where Thomas Owen had been appointed assistant superintendent of the Joint Railways and Wilfred attended Shrewsbury Technical School.
As his biographer, Jon Stallworthy, has pointed out: "Under the strong influence of his devout mother he read a passage from the Bible every day and, on Sundays, would rearrange her sitting-room to represent a church. Then, wearing a linen surplice and cardboard mitre she had made, he would summon the family and conduct a complete evening service with a carefully prepared sermon."
Owen left school in 1911, eager to go to university, and passed the University of London matriculation exam, though not with the first-class honours necessary to win him the scholarship he needed. His mother persuaded him to accept the offer of an unpaid position as lay assistant to the Revd Herbert Wigan, vicar of Dunsden. In return Wigan promised some tuition to prepare him for the university entrance exam. It has been claimed that this was not a success as Wigan had no interest in literature, and Owen had lost interest in theology, the only topic offered for tuition.
During this period he came under the influence of Percy Bysshe Shelley and John Keats and began writing poetry. In July he sat a scholarship exam for University College, but failed, and in mid-September crossed the channel to take up a part-time post teaching English at the Berlitz School in Bordeaux. This was followed by becoming a tutor for a eleven-year-old French girl in her parents' villa, in the Pyrenees.
Owen continued to write poetry and became friends with the French poet and political activist, Laurent Tailhade. He became interested in Tailhade's ideas on modern poetry as well as his political views that embraced anarchism and pacifism. Tailhade, a poet of the so-called "decadent" school, also introduced him to the work of Paul Verlaine and Gustave Flaubert.
The outbreak of the First World War in August 1914 created a strong wave of patriotism and even though Tailhade had written two pacifist pamphlets he joined the French Army. Owen was concerned that he would be unable to cope as a soldier. However, he was aware it would give him the opportunity to write about something very important. He wrote to his mother: "Do you know what would hold me together on a battlefield? The sense that I was perpetuating the language in which Keats and the rest of them wrote!"
Owen finally returned to England, and, on 21st October 1915, he enlisted in the Artists' Rifles. Owen spent the next seven and a half months training for service on the front-line. While based at Hare Hall camp near Romford he met Harold Monro, the owner of the Poetry Bookshop in Devonshire Street and the editor of the Poetry Review, a magazine he had started in 1912. Monro read some of Owen's poems and gave him encouraging advice.
On 4th June 1916 Owen was commissioned into the Manchester Regiment and after further training he crossing to France on 29th December. He arrived on the Western Front at the Somme in January 1917. While at the front Owen began writing poems about his war experiences. This included being trapped for three days in a shell-hole with the mangled corpse of a fellow officer. After heavy artillery bombardment he was also blown out of his trench and on 1st May he was diagnosed as suffering from shell-shock and was sent to Craiglockhart War Hospital, near Edinburgh, to recuperate.
While in hospital he met Siegfried Sassoon, who had just published his statement Finished With War: A Soldier's Declaration, which announced that "I am making this statement as an act of wilful defiance of military authority because I believe that the war is being deliberately prolonged by those who have the power to end it. I am a soldier, convinced that I am acting on behalf of soldiers. I believe that the war upon which I entered as a war of defence and liberation has now become a war of aggression and conquest. I believe that the purposes for which I and my fellow soldiers entered upon this war should have been so clearly stated as to have made it impossible to change them and that had this been done the objects which actuated us would now be attainable by negotiation." Instead of the expected court martial, the under-secretary for war declared him to be suffering from shell-shock, and he was sent to Cocklockhart.
Sassoon was also a poet and his first volume of poems, The Old Huntsman, had just been published. Sassoon introduced Owen to Robert Graves, who was also recovering from wounds received at the front. His book of poems, Fairies and Fusiliers, had also been published in 1917. Sassoon suggested that Owen should write in a more direct, colloquial style. Over the next few months Owen wrote a series of poems, including Anthem for Doomed Youth, Disabled and Dulce et Decorum Est. Owen was also supported by his doctor, Arthur J. Brock, who arranged for two of of Owen's poems to be published in the hospital's literary journal, The Hydra.
Until he met Sassoon his few war poems had been patriotic and heroic. Under the influence of Sassoon his thoughts and style changed dramatically. During this time he wrote: "All a poet can do today is warn. That is why the true Poets must be truthful". Jon Stallworthy has pointed out: "The older poet's advice and encouragement, showing the younger how to channel memories of battle - recurring in obsessive nightmares which were a symptom of shell-shock - into a poem such as Dulce et decorum est, complemented Dr Brock's 'work-cure'. The final manuscript of Anthem for Doomed Youth carries suggestions (including that of the title) in Sassoon's handwriting. Owen's confidence grew, his health returned, and in October a medical board decided that he was fit for light duties."
Sassoon also introduced Owen to H. G. Wells and Arnold Bennett and they helped him get some of his poems published in The Nation. Owen also had talks with William Heinemann about the publication of a collection of his poems. Another friend he acquired through Sassoon was Robert Ross, who had enjoyed a long-term relationship with Oscar Wilde. According to Maureen Borland, the author of Wilde's Devoted Friend: Life of Robert Ross (1990): "In Ross's delightful and witty company, for a few precious hours, they could forget the horrors of trench warfare. Although these men were not among his partners, Ross was clearly homosexual and had two long-term relationships. He shared a house for fifteen years with (William) More Adey; a shorter partnership, with Frederick (Freddie) Stanley Smith, ended in 1917, when Smith took up a diplomatic appointment in Stockholm. Ross discouraged discussion of his sex life, and maintained a lifelong silence about the exact nature of his relationship with Wilde."
Owen's biographer, Jon Stallworthy has argued: "On leave in London, he met Robert Ross who in turn introduced him to some of his literary friends: Arnold Bennett, H. G. Wells, and a number of less well known figures, several of whom were homosexual, as were Ross and Sassoon themselves. It is clear from Owen's writings that he shared their sexual orientation; but it is debatable whether he ever entered into a physical relationship that, if detected, could have resulted in a prison sentence like that imposed on Oscar Wilde, a relationship that would have horrified his mother, whose good opinion he valued above all others. There is no evidence that he did. What is certain, however, is that Owen and Sassoon wrote more eloquently than other poets of the tragedy of boys killed in battle because they felt that tragedy more acutely, more personally."
In November 1917 Owen rejoined the 5th Manchester Regiment in Scarborough. While there he read Under Fire, a novel about trench warfare by Henri Barbusse, who had joined the French Army in 1914 at the age of forty-one. After being wounded several times he wrote the novel while in hospital. By this time, Barbusse had become a pacifist, and his writing demonstrated his growing hatred of militarism. Owen used some of the images in this book into his poetry. Poems written during this period included Insensibility, Strange Meeting, Exposure and Futility.Owen wrote to his mother that he wanted to return to the Western Front "to help these boys - directly by leading them as well as an officer can; indirectly, by watching their sufferings that I may speak of them as well as a pleader can".

In August 1918 Owen was declared fit to return to the Western Front. He fought at Beaurevoir-Fonsomme, where he was awarded the Military Cross. The British Gazette later recorded: "On the company commander becoming a casualty, he (Owen) assumed command and showed fine leadership and resisted a heavy counter-attack. He personally manipulated a captured enemy machine gun from an isolated position and inflicted considerable losses on the enemy. Throughout he behaved most gallantly."
Wilfred Owen was killed by machine-gun fire while leading his men across the Sambre–Oise Canal on 4th November 1918. A week later the Armistice was signed. Only five of Owen's poems were published while he was alive. After Owen's death his friend, Siegfried Sassoon, arranged for the publication of his Collected Poems (1920). Jon Stallworthy has argued: "Dying at twenty-five, he came to represent a generation of innocent young men sacrificed - as it seemed to a generation in unprecedented rebellion against its fathers - by guilty old men: generals, politicians, war profiteers. Owen has now taken his place in literary history as perhaps the first, certainly the quintessential, war poet." However, Owen only became a national figure when Benjamin Britten added music to his poems in War Requiem in 1962.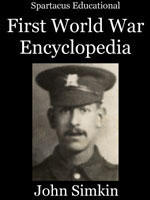 The First World War (3,250 pages - £4.95)