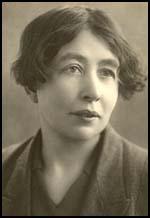 Sylvia Pankhurst, the daughter of Dr. Richard Pankhurst and Emmeline Pankhurst, was born at Drayton Terrace, Old Trafford, Manchester on 5th May, 1882. Her father was a committed socialist and a strong advocate of women's suffrage. He had been responsible for drafting an amendment to the Municipal Franchise Act of 1869 that had resulted in unmarried women householders being allowed to vote in local elections. Richard also served on the Married Women's Property Committee (1868-1870) and was the main person responsible for the drafting of the women's property bill that was passed by Parliament in 1870.
In 1886 the family moved to London where their home in Russell Square became a centre for gatherings of socialists and suffragists. They were also both members of the Fabian Society. As June Hannam has pointed out: "Sylvia's own interest in socialist and feminist politics was influenced by her parents' activities and also by the many well-known speakers and writers who visited the family." During these years Richard and Emmeline continued their involvement in the struggle for women's rights and in 1889 helped form the pressure group, the Women's Franchise League. The organisation's main objective was to secure the vote for women in local elections.
In 1893 Richard and Emmeline Pankhurst returned to Manchester where they formed a branch of the new Independent Labour Party (ILP). In the 1895 General Election, Pankhurst stood as the ILP candidate for Gorton, an industrial suburb of the city, but was defeated. Her father died of a perforated ulcer in 1898. Sylvia had been very close to her father and never really got over his death. Unlike her mother and sister, Sylvia retained the socialist beliefs that had been taught to her by her father when she was a child.
Sylvia attended Manchester Girls' High School and in 1898 began studying at Manchester Art School. In 1900 she won a scholarship to the Royal College of Art in South Kensington. Although a committed artist, Sylvia began spending more and more time working for women's suffrage.
Emmeline Pankhurst was a member of the Manchester National Society for Women's Suffrage. By 1903 Pankhurst had become frustrated at the NUWSS lack of success. With the help of her three daughters, Sylvia, Christabel Pankhurst and Adela Pankhurst, she formed the Women's Social and Political Union (WSPU). At first the main aim of the organisation was to recruit more working class women into the struggle for the vote. At first members of the WSPU were drawn largely from the Independent Labour Party and carried out propaganda for both socialism and women's suffrage in the north of England.
By 1905 the media had lost interest in the struggle for women's rights. Newspapers rarely reported meetings and usually refused to publish articles and letters written by supporters of women's suffrage. In 1905 the WSPU decided to use different methods to obtain the publicity they thought would be needed in order to obtain the vote.
On 13th October 1905, Christabel Pankhurst and Annie Kenney attended a meeting in London to hear Sir Edward Grey, a minister in the British government. When Grey was talking, the two women constantly shouted out, "Will the Liberal Government give votes to women?" When the women refused to stop shouting the police were called to evict them from the meeting. Pankhurst and Kenney refused to leave and during the struggle a policeman claimed the two women kicked and spat at him. Pankhurst and Kenney were arrested and charged with assault.
Christabel Pankhurst and Annie Kenney were found guilty of assault and fined five shillings each. Kenney and Pankhurst were found guilty of assault and fined five shillings each. When the women refused to pay the fine they were sent to prison. The case shocked the nation. For the first time in Britain women had used violence in an attempt to win the vote.
In 1906 Sylvia gave up her studies at the Royal College of Art and worked full-time for the WSPU. Later that year she suffered her first imprisonment after protesting in court at a trial in which women had not been allowed to speak in their own defence.
Sylvia was also very active in the Labour Party and became a close friend of Keir Hardie, the leader of the party in the House of Commons. According to the author of Freedom's Cause: Lives of the Suffragettes (2003): "The young student, now aged twenty-four, had fallen for the fifty-year-old politician in a manner which went far beyond mere admiration or friendship. As the relationship developed, the complexity of these feelings became clearer. Sylvia saw Hardie as part political hero, part father-figure and part potential lover. Gradually he began to return her feelings... Hardie helped her move into cheaper lodgings, soothed her furrowed brow and took her out for a cheering meal. From then on Sylvia often visited him at the House of Commons and the two walked together in St James's Park or spent the evening at Nevill's Court. Quite how they dealt with the fact that he was already married is not entirely clear."
During the summer of 1908 the WSPU introduced the tactic of breaking the windows of government buildings. On 30th June suffragettes marched into Downing Street and began throwing small stones through the windows of the Prime Minister's house. As a result of this demonstration, twenty-seven women were arrested and sent to Holloway Prison.
On 25th June 1909 Marion Wallace-Dunlop was charged "with wilfully damaging the stone work of St. Stephen's Hall, House of Commons, by stamping it with an indelible rubber stamp, doing damage to the value of 10s." Wallace-Dunlop was found guilty of wilful damage and when she refused to pay a fine she was sent to prison for a month. Christabel Pankhurst later reported: "Miss Wallace Dunlop, taking counsel with no one and acting entirely on her own initiative, sent to the Home Secretary, Mr. Gladstone, as soon as she entered Holloway Prison, an application to be placed in the first division as befitted one charged with a political offence. She announced that she would eat no food until this right was conceded." Wallace-Dunlop refused to eat for several days. Afraid that she might die and become a martyr, it was decided to release her after fasting for 91 hours. Soon afterwards other imprisoned suffragettes adopted the same strategy. Unwilling to release all the imprisoned suffragettes, the prison authorities force-fed these women on hunger strike.
In 1909 Sylvia and Keir Hardie rented a cottage in Penshurst, Kent. They met there as often as his busy schedule permitted. According to Fran Abrams: "During one of these interludes he begged her not to go back to prison. The thought of the feeding tubes and the violence with which they were used was already making him ill - how much worse would it be if it were her?"
Sylvia Pankhurst became concerned about the increase in the violence used by the Women's Social and Political Union. This view was shared by her younger sister, Adela Pankhurst. She later told fellow member, Helen Fraser: "I knew all too well that after 1910 we were rapidly losing ground. I even tried to tell Christabel this was the case, but unfortunately she took it amiss." After arguing with Emmeline Pankhurst about this issue she left the WSPU.
Sylvia was a talented writer and in 1911 her book The History of the Women's Suffrage Movement was published. However, Sylvia was unhappy that the WSPU had abandoned its earlier commitment to socialism and disagreed with Emmeline and Christabel Pankhurst's attempts to gain middle class support by arguing in favour of a limited franchise.
In the spring of 1913 Sylvia Pankhurst was arrested three times. As Fran Abrams has pointed out: "On the first two occasions her efforts were thwarted when her fines were paid and she was released - the first time she blamed WSPU officials, the second time her mother. Finally, in February, she managed to get a two-month sentence and went on hunger strike. She was force fed, then released on Good Friday in a terrible state. Her eyes blood red, almost unable to walk, she was taken to a WSPU nursing home where Hardie found her a few hours later.... Back in prison again in July, she refused food, drink and sleep. Now she was placed under the Cat and Mouse Act, repeatedly released and then rearrested."
However, Sylvia was growing disillusioned by the WSPU new arson campaign. In July, 1913, attempts were made by suffragettes to burn down the houses of two members of the government who opposed women having the vote. These attempts failed but soon afterwards, a house being built for David Lloyd George, the Chancellor of the Exchequer, was badly damaged by suffragettes. This was followed by cricket pavilions, racecourse stands and golf clubhouses being set on fire.
Some leaders of the WSPU such as Emmeline Pethick-Lawrence, disagreed with this arson campaign. When Pethick-Lawrence objected, she was expelled from the organisation. Others like Elizabeth Robins showed their disapproval by ceasing to be active in the WSPU. Sylvia now made her final break with the WSPU and concentrated her efforts on helping the Labour Party build up its support in London.
In 1913, Pankhurst, with the help of Keir Hardie, Julia Scurr, Mary Phillips, Millie Lansbury, Eveline Haverfield, Maud Joachim, Lilian Dove-Wilcox, Jessie Stephen, Nellie Cressall and George Lansbury, established the East London Federation of Suffragettes (ELF). An organisation that combined socialism with a demand for women's suffrage it worked closely with the Independent Labour Party. Pankhurst also began production of a weekly paper for working-class women called The Women's Dreadnought. As June Hannam has pointed out: "The ELF was successful in gaining support from working women and also from dock workers. The ELF organized suffrage demonstrations and its members carried out acts of militancy. Between February 1913 and August 1914 Sylvia was arrested eight times. After the passing of the Prisoners' Temporary Discharge for Ill Health Act of 1913 (known as the Cat and Mouse Act) she was frequently released for short periods to recuperate from hunger striking and was carried on a stretcher by supporters in the East End so that she could attend meetings and processions. When the police came to re-arrest her this usually led to fights with members of the community which encouraged Sylvia to organize a people's army to defend suffragettes and dock workers. She also drew on East End traditions by calling for rent strikes to support the demand for the vote."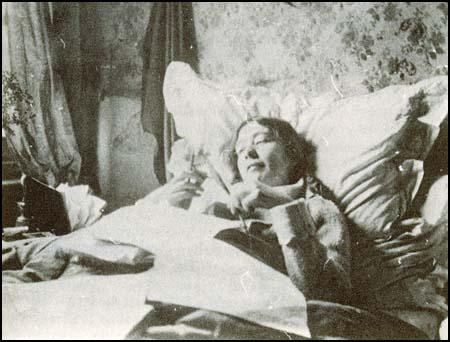 On 4th August, 1914, England declared war on Germany. Two days later the NUWSS announced that it was suspending all political activity until the war was over. The leadership of the WSPU began negotiating with the British government. On the 10th August the government announced it was releasing all suffragettes from prison. In return, the WSPU agreed to end their militant activities and help the war effort.
Emmeline Pankhurst announced that all militants had to "fight for their country as they fought for the vote." Ethel Smyth pointed out in her autobiography, Female Pipings for Eden (1933): "Mrs Pankhurst declared that it was now a question of Votes for Women, but of having any country left to vote in. The Suffrage ship was put out of commission for the duration of the war, and the militants began to tackle the common task."
Annie Kenney reported that orders came from Christabel Pankhurst: "The Militants, when the prisoners are released, will fight for their country as they have fought for the Vote." Kenney later wrote: "Mrs. Pankhurst, who was in Paris with Christabel, returned and started a recruiting campaign among the men in the country. This autocratic move was not understood or appreciated by many of our members. They were quite prepared to receive instructions about the Vote, but they were not going to be told what they were to do in a world war."
After receiving a £2,000 grant from the government, the WSPU organised a demonstration in London. Members carried banners with slogans such as "We Demand the Right to Serve", "For Men Must Fight and Women Must work" and "Let None Be Kaiser's Cat's Paws". At the meeting, attended by 30,000 people, Emmeline Pankhurst called on trade unions to let women work in those industries traditionally dominated by men.
Sylvia Pankhurst was a pacifist and disagreed with the WSPU's strong support for the war. In 1915 she joined with Charlotte Despard, Helena Swanwick, Olive Schreiner, Helen Crawfurd, Alice Wheeldon, Hettie Wheeldon, Emmeline Pethick-Lawrence and Chrystal Macmillan to form the Women's Peace Army, an organisation that demanded a negotiated peace.
During the war Sylvia joined with Dr. Barbara Tchaykovsky to open four mother-and-baby clinics in London. Tchaykovsky pointed out that during the first year of the war 75,000 British soldiers (2.2 per cent of the combatants) had been killed. However, during the same period over 100,000 babies in Britain (12.2 per cent of those born) had died. In 1915 nearly 1,000 mothers and their babies were seen at Sylvia's clinics. Local politicians such as George Lansbury helped to raise funds for the organisation that's milk bill alone was over £1,000 a year.
In March 1916 Pankhurst renamed the East London Federation of Suffragettes, the Workers' Suffrage Federation (WSF). The newspaper was renamed the Workers' Dreadnought and continued to campaign against the war and gave strong support to organizations such as the Non-Conscription Fellowship. The newspaper also published the famous anti-war statement in July, 1917, by Siegfried Sassoon.
Sylvia Pankhurst was a supporter of the Russian Revolution in 1917 and visited the country where she met Lenin and ended up arguing with him over the issue of censorship. The government disliked Sylvia's pro-Communist articles in her newspaper and she was imprisoned for five months for sedition. After she was released from prison Pankhurst renamed her organization the Workers' Socialist Federation.
On 31st July, 1920, a group of revolutionary socialists attended a meeting at the Cannon Street Hotel in London. The men and women were members of various political groups including the British Socialist Party (BSP), the Socialist Labour Party (SLP), Prohibition and Reform Party (PRP) and the Workers' Socialist Federation (WSF).
It was agreed to form the Communist Party of Great Britain (CPGB). Early members included Tom Bell, Willie Paul, Arthur McManus, Harry Pollitt, Rajani Palme Dutt, Helen Crawfurd, A. J. Cook, Albert Inkpin, J. T. Murphy, Arthur Horner, John R. Campbell, Bob Stewart and Robin Page Arnot. McManus was elected as the party's first chairman and Bell and Pollitt became the party's first full-time workers. It later emerged that Lenin had provided at least £55,000 (over £1 million in today's money) to help fund the CPGB.
Sylvia Pankhurst considered the CPGB to be too right-wing and was completely opposed to the idea of it being affiliated to the Labour Party. She was eventually expelled from the CPGB for refusing to allow the Dreadnought from being controlled by the party executive. The Workers' Socialist Federation was closed down in June 1924.
Sylvia began living with Silvio Erasmus Corio (1875–1954), an Italian socialist. They moved to Woodford Green and in 1927, at the age of forty-five, she gave birth to her only child, Richard Keir Pethick Pankhurst. The boy was named after the three most important men in her life: Richard Pankhurst, Keir Hardie and Frederick Pethick-Lawrence. Sylvia upset Emmeline Pankhurst and Christabel Pankhurst, by refusing to marry the boy's father. As her biographer, June Hannam, has pointed out: "She had long believed in sexual freedom and, despite pressure from Christabel, lived out her ideas in practice by refusing to marry."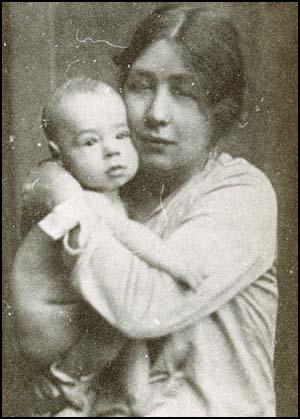 During this period she wrote several books, including India and the Earthly Paradise (1926), a book calling on the reform of maternity care, Save the Mothers (1930), a history of the struggle for the vote, The Suffrage Movement (1931) and an account of her war experiences in the East End, The Home Front (1932).
Sylvia remained active in politics throughout her life. In the 1930s she supported the republicans in Spain, helped Jewish refugees from Nazi Germany and led the campaign against the Italian occupation of Ethiopia. In 1935 she began a weekly journal, The Ethiopian News, that publicized the efforts made by Emperor Haile Selassie to persuade the League of Nations to prevent colonization.
The British secret service had held a file on Sylvia Pankhurst since her early days in the suffrage movement. However as late as 1948 MI5 was considering various strategies for "muzzling the tiresome Miss Sylvia Pankhurst."
In 1953 Sylvia suffered a heart-attack. As a result, her sister, Christabel Pankhurst made contact with Sylvia. As June Purvis has pointed out: "On 5 May 1953, Sylvia's birthday, Christabel renewed contact with her sister, writing her a warm letter and wishing her well after her recent heart attack. The correspondence between the two sisters continued intermittently until Christabel's death."
After Silvio Erasmus Corio died in 1954 Sylvia accepted an earlier invitation from the Emperor Haile Selassie and moved with her son to live permanently in Ethiopia in 1956. She helped to found the Social Service Society and edited a monthly periodical, the Ethiopia Observer. In 1959 an exhibition of her art was held at the French Institute in London
Sylvia Pankhurst died in Addis Ababa, on 27 September 1960. She was regarded so highly in Ethiopia that the emperor ordered that she should receive a state funeral, which was attended by himself and other members of the royal family. A memorial service was held in London in the Caxton Hall on 19th January 1961.
Emmeline Pankhurs and Christabel Pankhurst have both been commemorated by a statue and plaque at the entrance to Victoria Tower Gardens on the corner of the House of Commons. Over the years the House of Lords has repeatedly blocked proposals for a memorial to Sylvia Pankhurst.
The Observer reported on 6th March, 2016 that the TUC and City of London Corporation are to launch a joint campaign to erect a statue of Sylvia on Clerkenwell Green in Islington in time for the centenary of the Representation of the People Act 1918, which first gave the vote to some women.
Often I went on Sunday mornings with my father to the dingy streets of Ancoats, Gorton, Hulme, and other working-class districts. Standing on a chair or soap-box, pleading the cause of the people with passionate earnestness, he stirred me, as perhaps he stirred no other auditor, though I saw tears in the faces of the people about him. Those endless rows of smoke-begrimed little houses, with never a tree or a flower in sight, how bitterly their ugliness smote me! Many a time in spring, as I gazed upon them, those two red may trees in our garden at home would rise up in my mind, almost menacing in their beauty; and I would ask myself whether it could be just that I should live in Victoria Park, and go well fed and warmly clad, whilst the children of these grey slums were lacking the very necessities of life. The misery of the poor, as I heard my father plead for it, and saw it revealed in the pinched faces of his audiences, awoke in me a maddening sense of impotence; and there were moments when I had an impulse to dash my head against the dreary walls of those squalid streets.
(2) In 1906 Sylvia Pankhurst tried to arrange a meeting with the British Prime Minister. She later wrote about this in her book The Suffrage Movement.
We now felt the next move must be to secure an interview with the Prime Minister, and we therefore wrote to Sir Henry Campbell-Bannerman asking him to receive a deputation from the WSPU. He replied that he could not spare the time to see us.
Sylvia Pankhurst had given up career and status to go amongst the masses of the people in order to instruct them, and so to prepare the ground for the revolution, which they believed, would some day take place. There was a certain infantile look about her, because her face had the roundness and smoothness of a child. Quiet and shy in those days, she had surprised her friends by one brilliant success after another.
(4) Sylvia Pankhurst described this new militant policy in her book The Suffrage Movement published in 1931.
Street lamps were broken, keyholes were stopped up with lead pellets. House numbers were painted out, cushions of railway carriages slashed, flower-beds damaged, golf-greens all over the country scraped and burnt with acid… Old ladies applied for gun licences to terrify the authorities. Telegraph and telephone wires were severed with long-handled clippers; fuse boxes were blown up, communications between London and Glasgow being cut off for some hours. There was a window-smashing raid in the West End, the Carlton, the Reform Club and others were attacked. Boat houses and sports pavilions and a grandstand at Ayr racecourse were burnt down. Works of art and objects of exceptional value were destroyed. Empty houses and other unattended buildings were set on fire. Bombs were placed near the Bank of England, at Oxted Station, and on the steps of a Dublin insurance office.
Sylvia Pankhurst abandoned her promise to Hardie to stay out of prison and was arrested three times in the spring of 1913. On the first two occasions her efforts were thwarted when her fines were paid and she was released - the first time she blamed WSPU officials, the second time her mother. Finally, in February, she managed to get a two-month sentence and went on hunger strike. She was force fed, then released on Good Friday in a terrible state. Her eyes blood red, almost unable to walk, she was taken to a WSPU nursing home where Hardie found her a few hours later. He had hardly slept during her imprisonment and she blamed herself for the pain she had caused him, "his face haggard and seamed with sorrow and insomnia, his hair long and unkempt." Even this could not deter her, though. Back in prison again in July, she refused food, drink and sleep. Now she was placed under the Cat and Mouse Act, repeatedly released and then rearrested. With the nation in uproar and arson attacks escalating around the country, Sylvia was determined to do her bit. And this, finally, caused Hardie's patience to snap.

During one of her releases from prison, Sylvia had been invited to speak at a meeting of the Free Speech Defence Committee, set up to protest against bans on militant suffrage demonstrations. Frank Smith, Hardie's closest aide, asked Sylvia to promise she would not create trouble at the meeting. She refused. When Hardie visited her next, she accused him of "dragging the party's banner in the mud" by becoming too close to the Liberals. Although Hardie did not respond, Sylvia said the meeting became "almost a quarrel." She told Hardie not to visit her again, and indeed she did not see him again until the following year. "I had told him it was too painful, too incongruous he should come in the midst of the warfare waged against him and the Labour Party by the orders of my sister," she wrote later. On the day after this meeting, Emmeline visited Sylvia. She had planned to come the day before, she said, but had changed her mind when she learned Hardie was there. "She spoke as if he were a person a Suffragette should be ashamed to meet," Sylvia remarked.

It was, in effect, the end of Hardie's relationship with Sylvia, though the two continued to write to each other. In the summer of that year, when Sylvia left England to tour Scandinavia, he sent her off with a list of contacts and an affectionate farewell. Confessing that he had been thinking of her and hoping she was better, he concluded: "Go then... and come back strong to me after."
(6) Sylvia Pankhurst disagreed with the way the WSPU supported the government during the First World War.
When I read in the newspapers that Mrs. Pankhurst and Christabel were returning to England for a recruiting campaign, I wept. To me this seemed a tragic betrayal of the great movement to bring the mother-half of the race into the councils of the nation… We set up a League of Rights for Soldiers' and Sailors' Wives and Relatives to strive for better pensions and allowances. We also campaigned for pay equal to that of men. Votes for Women were never permitted to fall into the background. We worked continuously for peace, in face of the bitterest opposition from old enemies, and sometimes unhappily from old friends.
The militarists continued their agitation for "National Service" for all men and women "from 16-60 years of age," and a "Service Franchise" giving a vote to every soldier, sailor, and munition worker and disfranchising conscientious objectors. The women were to remain voteless till after the war.

We were to march from the East End to Trafalgar Square, to raise our opposing slogans:

"Complete democratic control of national and international affairs!" "Human suffrage and no infringement of popular liberties." The Daily Express, the Globe, and many other newspapers, wherein appeared frequent incitement to violence against "peace talk," directed their battalions of invective against our meeting, denouncing it as "open sedition." As usual, friends saluted us on our march through the East End; crowds gathered to speed us; they had struggled with us for a decade; they supported us still, though our standard seemed now more Utopian, more elusively remote.

At Charing Cross we came into a great concourse of people, clapping and cheering. They welcomed our slender ranks as an expression of the old, old cry: "Not might, but rights' - a symbol of the triumph of the spirit over sordid materialism, and of their own often frustrated hopes and long unsatisfied desires. To them we were protestants against their sorrows, and true believers in the living possibility of a world of happiness. In their jolly kindness some shouted: "Good old Sylvia!" I gave my hands to many a rough grip. They pressed round me, ardent and gay, sorrowful, hopeful, earnest. Many a woman's eyes brimmed with tears as she met mine; I knew, by a sure instinct, that she had come across London, overweighted with grief, to ease her burden by some words with me.

As we entered the square a rush of friends, with a roar of cheers and a swiftness which forestalled any hostile approach, bore us forward, and hoisted a group of us on the east plinth, facing the Strand, whilst the banner-bearers marched on westward, where the banners were to be handed up; but the north side was packed with soldiers who fell upon the approaching banners and tore them to shreds. The law offered no protection; so few policemen had never been seen in the square at any demonstration. Far from assisting us to maintain order, they prevented our men speakers, and numbers of our members who wished to support us, from mounting the plinth, though we urged that they should come. We were left, a little group of women and a child or two, to deal with what might arise.

The Government had obviously given orders to leave us to the violence of the mob.

We were not afraid.

A small, hostile group had established itself by the plinth, prompted by the organisers of the disturbance, whom I recognised as old hands at such work; poor, shabby public house loafers, they shouted without pausing for breath till their red faces were purple. I continued in spite of them, by taking pains to speak clearly and not too fast. From the north the disturbers hurled at me roughly screwed balls of paper, filled with red and yellow ochre, which came flying across the lions' backs and broke with a shower of colour on anyone they chanced to hit. The reporters on the plinth had drawn near me to listen; thus, inadvertently, they intercepted the missiles aimed at me, and were covered with red and yellow.

They sprang back to avoid a further volley, and Mrs. Drake's twelve-year-old daughter, Ruby, received a deluge of red full in her eyes. Crying, she buried her face in her mother's dress, while the "patriots" raised a cheer.

Always after such incidents, our mother and baby clinics, the day nursery, the restaurants, the factory, all our work for ameliorating distress suffered immediately from loss of donations. A cable repudiating me from Mrs. Pankhurst was published and helped to detach some of the old W.S.P.U. members who still supported us.
On reaching London we at once summoned a general meeting of the Federation. The members at first declared they would not be "thrown out" of the W.S.P.U., nor would they agree to a change of name. I persuaded them at last that refusal would open the door to acrimonious discussions, which would hinder our work and deflect attention from the cause. The name of our organisation was then debated. The East London Federation of the Suffragettes was suggested by someone, and at once accepted with enthusiasm. I took no part in the decision. Our colours were to be the old purple, white, and green, with the addition of red - no change, as a matter of fact, for we had already adopted the red caps of liberty. Mother, annoyed by our choice of name, hastened down to the East End to expostulate; she probably anticipated objections from Paris. "We are the Suffragettes! that is the name we are always known by," she protested, "and there will be the same confusion as before!" I told her the members had decided it, and I would not interfere.

In the East End, with its miserable housing, its ill-paid casual employment and harsh privations bravely borne by masses of toilers, life wore another aspect. The yoke of poverty oppressing all was a factor no one-sided propaganda could disregard. The women speakers who rose up from the slums were struggling, day in, day out, with the ills which to others were merely hearsay. Sometimes a group of them went with me to the drawing-rooms of Kensington and Mayfair; their speeches made a startling impression upon those women of another world, to whom hard manual toil and the lack of necessaries were unknown. Many of the W.S.P.U. speakers came down to us as before: Mary Leigh, Amy Hicks, Theodora Bonwick, Mary Paterson, Mrs. Bouvier, that brave, persistent Russian, and many others; but it was from our own East End speakers that our movement took its life. There was wise, logical Charlotte Drake of Custom House, who, left an orphan with young brothers and sisters, had worked both as barmaid and sewing machinist, and who recorded in her clear memory incidents, curious, humorous, and tragic, which stirred her East End audiences by their truth.

Melvina Walker was born in Jersey and had been a lady's maid; many a racy story could she tell of the insight into "High Life" she had gained in that capacity. For a long period she was one of the most popular open-air speakers in any movement in London. She seemed to me like a woman of the French Revolution. I could imagine her on the barricades, waving the bonnet rouge, and urging on the fighters with impassioned cries. When she was in the full flood of her oratory, she appeared the very embodiment of toiling, famine-ridden, proletarian womanhood.

Mrs. Schlette, a sturdy old dame, well on in her sixties, came forward to make a maiden oration without hesitation, and soon was able to hold huge crowds for an hour and a half at a stretch. Mrs. Cressell, afterward a Borough Councillor; Florence Buchan, a young girl discharged from a jam factory, the reason being given by the forewoman: "What do you want to kick up a disturbance of a night with the Suffagettes"; Mrs. Pascoe, one of our prisoners, supporting by charing and home work a tubercular husband and an orphan boy she had adopted-but a few of the many who learnt to voice their claims.
Sylvia Pankhurst wrote asking me to call at her printing office in Fleet Street. I found a plain little Queen Victoria sized woman with plenty of long unruly bronze-like hair. There was no distinction about her clothes, and on the whole she was very undistinguished. But her eyes were fiery, even a little fanatic, with a glint of shrewdness.

She said she wanted me to do some work for the Workers' Dreadnought. Perhaps I could dig up something along the London docks from the coloured as well as the white seaman and write from a point of view which would be fresh and different. Also I was assigned to read the foreign newspapers from America, India, Australia, and other parts of the British Empire, and mark the items which might interest Dreadnought readers.
(10) Commentary on the release of Sylvia Pankhurst's MI5 file (KV 2/1570) on 21st May, 2004.
Pankhurst (1882-1960), the daughter of Emmeline Pankhurst, achieved fame in the Suffragette movement before the First World War, but was later associated with communist, anti-fascist and anti-war causes. She was involved in support for the Abyssinian cause after the Italian invasion of 1936, founding and editing the "New Times and Ethiopia News". She emigrated to Ethiopia in 1944, where she became a friend and adviser to the Emperor Haile Selassie, and maintained a steadfast anti-British outlook.

This reconstituted file chiefly concerns her post-Suffragette activities, though there are summaries of her activities, and those of the publication "The Workers' Dreadnought" and the Workers' Suffrage Federation from 1914. The main body of the file follows Pankhurst from the launch of the "New Times and Ethiopian News" in 1936, from which time there are reports of meetings addressed by Pankhurst, notes of interviews with her and the product of a watch maintained on her correspondence.

In 1940 she wrote to Viscount Swinton in his capacity as head of a committee investigating fifth column activities, and provided him with a list of Fascists at large and conducting propaganda, and of anti-Fascists who had been interned. The copy, which is on file having been passed on by Swinton, is annotated in Swinton's hand "I should think a most doubtful source of information."

The file concludes that Pankhurst's information most probably came from her long-term Italian partner, Silvo Corio. After the liberation of Ethiopia, the file follows her activities there, where she was a strong supporter of a union of Ethiopia with ex-Italian Somaliland, later to become part of the independent state of Somalia. The file considered in 1948 various strategies for "muzzling the tiresome Miss Sylvia Pankhurst."