In 1907 some leading members of the Women's Social and Political Union (WSPU) began to question the leadership of Emmeline Pankhurst and Christabel Pankhurst. These women objected to the way that the Pankhursts were making decisions without consulting members. They also felt that a small group of wealthy women like Emmeline Pethick-Lawrence, Clare Mordan and Mary Blathwayt were having too much influence over the organisation. (1)
In a conference in September 1907, Emmeline Pankhurst told members that she intended to run the WSPU without interference. As Emmeline Pethick-Lawrence pointed out: "She called upon those who had faith in her leadership to follow her, and to devote themselves to the sole end of winning the vote. This announcement was met with a dignified protest from Mrs. Despard. These two notable women presented a great contrast, the one aflame with a single idea that had taken complete possession of her, the other upheld by a principle that had actuated a long life spent in the service of the people. Mrs. Despard calmly affirmed her belief in democratic equality and was convinced that it must be maintained at all costs. Mrs. Pankhurst claimed that there was only one meaning to democracy, and that was equal citizenship in a State, which could only be attained by inspired leadership. She challenged all who did not accept the leadership of herself and her daughter to resign from the Union that she had founded, and to form an organisation of their own." (2)
Emmeline and Christabel Pankhurst sent out a letter to all branches of the WSPU stating that this was not in any way a democratic group. "We are not playing experiments with representative government. We are not a school for teaching women how to use the vote. We are a militant movement... It is not a school for teaching women how to use the vote. We are militant movement... It is after all a voluntary militant movement: those who cannot follow the general must drop out of the ranks." As Simon Webb has pointed out: "This is quite unambiguous. Members must not expect to influence policy or question the leader, the role is limited to obeying orders." (3)
As a result of this speech, Charlotte Despard, Teresa Billington-Greig, Edith How-Martyn, Dora Marsden, Helena Normanton, Anne Cobden Sanderson, Emma Sproson, Margaret Nevinson, Henria Williams, Violet Tillard and seventy other members of the WSPU left to form the Women's Freedom League (WFL). Most of its members were socialists who wanted to work closely with the Labour Party who "regarded it as hypocritical for a movement for women's democracy to deny democracy to its own members." (4)
Violet Tillard became Assistant Organising Secretary of the organisation. She was active in promoting women's suffrage in newspapers. In one letter she pointed out the difference between the Women's Freedom League and the Women Social & Political Union. "The Women's Freedom League differs from the Women's Social and Political Union chiefly in the internal organisation, which in democratic; and in the fact that it is not part of its policy at present to interrupt Cabinet Ministers at meetings; but the societies at one in their aim the removal of the sex disability, and in their policy of opposing the Government at bye-elections." (5)
Teresa Billington-Greig became chairman of the WFL Executive Committee and National Honorary Organising Secretary. She admitted that Charlotte Despard and Edith How-Martyn were important figures in the organisation. "I presided at both the conferences of the WFL which decided its future and at those that followed annually until 1911. This was by the express wish of Mrs Despard, who felt that the conduct of big business meetings was not the job for her... The queen-pin of our movement was of course Edith How-Martyn, who, as Honorary Secretary, carried the heaviest burden with a spirit which never faltered and won admiration from us all." (6)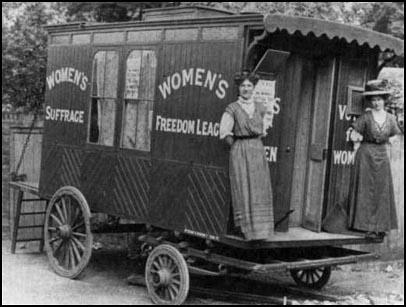 Like the WSPU, the WFL was a militant organisation that was willing the break the law. As a result, over 100 of their members were sent to prison after being arrested on demonstrations or refusing to pay taxes. However, members of the WFL was a completely non-violent organisation and opposed the WSPU campaign of vandalism against private and commercial property. Court protests against the trial of women "by man made laws", a favourite idea of Teresa Billington-Greig, were carried out by the WFL. (7)
On 28th October 1908 Muriel Matters organised a WFL demonstration in the House of Commons. Two women chained themselves to the grille in front of the Ladies' Gallery. Meanwhile a group of women demonstrated in St Stephen's Hall. Fourteen of the women were arrested and taken to Cannon Row Police Station. (8) As a result of this several women spent a month in prison. (9)
Violet Tillard Assistant Organising Secretary of the WFL helped establish branches of the League on a caravan tour of the south-east counties of England. Tillard also established WFL branches in Ipswich, Carmarthen and Cardiff. In November, 1908, the caravan visited visited Sussex. On 28th Tillard spoke at a meeting at Upminster addressed by Alice Schofield and Henria Williams. (10)
The Women's Freedom League grew rapidly, and soon had sixty branches throughout Britain with an overall membership of about 4,000 people. This was over twice the size of the WSPU. The WFL also established its own newspaper, The Vote. Two of the WFL leaders, Teresa Billington-Greig and Charlotte Despard, were both talented writers and were the main people responsible for producing the newspaper. It was used to inform the public of WFL campaigns such as the refusal to pay taxes and to fill in the 1911 Census forms. One of Britain's leading writers, Cicely Hamilton, became editor of the newspaper. (11)
In 1906 Dora Montefiore refused to pay her taxes until women were granted the vote. Outside her home she placed a banner that read: "Women should vote for the laws they obey and the taxes they pay." As she explained: "I was doing this because the mass of non-qualified women could not demonstrate in the same way, and I was to that extent their spokeswoman. It was the crude fact of women's political disability that had to be forced on an ignorant and indifferent public, and it was not for any particular Bill or Measure or restriction that I was putting myself to this loss and inconvenience by refusing year after year to pay income tax, until forced to do so by the powers behind the Law."
This resulted in her Hammersmith home being besieged by bailiffs for six weeks. "Towards the end of June, the time was approaching when, according to information brought in from outside the Crown had the power to break open my front door and seize my goods for distraint. I consulted with friends and we agreed that as this was a case of passive resistance, nothing could be done when that crisis came but allow the goods to be distrained without using violence on our part. When, therefore, at the end of those weeks the bailiff carried out his duties, he again moved what he considered sufficient goods to cover the debt and the sale was once again carried out at auction rooms in Hammersmith. A large number of sympathisers were present, but the force of twenty-two police which the Government considered necessary to protect the auctioneer during the proceedings was never required, because again we agreed that it was useless to resist force majeure when it came to technical violence on the part of, the authorities." (12)
Montefiore's campaign was supported by Annie Kenney and Teresa Billington-Greig but did not find favour with the leadership of the Women Social & Political Union (WSPU) and "no effort was ever made to organise the refusal by women to accept laws made for women without their consent. This changed in 1909 when the Women's Freedom League (WFL) established the Women's Tax Resistance League (WTRL). (13)
Over the next few years over 220 women took part in this campaign. This included Janie Allan, Charlotte Despard, Beatrice Harraden, Teresa Billington-Greig, Edith How-Martyn, Cicely Hamilton, Dora Marsden, Helena Normanton, Anne Cobden Sanderson, Emma Sproson, Margaret Nevinson, Henria Williams, Violet Tillard, Edith Zangwill, Sophia Duleep Singh and Clemence Housman.
Sylvia Pankhurst, the author of The History of the Women's Suffrage Movement (1931): has argued: "Tax resistance and resistance to enumeration under the Census of that year were mild forms of militancy now in vogue. The Women's Freedom League had hoisted the standard of 'no vote, no tax' in the early days of its formation, and Mrs. Despard and others had suffered a succession of distraints, to the accompaniment of auction sale protest meetings. ... In May, 1911, two women were imprisoned for refusal to take out dog licences. A little later, Clemence Housman, sister of the author-artist, Laurence Housman, was committed to Holloway till she should pay the trifling sum of 4s. 6d., but was released in a week's time, having paid nothing." (14)
It was WFL policy of "no taxation without representation" meant that women often went to prison for keeping a dog without a licence. In 1911 Emma Sproson served two terms of imprisonment in Stafford gaol for this offence. Frank Sproson wrote in The Vote: "The humiliating position of the married woman, especially the working woman, is admitted by all Suffragists; but I never realised that she was such an abject slave so clearly as when I stood in the Wolverhampton Police Court, side by side with my wife, charged with aiding and abetting her to keep a dog without a license. The only evidence submitted by the prosecution (the police) that I actually did anything was that I presided at two meetings in support of the "No Vote, No Tax" policy of the Women's Freedom League. That I said anything that was not fair comment on the general policy of militancy there was no evidence to show; if, then, on this point I was liable, then all supporters of militancy are equally so. But I do not believe it was on this evidence that I was convicted. No. The dog was at my house, and cared for by my children during my wife's absence. In the eyes of the law, I was lord and master, so that my offence, therefore, was not that I did anything, but rather that I did not do anything." (15)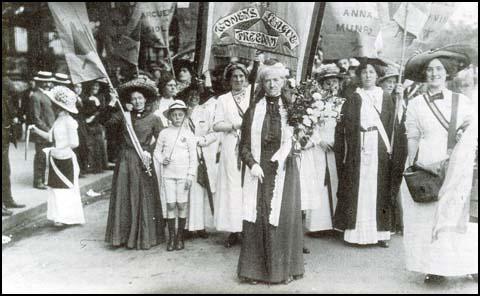 Most members of the Women's Freedom League, were pacifists, and so when the First World War was declared in 1914 they refused to become involved in the British Army's recruitment campaign. The WFL also disagreed with the decision of the NUWSS and WSPU to call off the women's suffrage campaign while the war was on. Leaders of the WFL such as Charlotte Despard believed that the British government did not do enough to bring an end to the war and between 1914-1918 supported the campaign of the Women's Peace Crusade for a negotiated peace. The Vote attacked Christabel Pankhurst and Millicent Garrett Fawcett, for condemning the women's peace conference. (16)
In November 1914 two Independent Labour Party (ILP) members, Lilla Brockway and Fenner Brockway, established the No-Conscription Fellowship in its campaign against conscription. Several members of the WFL became involved in the organisation. Violet Tillard, Assistant Organising Secretary of the WFL, was appointed General Secretary of the organisation, (17) In May 1918 she was arrested was fined £100 and costs for refusing to furnishing the name and address of the publisher of a leaflet which was circulated by the NCF. (18) When she refused to pay the fine she was sentenced to 61 days' imprisonment. (19)
The WFL continuted the campaign on women's rights. Helena Normanton wrote several pamphlets on the issue of women's pay. In Sex Differentiation in Salary (1914) she argued for equal pay for equal work. In another article she wrote: "During and after the war, many soldiers' wives and widows became the breadwinners for families. Should they be paid according to their sex or their work?" (20)
Three members of the Women's Freedom League stood in the 1918 General Election. Charlotte Despard (Battersea), Elizabeth How-Martyn (Hendon) and Emily Phipps (Chelsea) all argued that women should have the vote on equal terms with men; that all trades and professions be opened to women on equal terms and for equal pay and that women should be allowed to serve on all juries. However, in the euphoria of Britain's victory, the women's anti-war views were very unpopular and like all the other pacifist candidates, who stood in the election, they were defeated. (21)