On 4th May, 1896, Alfred Harmsworth, began publishing the Daily Mail. It was the first newspaper in Britain that catered for a new reading public that needed something simpler, shorter and more readable than those that had previously been available. One new innovation was the banner headline that went right across the page. Considerable space was given to sport and human interest stories.Most importantly, all its news stories and articles were short. The first day it sold 397,215 copies, more than had ever been sold by any newspaper in one day before. (1)
One of the popular innovations of the Daily Mail was a woman's section that dealt with issues such as fashions and cookery. Alfred Harmsworth decided to establish the Daily Mirror, a newspaper "for gentlewomen". Kennedy Jones was put in charge of the project and spent £100,000 in publicity, including a gift scheme of gilt and enamel mirrors. Mary Howarth, was appointed editor, and most of its staff were women. The first issue was published on 1st November, 1903. Harmsworth wrote in his diary that "after the usual pangs of childbirth produced the first copy at 9.50 p.m. It looks a promising child, but time will show whether we are on a winner or not." (2)
The new paper provided twenty tabloid-sized pages at a cost of a penny. Harmsworth declared in the first issue that "the Daily Mirror was new, because it represents in journalism a development that is entirely new and modern in the world; it is unlike any other newspaper because it attempts what no other newspaper has ever attempted. It is no mere bulletin of fashion, but a reflection of women's interests, women's thoughts, women's work. The sane and healthy occupation of domestic life." (3)
On its first day, the circulation of the Daily Mirror was 265,217. This was mainly as a result of a massive publicity campaign. Its front page consisted of picture-less adverts for various dressmakers, milliners and furriers. Inside it had lists of "Distinguished Invalids", "Fashionable Announcements" and "Our Birthday List". There was also an article about "Where notable people spent the weekend". There were weather reports from Bath, Harrowgate, Biarritz and Cairo, but not Birmingham or Manchester. (4)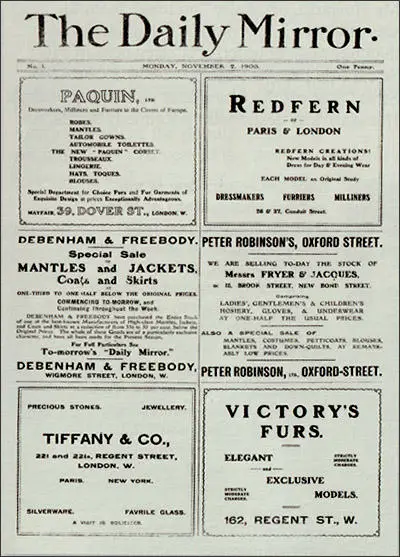 Silly mistakes were made in the first edition. For example, one regular column, "Our French Letter" had to be changed to Yesterday in Paris". Sales dropped dramatically after the initial launch and within a month circulation was below 25,000 and losses were £3,000 a week. "The paper became the greatest publishing blunder of Alfred's career and lost £100,000 before its fortunes were righted. The original idea - that a large female readership could be lured to a penny paper away from sixpenny productions like the Queen and Ladies' Field - proved absolutely wrong." (5)
Came down to the Mirror office and found Kennedy Jones in full swing, and after the usual pangs of childbirth produced the first copy at 9.50 p.m. It looks a promising child, but time will tell if we are on a winner or not.
Owing to much good luck and many loyal co-workers, the Daily Mirror is, up to the present, the only journalistic failure with which I have been associated.

Disaster may often be changed to triumph by alteration in tactics. The faculty of knowing when you are beaten is much more valuable than the faculty of thinking you are not beaten when you are. I had for many years a theory that a daily newspaper for women was in urgent request, and I started one. The belief cost me £100,000. I found out that I was beaten. Women don't want a daily paper of their own.

It was another instance of the failures made by a mere man in diagnosing women's needs. Some people say that a woman never really knows what she wants. It is certain she knew what she didn't want. She didn't want the Daily Mirror. I then changed the price to a halfpenny, and filled it full of photographs and pictures to see how that would do. It did.
I was shown into a small room where an extremely pretty girl sat typing letters. Then I saw that in the doorway stood a youngish man, rather heavily built, with fair hair that swept in a wave over his forehead, massive features, penetrating blue eyes. just now his eyes were smiling. "Come in," he said, his tone was friendly.

For a few minutes we talked about the Advertiser. He seemed to know that I had little money to spend, that my relations with the Board was strained. After this he looked hard at me. "How would you like to come on to one of my papers?" he asked.

Suppressing an impulse to take his hands, lift him out of his chair, and whirl him in a wild dance round the room, I said quietly: "That depends on what arrangement we could make." He pressed a bell. A small boy in uniform appeared. "Ask Mr. Kennedy Jones to come down for a moment," Harmsworth said. We went on talking, and I succumbed at once to the fascination he was to exercise over me for nearly twenty years.

Kennedy Jones came in. A totally different type of man, no charm of manner or expression - until he smiled. Coarsely moulded features, stiff black hair, rather a lazy way of moving, but a man who directly he spoke radiated acute intelligence. He shook hands in an uninterested sort of way, and sprawled on the Chesterfield lounge.

Harmsworth frowned. "I want somebody to take over the Daily Mirror," he said, and showed that he had to make an effort to say it. His failure, the first bad one he had known, hurt him. "It won't do as a paper for women," Harmsworth went on. "It's taught me two things - that women can't write and don't want to read. But we've got to do something with it. I should like to see what you can do."
(4) In his book My Seven Selves, Henry Hamilton Fyfe explained how he changed the Daily Mirror.
As for the women, I had the very disagreeable duty of sending them away with three months' wages "in view of the changes about to be made in the paper." What these changes were to be nobody knew. The women asked me. I could not tell them. They begged to be allowed to stay. They left little presents on my desk. They waylaid me tearfully in the corridors. It was a horrid experience - like drowning kittens.

One day the Chief (Harmsworth) sent over to me a man (Arkas Sapt) on the magazine side of his business, with a note saying that he was probably mad, but that I might listen to what he wanted to tell me. I listened. He told me he could print photographs from half-tone blocks on quick-printing rotary machines. No newspaper up to that date had been regularly illustrated in this way. Photographs were always copied in pencil or pen and ink, and printed from line blocks. A paper that could reproduce photographs directly would be a novelty with an immediate and compelling appeal. I formed the opinion that this man was certainly not mad, though perhaps eccentric, and that what he had discovered might, if it satisfied our tests, make the fortune of the Daily Mirror. I was right. It did.
(5) In his book My Seven Selves, Henry Hamilton Fyfe explained the success of the Daily Mirror.
The shape and content of the Daily Mirror recommended it strongly to those who needed something to help them through their half-hour's journey to work in the morning. Packed in tram, train, or omnibus, standing up perhaps and holding on to a strap with one hand, they required in the other, not a journal to stir thought or supply serious information, but one to entertain them, occupy their minds pleasantly, prevent then for thinking. It was easier to look at pictures than to read print. The news was displayed and worded in a manner that made assimilation simple. Everything in the Daily Mirror was calculated to be easy of absorption by the most ordinary intelligence.
Before this visit to Germany I always had a sneaking feeling that there was a strong undercurrent of opposition to Hitler.

I am now certain that I was wrong.

I now know that this man has the absolute unswerving confidence of the people.

They will do anything for him.

They worship him.

They regard him as a god.

Do not let us deceive ourselves in this country that Hitler may be dislodged by enemies within his own frontiers.
There are two ways of losing a war. One is to be defeated in the field. The other is to lose the war before it begins.

We have indicated this peril for months past. It is now obvious. It has to be admitted.

Why is so plain a peril - plainly revealed in Hitler's book - why, we ask, is it only now recognised by our rulers?

Simply because, even if they have read Hitler (which is still doubtful) they have not believed what he has said in Mein Kampf.

Not believing him, not knowing the sort of lucid lunatic with whom they have had to deal, they have believed it possible to disarm him by smiles, handshakes, pacts and scraps of paper.
(8) Editorial, The Daily Mirror (16th March, 1939)
Hitler is never satisfied with submission. His "dark Satanic mind" rejoices in humiliating the downfallen. He stamps on the faces of his victims. We know his methods and have studied his programme. Nothing that he does surprises us. What does surprise us is the surprise of our rulers here.

They never seem to suspect their Hitler. When he lets them down, they just can't make out what's come over the Fuehrer. Why, he promised to be good!
(9) When it became known that Herbert Morrison had threaten to ban the Daily Mirror over its publication of Philip Zec's cartoon on the price of petrol, some members of the House of Commons forced a debate on the issue. Morrison tried to explain his actions in the debate that took place on 26th March, 1942.
Supposing a secret Fascist organization wished to conduct propaganda for the purpose of undermining morale. If it had sense, it would not go about it by openly opposing the war. Not at all. It would set about vigorously supporting the war and then it would paint the picture that the House of Commons is rotten or corrupt or incompetent or something like that, that the Government is the same, that the chiefs of the Armed Forces are the same, in that way effecting a steady undermining of public confidence and a spread of the belief that defeat is inevitable and why should the needless spilling of blood and suffering continue. That would be a perfectly understandable Fascist technique.
I do not like the Daily Mirror and I have never liked it. I do not see it very often. I do not like that form of journalism. I do not like the strip-tease artists. If the Daily Mirror depended upon my purchasing it, it would never be sold. But the Daily Mirror has not been warned because people do not like that kind of journalism. It is not because the Home Secretary is aesthetically repelled by it that he warns it. I have heard a number of honourable members say that it is a hateful paper, a tabloid paper, a hysterical paper, a sensational paper, and that they do not like it. I am sure the Home Secretary does not take that view. He likes the paper. He is taking its money (waves cuttings of articles written by Morrison for the Daily Mirror).

He (Morrison) is the wrong man to be Home Secretary. He has for many years the witch-finder of the Labour Party. He has been the smeller-out of evil spirits in the Labour Party for years. He built up his reputation by selecting people in the Labour Party for expulsion and suppression. He is not a man to be entrusted with these powers because, however suave his utterance, his spirit is really intolerant. I say with all seriousness and earnestness that I am deeply ashamed that a member of the Labour Party should be an instrument of this sort of thing.

How can we call on the people of this country and speak about liberty if the Government are doing all they can to undermine it? The Government are seeking to suppress their critics. The only way for the Government to meet their critics is to redress the wrongs from which the people are suffering and to put their policy right.
The Daily Mirror belonged originally to Lord Rothermere. About ten years ago, Lord Rothermere sold his shares, gradually, on the Stock Exchange. They were brought up in small blocks. There is no big, or controlling, group of shares now held by one person. The shares held by nominees represent only between five and ten per cent of the whole shareholding of the paper. In other words, this paper, unlike many others, is run by a board of directors and a chairman. The Daily Mirror has not changed (its policy) in the last five or six years. Its staff has not changed, since the time when the Prime Minister wrote for it.
(12) On 26th June 1961, Cecil King was interviewed by the Royal Commission on the Press on how editorial policy of the Daily Mirror was decided.
I would say that on editorial policy Hugh Cudlipp and I, who have been directors together for very many years, work closely and are in general agreement on what sort of line we are going to take. I suppose I see him very nearly every day, and if anything fresh crops up we decide what we are going to do, but I very rarely see the editors. He sees the editors and the editors are responsible to him.
(13) On 26th June 1961, Hugh Cudlipp was interviewed by the Royal Commission on the Press on how editorial policy of the Daily Mirror was decided.
Mr. King and I meet frequently; we know each other's minds and the policies of our papers have been settled for very many years; we're not suddenly going to be Right wing instead of Left Wing, or unilateralists instead of multilateralists.

When Vicky drew cartoons for us, I can't remember a single occasion on which he agreed with the policy of the paper, and Cassandra, might be miles away from it, but both are given freedom of action.