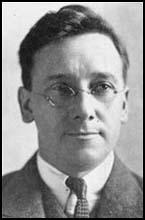 Herbert Morrison, the son of a policeman, was born in Lambeth, London on 3rd January, 1888. As a child he lost the sight of his right eye. Educated at a local elementary school, he left at fourteen be become an errand boy.
Morrison became active in politics and joined the Independent Labour Party (ILP) in 1906. He eventually came to the conclusion that the ILP was not radical enough and the following year joined the Social Democratic Federation. Morrison eventually became disillusioned with the leadership of H. D. Hyndman and returned to the ILP.
When the First World War was declared two pacifists, Clifford Allen and Fenner Brockway, formed the No-Conscription Fellowship (NCF), an organisation that encouraged men to refuse war service. The NCF required its members to "refuse from conscientious motives to bear arms because they consider human life to be sacred." As Martin Ceadel, the author of Pacifism in Britain 1914-1945 (1980) has pointed out: "Though limiting itself to campaigning against conscription, the N.C.F.'s basis was explicitly pacifist rather than merely voluntarist.... In particular, it proved an efficient information and welfare service for all objectors; although its unresolved internal division over whether its function was to ensure respect for the pacifist conscience or to combat conscription by any means"
Morrison joined the No-Conscription Fellowship. As he was later to point out that this was an unpopular position to take: "The overwhelming majority of the people supported the Liberal Government in its declaration of war after Germany's invasion of Belgium. Every possible influence was brought to bear to create that attitude. The Conservatives were for the war. All the newspapers were in support, and there was no difficulty in whipping up public opinion to near fever pitch."
Alfred Salter formed a Bermondsey branch of the No-Conscription Fellowship. Morrison joined the group. As he was later to point out that this was an unpopular position to take: "The overwhelming majority of the people supported the Liberal Government in its declaration of war after Germany's invasion of Belgium. Every possible influence was brought to bear to create that attitude. The Conservatives were for the war. All the newspapers were in support, and there was no difficulty in whipping up public opinion to near fever pitch."
Morrison became very close to Salter who, after making several anti-war speeches, the local newspaper asked: "Is Dr. Salter Pro-German?" Several of his patients sent letters to the newspaper defending their doctor. One wrote: "When my father and I were both so ill that we thought there was no hope for either of us. Dr. Salter attended us night and day, although he knew his chances of being paid were very small. There are many other poor people in Bermondsey who have cause to be grateful to him." This general affection for the doctor among the people led local editors and political opponents to refrain from the viciousness which they voiced towards other opponents of the war.. As the author of Bermondsey Story: The Life of Alfred Salter (1949) pointed out: "The truth was that the main feeling in Bermondsey was respect for Salter as a man and a doctor rather than as a pacifist... This general affection for the doctor among the people led local editors and political opponents to refrain from the viciousness which they voiced towards other opponents of the war."
By July 1916, nineteen members of the Bermondsey group were in prison as conscientious objectors. Others agreed to work as farm labourers. This included Herbert Morrison, who became a land worker at Norton, near Letchworth. When he was asked by the Wandsworth Tribunal if he belonged to any religious denomination, he replied, "I belong to the ILP and Socialism is my religion."
Ben Pimlott, the author of Labour and the Left (1977) has argued: "Despite blindness in one eye, which would have exempted him on medical grounds, Morrison declared himself a conscientious objector in 1914. In 1915 came the opportunity which soon established him as a major political force - he became part-time secretary of the London Labour Party at £1 per week, and within a few years had established himself as a figure of national importance in the Movement."
A founder member of the London Labour Party, Morrison became Mayor of Hackney from 1920-21. Morrison was also elected to the London County Council (LCC) in 1922 and the following year he became MP for South Hackney in the 1923 General Election.
His close friend, Alfred Salter, commented: He (Morrison) is a born administrator, and this tends to make him bureaucratic and opinionated. He knows his own abilities and he values a first-class brain. He wants centralisation staffed with permanent officers of first rank, all working at high pressure. He cannot tolerate inefficiency or slackness. Everything must be up to parade-ground standard... With all his innate strength and force he is far too much in the hands of his permanent officials, as is the way with dictators, though he would doubtless deny this most strenuously."
In October 1924 the MI5 intercepted a letter written by Grigory Zinoviev, chairman of the Comintern in the Soviet Union. In the letter Zinoviev urged British communists to promote revolution through acts of sedition. Vernon Kell, head of MI5 and Sir Basil Thomson head of Special Branch, were convinced that the letter was genuine. Kell showed the letter to Ramsay MacDonald, the Labour Prime Minister. It was agreed that the letter should be kept secret but someone leaked news of the letter to the Times and the Daily Mail.
The Zinoviev Letter was published in these newspapers four days before the 1924 General Election and contributed to the defeat of Morrison at South Hackney. He returned to the House of Commons following the 1929 General Election. The Labour Party won the election and Ramsay MacDonald became prime minister and appointed Morrison as his Minister of Transport.
In an article published in 1930 Alfred Salter argued that: "Herbert Morrison is one of the coming men. He has risen to his present position as a national figure by sheer native ability and grit. He has had no advantages of any kind, no external assistance, and no family or other influence to help him make his way in life. He owes his fortune to character and capacity... It is not too much to say that he has built up the London movement from practically nothing to its proud position as one of the most important and influential elements in the British Labour Party. In my judgment Morrison is one of the ablest fighting debaters in the House of Commons. It is a pity that the Government does not use his talent more in the big full-dress flare-ups, though I suppose his time will come. He has a gift of crisp, sharp, pungent phrasing, and he can condense into a five- or ten-minute reply more direct, relevant, hard-hitting argument than almost anyone I know."
The election of the Labour Government in 1929 coincided with an economic depression and Ramsay MacDonald was faced with the problem of growing unemployment. MacDonald asked Sir George May, to form a committee to look into Britain's economic problem. When the May Committee produced its report in July, 1931, it suggested that the government should reduce its expenditure by £97,000,000, including a £67,000,000 cut in unemployment benefits. MacDonald, and his Chancellor of the Exchequer, Philip Snowden, accepted the report but when the matter was discussed by the Cabinet, the majority voted against the measures suggested by Sir George May.
MacDonald was angry that his Cabinet had voted against him and decided to resign. When he saw George V that night, he was persuaded to head a new coalition government that would include Conservative and Liberal leaders as well as Labour ministers. Most of the Labour Cabinet totally rejected the idea and only three, Philip Snowden, Jimmy Thomas and John Sankey agreed to join the new government. MacDonald was determined to continue and his National Government introduced the measures that had been rejected by the previous Labour Cabinet. Morrison was furious with MacDonald for making this decision and pointed out that he had never been given a mandate from the cabinet to create a National Government. Morrison later controversially attacked George V for acting unconstitutionally in order to split the Labour Party.
In 1933 Morrison explained his socialist beliefs: "I am a Socialist and my general socialist views certainly influence my mind in examining particular economic problems. Most public-spirited people, whether Socialists or non-Socialists, have their ideals and their visions. It so happens that for me socialism provides the ethical and moral framework of my ideals and visions as well as what I believe to be a sound, practical and urgently necessary economic policy for today. The high moral purpose of socialism does not and must not prevent the Socialist in public affairs from carrying a sound business head on his shoulders, nor must he feel it in any way a treachery to his ideals if he must elaborate in a realistic spirit the organization and management of socialized industries."
Morrison continued to sit on the London County Council and in 1934 became its leader. In this post he oversaw the development of London's housing, health, education and transport services. Morrison's main achievements in London included the unification of the transport system and creating a 'green belt' around the suburbs. In 1935 Morrison was once again elected to the House of Commons and soon afterwards was defeated by Clement Attlee for the leadership of the Labour Party.
During the Spanish Civil War Morrison was one of the leading opponents of the government's non-intervention policy in Spain. He explained his position in his memoirs: "Baldwin's retirement in May, 1937, had accentuated the appeasement policy with the arrival of Neville Chamberlain as Premier. My own view was that the chances of avoiding war were nearly over but there was still time with a definite policy of standing up to the Fascists over Spain. I opposed nonintervention in Spain and was speaking for a minority within the Labour Party. As much as feeling that it was in the interests of peace to do so I felt that this was a question of principle. It was the elementary duty of all socialists to back up the legally elected Republican Government of Spain."
In 1940 Winston Churchill appointed Morrison as Minister of Supply in his wartime coalition government. Later that year he replaced John Anderson as Home Secretary. In this post he had responsibility for Air Raid Precautions and the organisation of the National Fire Service.
On 5th March, 1942, the Daily Mirror published a cartoon by Philip Zec on the government's decision to increase the price of petrol. The cartoon showed a torpedoed sailor with an oil-smeared face lying on a raft. Zec's message was "Don't waste petrol. It costs lives."
Winston Churchill and Morrison believed that the cartoon suggested that the sailor's life had been put at stake to enhance the profits of the petrol companies. Morrison arranged for MI5 to investigate Zec's background, and although they reported back that he held left-wing opinions, there was no evidence of him being involved in subversive activities.
H. G. Bartholomew, editorial director and Cecil Thomas, the editor of the Daily Mirror, were ordered to appear before Morrison at the Home Office. Zec's cartoon was described as "worthy of Goebbels at his best" and turning on Thomas, Morrison told him that "only a very unpatriotic editor could pass it for publication". Morrison informed Bartholomew that "only a fool or someone with a diseased mind could be responsible" for allowing the Daily Mirror to publish such material.
When Anueurin Bevan heard that the government was considering closing down the Daily Mirror he forced a debate on the issue in the House of Commons. Some MPs were appalled when Morrison suggested that the newspaper might be part of a fascist plot to undermine the British Government. Several pointed out that the Daily Mirror had been campaigning against fascism in Europe since the early 1930s. Bevan argued in the debate that: "The Government are seeking to suppress their critics. The only way for the Government to meet their critics is to redress the wrongs from which the people are suffering and to put their policy right."
During the Second World War several leading fascists, including Oswald Mosley, were imprisoned without trial. In November, 1943 Morrison controversially decided to order Mosley's release from prison. There were large-scale protests and even his sister-in-law, Jessica Mitford, described the decision as "a slap in the face of anti-fascists in every country and a direct betrayal of those who have died for the cause of anti-fascism."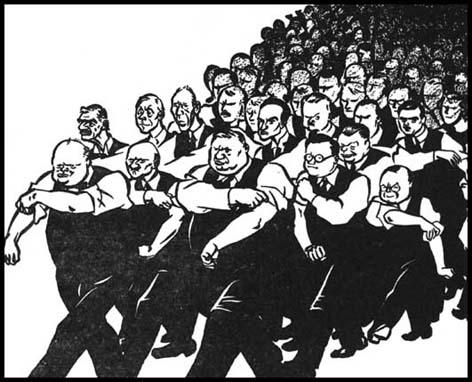 During the Second World War some some MPs believed that Herbert Morrison should replace Clement Attlee as leader of the Labour Party. The leader of the plot was his mistress, Ellen Wilkinson. A fellow Cabinet Minister, Hugh Dalton wrote in his diary on 28th October, 1942. "Ellen Wilkinson came to dine with me.... She is still a most devoted worshipper of Herbert Morrison, and puts me second. What she would like would be Morrison to lead the Party and me to be his deputy. She would like us two to go into the War Cabinet, putting out Attlee and Cripps. The difficulty about all such plans is that the right moment never arrives to put them into execution!" Emanuel Shinwell warned Attlee about this plot when he promoted Wilkinson to the post of Minister of Education: " I mentioned to Attlee that a number of plotters had been given jobs. He laughed, perfectly well aware of what had been going on. It is not bad tactics to make one's enemies one's servants."
In 1945 Morrison was given responsibility for drafting the Labour Party manifesto that included the blueprints for the nationalization and welfare programmes. "The Labour Party is a socialist party and proud of it. Its ultimate purpose at home is the establishment of the Socialist Commonwealth of Great Britain - free, democratic, efficient, progressive, public-spirited, its material resources organized in the service of the British people." Morrison explained in An Autobiography (1960): "We had not been afraid to be frank about our plans. There would be public ownership of fuel and power, transport, the Bank of England, civil aviation, and iron and steel. We proposed a housing programme dealt with in relation to good town planning. We promised to put the 1944 Education Act into practical operation. We said that wealth would no longer be the passport to the best health treatment. We promised that a Labour Government would extend social insurance over the widest field."
After the 1945 General Election Labour victory, Morrison became deputy Prime Minister and leader of the House of Commons. Morrison made several enemies during this period. This included Ernest Bevin. A fellow minister, Harold Wilson, explained: "Ernie Bevin could not stand Herbert Morrison, who had been a City boss when Bevin had been head of one of the biggest unions and the two had clashed. I would think that Bevin declared war on Morrison in the 1930s and that they were never going to come together. You could see his hackles rise every time, especially if Morrison tried to encroach on foreign affairs." A fellow MP, Robert Boothby tells the story of how the two men loathed each other. When a MP said to Bevin that "Morrison was his own worst enemy", he replied, "Not while I'm alive he ain't"
When ill-health forced Ernest Bevin to resign in March 1951, Morrison became Foreign Secretary. George Brown commented: "When Bevin retired, the best job going, next to the Prime Ministership, was that of Foreign Secretary, which he (Morrison) wanted partly for this reason and partly because of the possibility of it going to Aneurin Bevan whom he simply could not abide. This, alas, was the one job that Herbert Morrison was not fitted to do.... Morrison simply was not cut out for foreign affairs, and his period at the Foreign Office was a disaster that clouded everything that had gone before." Morrison held the post until Labour's defeat at the 1951 General Election.
Clement Attlee finally retired as Labour Party leader after losing the 1955 General Election. The problem for Morrison was that he was now sixty-seven year old Herbert Morrison. His main rivals were Hugh Gaitskell and Aneurin Bevan. In the ensuing leadership election, held in December 1955, Gaitskell won an easy victory at the first ballot, gaining 157 votes against 70 for Bevan and 40 for Morrison.
Morrison was created a life peer in 1959 and as well as being active in the House of Lords served as president of the British Board of Film Censors. Lord Morrison remained active in politics until his death on 6th March 1965.