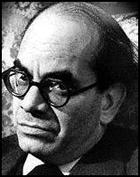 Victor Weisz, the son of Dezso Weisz, a Jewish jeweller and goldsmith, was born in Berlin on 25th April 1913.
Weisz attended the Berlin School of Art but had to leave when his father committed suicide in 1928. Soon afterwards he began having his caricatures published. He eventually joined the staff of the left-wing journal, Uhr Blatt.
As a member of the Jewish community with socialist political opinions, Weisz decided to leave Nazi Germany after Adolf Hitler gained power. Weisz arrived in London in 1935 and found work as a political cartoonist with a variety of newspapers and journals including The News Chronicle, The Daily Mirror, The Daily Mail, Punch Magazine, The Tatler, Lilliput, The New Statesman and The Daily Herald.
In 1939 he joined the staff of The News Chronicle. By the 1940s Weisz, who signed his work, Vicky, had established himself as Britain's leading left-wing cartoonist. Michael Foot called him "the best cartoonist in the world". Vicky himself said: "I don't make fun of a face. I make fun of what is behind the face." As Mark Bryant pointed out: "He sometimes drew a small version of himself in his cartoons, commenting on the main character's actions."
Martin Walker has argued in his book, Daily Sketches: A Cartoon History of Twentieth Century Britain (1978) that Vicky had a lot in common with David Low: "Vicky came to dominate the post-war period of cartoons as only David Low had done before him. He and Low had much in common; a basic humanitarianism which ran through all their work, a healthy mistrust of all those who sought power, and an instinctive loathing of bullies." Vicky himself admitted that his drawings had been influenced by the work of Käthe Kollwitz.
Published collections of his work include Aftermath: Cartoons by Vicky (1946), Unpublished Cartoons by Vicky (1947), New Statesman Profiles (1957), Vicky's World (1959) and Home and Abroad (1964).
Depressed and suffering from insomnia, Victor Weisz committed suicide on 22nd February, 1966.