Elizabeth Wolstenholme-Elmy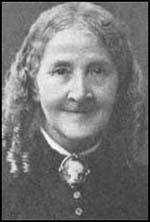 Elizabeth Wolstenholme, the daughter of a Methodist minister from Eccles, was born on 15th December 1833. Elizabeth's brother Joseph received an expensive private education and eventually became professor of mathematics at Cambridge University. The Rev. Wolstenholme held traditional views on girls schooling and Elizabeth only received two years of formal education.
After the death of both her parents, her guardians refused permission for Elizabeth to attend the newly opened, Bedford College for Women. Elizabeth decided to educate herself at home until she gained her inheritance at the age of nineteen. In 1853 Elizabeth purchased her own girls' boarding school in Worsley, Lancashire.
Elizabeth believed that teaching was a highly skilled occupation that needed special training. In 1865 Elizabeth Wolstenholme joined with other women schoolteachers in her area to form the Manchester Schoolmistresses' Association. Two years later Elizabeth and Josephine Butler helped establish the North of England Council for the Higher Education of Women. This organisation provided lectures and examinations for women who wanted to become schoolteachers.
Wolstenholme felt passionate about improving the quality of women's education. In 1869 Josephine Butler asked Elizabeth to contribute an article on education for her book Women's Work and Women's Culture. The article criticised middle class parents for their lack of interest in their daughter's education and set out her plans for a system of high schools for girls in every town in Britain.
In 1864 Parliament passed the Contagious Diseases Act. This act required women suspected of being prostitutes to undergo compulsory medical examination. If the women were suffering from venereal disease they were placed in a locked hospital until cured. Elizabeth Wolstenholme considered this law discriminated against women, as the legislation contained no similar sanctions against men. Elizabeth and Josephine Butler decided to form the Ladies National Association for the Repeal of the Contagious Diseases Acts. Elizabeth took the view that it would be impossible to have legislation like this reformed until after women had the vote.
In 1865 eleven women in London formed a discussion group called the Kensington Society . Nine of the eleven women were unmarried and were attempting to pursue a career in education or medicine. The group included Elizabeth Wolstenholme, Barbara Bodichon, Emily Davies, Francis Mary Buss, Dorothea Beale, Anne Clough, Helen Taylor and Elizabeth Garrett. At one of the meetings the women discussed the topic of parliamentary reform. The women thought it was unfair that women were not allowed to vote in parliamentary elections. They therefore decided to draft a petition asking Parliament to grant women the vote.
The women took their petition to Henry Fawcett and John Stuart Mill, two MPs who supported universal suffrage. Mill added an amendment to the Reform Act that would give women the same political rights as men. The amendment was defeated by 196 votes to 73. Members of the Kensington Society were very disappointed when they heard the news and they decided to form the London Society for Women's Suffrage. Soon afterwards similar societies were formed in other large towns in Britain. Eventually seventeen of these groups joined together to form the National Union of Women's Suffrage Societies.
In 1868 Elizabeth became secretary of the Married Women's Property Committee. The main objective was to change the common law doctrine of coverture to include the wife's right to own, buy and sell her separate property. Elizabeth served alongside Josephine Butler and Richard Pankhurst on the executive committee of the organization.
In the early 1870s Elizabeth became friendly with Benjamin Elmy, a poet from Congleton. The couple lived together and in 1874 she became pregnant. Some members of the Married Women's Property Committee believed that Wolstenholme should resign as they felt the scandal was harming the women's movement. Josephine Butler sent a letter to women leaders defending their behaviour. "They have sinned against no law of Purity. They went through a most solemn ceremony and vow before witnesses. I knew of this true marriage before God - early in 1874. It would have been a legal marriage in Scotland. They blundered; but their whole action was grave and pure. The English marriage laws are impure. English law… sins against the law of purity. It is a species of legal prostitution the woman being the man's property." Lydia Becker was not convinced by these arguments and resigned from the committee.
Elizabeth Wolstenholme, who was pregnant at the time, married Elmy at Kensington Register Office in October 1874. The wedding was a civil ceremony and true to her principals, Elizabeth refused to make a promise of obedience to her husband. She also refused to wear a wedding ring or to give up her surname. Three months after their marriage, Elizabeth gave birth to a son. According to Sylvia Pankhurst, Elmy was, "a stout, sallow man" who "intensely resented and never forgave" the suffragettes for interfering in his affairs. One of her close friends, Harriet McIlquham, later argued that "her life with Mr Elmy has been one of mixed happiness and sorrow... In many ways I believe he has been a great intellectual help to her, and in other ways a great tax on her energies."
Elizabeth Wolstenholme-Elmy was a great believer in presenting petitions to Parliament. She claimed to have personally communicated with 10,000 people and nearly 500,000 leaflets. Her work resulted in the collection of 90,000 signatures demanding changes in the law. The Married Women's Property Committee eventually managed to persuade the House of Commons and the House of Lords to pass the Married Women's Property Act (1882). Another one of her campaigns resulted in the passing of the Custody of Infants Act (1886), which improved the custody rights of mothers.
In 1889 Elizabeth joined Richard Pankhurst, Emmeline Pankhurst and Ursula Bright, to form the Women's Franchise League. Elizabeth, like Richard and Emmeline, was also a member of the Manchester branch of the Independent Labour Party. However, she was constantly in conflict with Bright, who was a member of the Liberal Party. After one dispute with Bright she resigned from the Franchise League and told Harriet McIlquham she did "not intend ever again to take any part whatever in political action on behalf of women.". She did not keep to her pledge and within a year had established another suffrage group, the Women's Emancipation Union.
By the early 1900s Elizabeth had become very critical of what she called the "fiddle-faddling" of the National Union of Women's Suffrage Societies and was one of the first people to join the Women's Social and Political Union. However, Elizabeth was now in her seventies and was not able to take any actions that would result in her going to prison. She wrote: "I am old and hope many mornings that the end may be soon and sudden - and indeed I am so tired in brain, head and body, that I long for rest."
In February 1906, Elizabeth wrote to a friend that her husband was "too weak to sit up even to have his bed made". Louisa Martindale wrote to Harriet McIlquham asking if she can "manage all the nursing herself?" Benjamin Elmy died the following month.
In an attempt to put pressure on the government, the Women Social & Political Union (WSPU) decided to organise a Women's Coronation Procession march through London on 17th June 1911, just before King George V's coronation. It is estimated that over 40,000 women marched to seventy-five bands and held over a thousand embroidered and painted banners. The 78-year-old, Elizabeth Wolstenholme-Elmy, was the guest of honour. It was claimed that as the oldest militant suffragist still alive she had "spent 46 years of her life in fighting for the vote."
Elizabeth became concerned about the increasing use of violence by the WSPU. She wrote to the Manchester Guardian in July, 1912: "Now that our cause is on the verge of success, I wish to add my protest against the madness which seems to have seized a few persons whose anti-social and criminal actions would seem designed to wreck the whole movement ... I appeal to our friends in the ministry and in Parliament not to be deterred from setting right a great wrong by the folly or criminality of a few persons." However, unlike other critics of its arson campaign, Elizabeth refused to resign from the WSPU.
Elizabeth Wolstenholme-Elmy died, aged eighty-four, in a Manchester nursing home on 12th March 1918 after falling down the stairs and hitting her head. Six days earlier, the Qualification of Women Act had been passed by Parliament. The Manchester Guardian reported that she had lived long enough to be told the good news.