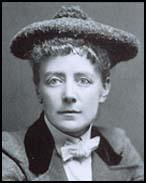 Ethel Smyth, the fourth of the eight children of Major-General John Hall Smyth (1815–1894) and his wife, Emma Struth Smythe (1824–1891), was born at 5 Lower Seymour Street, London, on 22nd April 1858. In her autobiography she claimed that her father was very strict: "I think on the whole we were a naughty and very quarrelsome crew... Of course we merited and came in for a good deal of punishment, including having our ears boxed, which in those days was not considered dangerous... I think I am the only one of the six Miss Smyths who has ever been really thrashed; the crime was stealing some barley sugar, and though caught in the very act, persistently denying the theft. Thereupon my father beat me with one of grandmama's knitting needles, a thing about two and a half feet long with an ivory knob at one end.... Hit hard he did, for a fortnight later, when I joined Alice, who had been away all this time at an aunt's, she noticed strange marks on my person while bathing me, and was informed by me that it came from sitting on my crinoline... Even in after years my mother could not bear to think about that thrashing."
Ethel was much closer to her mother: "At this stage of my existence I stood in great awe of my father, but adored my mother, and remember her dazzling apparitions at our bedside when she would come to kiss us good-night before starting for an evening party. I often lay sleepless and weeping at the thought of her one day growing old and less beautiful. Besides this, wild passions for girls and women a great deal older than myself made up a large part of my emotional life, and it was my habit to increase the anguish of love by fancying its object was prey to some terrible disease that would shortly snatch her from me."
Emma Struth Smythe introduced her daughter to music: "She was in fact one of the most naturally musical people I have ever known; how deeply so I found out in after years when she came to Leipzig to see me, and I watched her listening for the first time to a Beethoven symphony - watched her face softening, tightening, relaxing again as each beauty I specially counted on went home. Old friends maintained that when she was young her singing would have melted a stone, which I can well believe all the warm, living qualities that made her so lovable must have got into it. When I knew her she had almost lost her voice, but enough remained to judge of its strangely moving timbre. Later on she loved to hear me sing, and it saddens me to think how seldom I gratified her when we were by ourselves; but I always was lazy about singing."
Her biographer, Elizabeth Kertesz, has pointed out: "She first became aware of her musical vocation in 1870, under the influence of a governess who had studied at the Leipzig conservatory. She was educated at home, with her five sisters, but was sent to school in Putney between 1872 and 1875. In spite of musical activities at school, she did not really begin to develop her talent until she returned to Frimley and received tuition from Alexander Ewing. This new friend and mentor encouraged her musical aspirations, while his wife, Juliana, foretold an author's career for their enthusiastic pupil. The fruitful contact was brought to an abrupt end by General Smyth's distrust of Ewing, but Smyth had already made up her mind to study composition in Leipzig."
However, Major-General John Hall Smyth refused permission for her to study music and insisted that she got married. According to Kertesz: "With her goal set, Smyth chafed at the social obligations of a marriageable young woman. She had tacit support from her mother, but quarrelled violently with her disapproving father and eventually resorted to militant tactics, locking herself in her room and refusing to attend social engagements. General Smyth finally agreed to her demand and she set off for Leipzig in July 1877. This was indeed a victory for a young woman of her class."
Smyth found Leipzig Conservatory disappointing and after a year she abandoned this institution to study privately with the composer Heinrich von Herzogenberg (1843–1900). Herzogenberg's wife, Lisl, became Smyth's first great love and the two women grew very close. Another biographer, Ronald Crichton, has commented: "On the whole it seems that the greatest and most enduring of her 'passions' were for older women with whom, through character or circumstance or both, physical gratification was out of the question even to one of her on-coming disposition."
Ethel Smyth claimed in her autobiography, Impressions that Remained (1919): "The moment has come to express regret that unlike other women writers of memoirs, such as Sophie Kowalewski, George Sand and Marie Bashkirtseff - if for a moment I may class myself with such as these - I have so far no orthodox love-affairs to relate, neither soulful sentiment for musician of genius, nor perilous passion conceived among the reeds of the Crostewitz lake for proud Prussian guardsman. In my letters to Lisl, where all the secrets of my heart stand revealed, I again and again express a conviction it is foolish to insist upon, so obvious is it, that the most perfect relation of all must be the love between man and woman, but this seemed to me, given my life and outlook, probably an unachievable thing."
In 1878 she went to live with the Herzogenberg family. Heinrich von Herzogenberg introduced Ethel to Johannes Brahms. She later recalled: "To my mingled delight and horror I learned, too, that Henschel had actually spoken to him about my work, telling him I had never studied, that he really ought to look at it and so on; and after the general rehearsal this good friend clutched and presented me all unawares. At that time Brahms was clean shaven, and in the whirl of emotion I only remember a strong alarming face, very penetrating bright blue eyes, and my own desire to sink through the floor when he said, as I then thought by way of a compliment, but as I now know in a spirit of scathing irony, So this is the young lady who writes sonatas and doesn't know counterpoint!"
In 1882 Ethel Smyth met Lisl Herzogenberg's sister Julia and her husband, Henry B. Brewster (1850–1908) in Florence. Brewster was an American writer and philosopher who had grown up in Europe. In her autobiography Impressions that Remained (1919) she pointed out: "It may be remembered that the Brewsters held unusual views concerning the bond between man and wife, views which up to the time of my arrival on the scene had not been put to the proof by the touch of reality. My second visit to Florence was fated to supply the test. Harry Brewster and I, two natures to all appearance diametrically opposed, had gradually come to realize that our roots were in the same soil - and this I think is the real meaning of the phrase to complete one another - that there was between us one of those links that are part of the Eternity which lies behind and before Time. A chance wind having fanned and revealed at the last moment, as so often happens, what had long been smouldering in either heart, unsuspected by the other, the situation had been frankly faced and discussed by all three of us; and I then learned, to my astonishment, that his feeling for me was of long standing, and that the present eventuality had not only been foreseen by Julia from the first, but frequently discussed between them. To sum up the position as baldly as possible, Julia, who believed the whole thing to be imaginary on both sides, maintained it was incumbent on us to establish, in the course of further intercourse, whether realities or illusions were in question. After that - and surely there was no hurry - the next step could be decided on. This view H. B. allowed was reasonable. My position, however, was that there could be no next step, inasmuch as it was my obvious duty to break off intercourse with him at once and for ever. And when I left Italy that chapter was closed as far as I was concerned." Her biographer, Elizabeth Kertesz, has argued: "She returned to Italy the following winter and found herself reciprocating Brewster's growing affection for her, although she tried to act honourably by breaking off all contact with him. Despite this renunciation, Lisl's loyalties were torn, and in 1885 she severed all contact with Smyth."
Ethel Smyth began to make a name for herself as a composer during this period. She wrote piano music and works for a variety of chamber ensembles in a style strongly influenced by the Brahmsian tradition. Most of these works were performed privately, but her string quintet (op. 1, 1883) and her violin sonata (op. 7, 1887) were played publicly at the Leipzig Gewandhaus. She returned to England, where no one knew of her German success. Ethel also had a great voice. Maurice Baring described her singing as "the rare and exquisite quality and deelicacy of her voice, the strange thrill and wail, the distinction and distinct, clear utterance".
In 1889 Ethel Smyth launched herself on the English musical scene with performances at the Crystal Palace of her Serenade in D and her Overture to Antony and Cleopatra . This was followed by the première of her Mass in D, performed by the Royal Choral Society and premiered at the Royal Albert Hallby the Royal Choral Society in 1893. These works established Smyth as the most important woman composer of her time. Claire Tomalin has argued: "Ethel's work did not stand in the way of her social activities, or her many passionate friendships. Throughout her life, she loved intensely, without regard to age or gender... She did defy - or perhaps rather ignore - all the stereotypes of her time, whether in matters of work, sex, class or even manners.... Over the next two decades she studied, composed and met most of the great figures of the day."
After Julia Brewster died in 1895 Ethel and Brewster were able to pursue their relationship more openly. Maurice Baring was a close friend: "His (Harry Brewster) appearance was striking; he had a fair beard and the eyes of a seer... someone said he looked like a Rembrandt. His manner was suave, and at first one thought him inscrutable - a person whom one could never know, surrounded as it were by a hedge of roses. When I got to know him better I found the whole secret of Brewster was this: he was absolutely himself; he said quite simply and calmly what he thought, and the truth is sometimes disconcerting when calmly expressed." According to Elizabeth Kertesz: "They neither married nor had children, and retained separate homes - she in England, he in Italy - but Brewster was a stable presence in Smyth's often stormy life.... his importance to her unaltered by her concurrent relationships with women." Ethel claimed that "Harry was never jealous of my women friends, in fact he held, as I do, that every new affection that comes into your life enriches older ties".
Smyth also wrote operas such as Der Wald (1901). Her work was difficult and her friend, Mabel Dodge, hired the His Majesty's Theatre for six performances of The Wreckers, a work that she had written with Henry B. Brewster. Smythe managed to persuade Thomas Beecham to conduct the work. Smyth had difficulty working with Beecham: "As the rehearsals wore on I discovered that in more respects than one my new friend was a disconcerting person to work with. For one thing he was never less than half an hour late, a habit which in that department of music life bears cruelly on all concerned. I also noticed that not only was it an effort to him to allow for the limitations of the human voice, to give the singers time to enunciate and drive home their words, but that qua musical instrument he really disliked the genus singer, which seemed an unfortunate trait in an opera conductor. In short, my impression was that his real passion was concert rather than opera conducting."
In his autobiography, A Mingled Chime (1944), Beecham explained why the opera was rarely produced: "This fine piece (The Wreckers) has never had a convincing representation owing to the apparent impossibility of finding an Anglo-Saxon soprano who can interpret revealingly that splendid and original figure, the tragic heroine Thirza. Neither in this part nor that of Mark, the tenor, have I heard or seen more than a tithe of that intensity and spiritual exaltation without which these two characters must fail to make their mark."
Ethel Smyth was a passionate supporter of women's rights and was a close friend of the three sisters, Millicent Garrett Fawcett, Elizabeth Garrett Anderson and Agnes Garrett. All the women were members of the National Union of Suffrage Societies. Ethel went to live with them at Firs Cottage, in the village of Rustington. As Ethel pointed out: "Agnes and Rhoda Garrett, who were among the first women in England to start business on their own account and by that time were well-known house decorators of the Morris school... Both women were a good deal older than I, how much I never knew - nor wished to know, for Rhoda and I agreed that age and income are relative things concerning which statistics are tiresome and misleading."
Ethel Smyth met Emmeline Pankhurst in the summer of 1910. Fran Abrams the author of Freedom's Cause (2003), has argued: "Ethel Smyth, an endearingly eccentric bisexual composer who cheerfully confessed to having little or no political background and to caring even less about votes for women - until she met and fell passionately in love with the founder of the WSPU. At first glance Ethel Smyth made a curious companion for a political leader who, despite the violence which attached itself to her movement, remained resolutely feminine. While Emmeline usually had some lace about her person Ethel always dressed in tweeds, deerstalker and tie. Emmeline tended to attack every venture with passion while her new friend regarded the world with a wry, amused cynicism. Ethel, unlike Emmeline, had few sexual or personal inhibitions. But the two women, who at fifty-two were exactly the same age, immediately formed so close an attachment that Ethel decided to give two years of her life to the cause."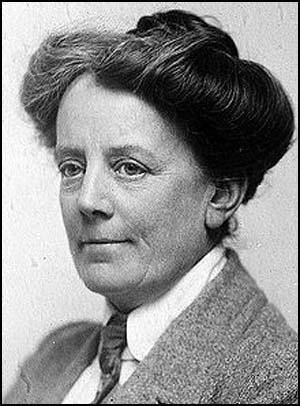 Smyth joined the Women's Social and Political Union and the following year she composed the WSPU battle song, The March of the Women. In 1912 the WSPU organised a new campaign that involved the large-scale smashing of shop-windows. Smythe took part in these activities and was with Emmeline Pankhurst when they were arrested: "The Downing Street window selected by Mrs Pankhurst was duly bombarded - I think she had two shots at it before they arrested her - but the stones never got anywhere near the objective. I broke my window successfully and was bailed out of Vine Street at midnight by wonderful Mr Pethick-Lawrence, who was ever ready to take root in any police station, his money bag between his feet, at any hour of the day or night."
Ethel Smyth was sentenced to two months in Holloway Prison. In her autobiography, Female Pipings for Eden (1933) she wrote: "The ensuing two months in Holloway, though one never got accustomed to an unpleasant sensation when the iron door was slammed and the key turned, were as nothing to me because Mrs Pankhurst was in with us. The merciful matron put us in adjoining cells, and at exercise, in chapel and on such other occasions as a kind-hearted matron can make for a prisoner, we saw more of each other than the protocol permitted. For instance she would often leave us together in Mrs Pankhurst's cell at tea-time 'just for a moment', lock us in, and forget to come back and conduct me to my own. But, as with policemen and detectives, Mrs Pankhurst refused to be softened by these favours, or by obviously sincere protestations of the 'it-hurts-me-more-than-it-hurts-you' order. And when, with an accent of cold scorn, she said, 'I would throw up any job rather than treat women as you say it is your didy to treat us,' the worst of it was that everyone knew this was nothing but the truth. According to Fran Abrams: "Ethel helped to organise athletic sports in the prison yard, which was even decorated by the women in the suffragette colours. As the women marched around the exercise yard singing March of the Women, an anthem she had composed for them, Ethel looked on from the window of her cell, marking time with a toothbrush."
On 4th August, 1914, England declared war on Germany. Two days later the NUWSS announced that it was suspending all political activity until the war was over. The leadership of the WSPU began negotiating with the British government. On the 10th August the government announced it was releasing all suffragettes from prison. In return, the WSPU agreed to end their militant activities and help the war effort.
Ethel Smyth has pointed out in her autobiography, Female Pipings for Eden (1933): "Mrs Pankhurst declared that it was now a question of Votes for Women, but of having any country left to vote in. The Suffrage ship was put out of commission for the duration of the war, and the militants began to tackle the common task."
It has been argued by Rebecca Jennings, the author of A Lesbian History of Britain (2007), that Smythe was a lesbian and that she was probably the lover of Emmeline Pankhurst, Edith Craig and Christabel Marshall. She also became involved with Virginia Woolf, who wrote in her diary: "An old woman of seventy-one has fallen in love with me... It is like being caught by a giant crab."
In 1922 Smyth was reated a Dame Commander of the Order of the British Empire. She also wrote two volumes of autobiography, Female Pipings for Eden (1933) and What Happened Next (1940).
Ethel Smyth died on 8th May 1944.