Christabel Marshall (Christopher Marie St John)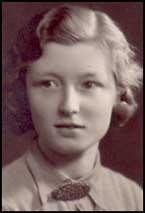 Christabel Gertrude Marshall, the youngest of the nine children of Emma Marshall (1828–1899), novelist, and Hugh Graham Marshall (c.1825–1899), manager of the West of England Bank, was born on 24 October 1871 at 38 High Street, Exeter.
Marshall was educated from 1894 at Somerville College, before moving to London where she worked as temporary secretary to Winston Churchill. After her conversion to Roman Catholicism she sometimes used the name, Christopher Marie St John, for her artistic work.
After a relationship with the musician Violet Gwynne in 1895, Marshall met Edith Craig, the daughter of Ellen Terry. From 1899, the two women shared a flat at 7 Smith Square, London. Their relationship became temporarily strained when Craig received a marriage proposal from the musician Martin Shaw and Marshall attempted suicide. Soon after this she accepted her lesbianism and took the name "Christopher St John".
Marshall's first published book, The Crimson Weed (1900), was a novel concerning the illegitimate son of an opera singer. She also acted in Gilbert Murray's translation of Andromache at the Garrick Theatre in 1904. Edith Craig arranged for her to appear in The Vikings at the Imperial Theatre. She also wrote a biography of Ellen Terry in 1907. Sybil Thorndike recalled Marshall as being "vivid … too much an individual in her life and work to be one of the most popular". Vita Sackville West added that "she was in the grand tradition of English eccentrics."
Marshall was active in the women's suffrage movement and joined the Women's Social and Political Union. She was also a committee member of the Catholic Women's Suffrage Society. In 1908 two members of the WSPU, Bessie Hatton and Cicely Hamilton formed the Women Writers Suffrage League. Marshall joined and later became a committee member of the organisation. Later that year the women formed the sister organisation, the Actresses' Franchise League. Marshall also joined this group that at this time included Elizabeth Robins, Kitty Marion, Winifred Mayo, Sime Seruya, Inez Bensusan, Ellen Terry, Lillah McCarthy, Sybil Thorndike, Lena Ashwell, Lily Langtry and Nina Boucicault.
The first meeting of the Actresses' Franchise League took place at the Criterion Restaurant at Piccadilly Circus. The AFL was open to anyone involved in the theatrical profession and its aim was to work for women's enfranchisement by educational methods, selling suffrage literature and staging propaganda plays. The AFL neither supported nor condemned militancy.
Inez Bensusan oversaw the writing, collection and publication of AFL plays. Pro-suffragette plays written by members of the Women Writers Suffrage League and performed by the AFL included the play How the Vote was Won a play co-written by Marshall and Cicely Hamilton. Another popular play was Votes for Women by Elizabeth Robins. Marshall appeared in another play by Hamilton, A Pageant of Great Women, that was directed by Edith Craig.
Christabel Marshall was arrested in 1909 for setting fire to a pillar box. However Marshall and Craig, like many members of the WSPU, began to question the leadership of Emmeline Pankhurst and Christabel Pankhurst. These women objected to the way that the Pankhursts were making decisions without consulting members. They also felt that a small group of wealthy women like Emmeline Pethick-Lawrence were having too much influence over the organisation. Eventually, Marshall, joined Teresa Billington-Greig, Elizabeth How-Martyn, Dora Marsden, Helena Normanton, Margaret Nevinson and Charlotte Despard as members of the Women's Freedom League (WFL).
In 1911 Edith Craig established the Pioneer Players. Under her leadership this society became internationally known for promoting women's work in the theatre. Marshall contributed as dramatist, translator, and actor and was also honorary secretary from 1915 to 1920, and a member of the advisory and casting committees.
During the First World War, Marshall continued to act and write plays. She wrote about her relationship with Craig in her journal, The Golden Book (1911), and in her anonymously published second novel, Hungerheart: the Story of a Soul (1915). In 1916 Clare Atwood moved into the flat at 31 Bedford Street, Covent Garden, that she shared with Christabel Marshall, forming a permanent ménage à trois. Her biographer, Katharine Cockin, has pointed out that Marshall wrote they "achieved independence within their intimate relationships... working respectively in the theatre, art, and literature, drew creative inspiration and support from each other."
After the death of Ellen Terry in 1928, Edith Craig converted the barn in the grounds of her mother's house in Smallhythe Place, Tenterden, into a theatre. Their home next door, The Priest's House, became an important cultural centre that was visited by Radclyffe Hall, Una Troubridge, Vita Sackville West and Virginia Woolf. In 1929 acted there in A Midsummer Night's Dream and subsequently in several other plays.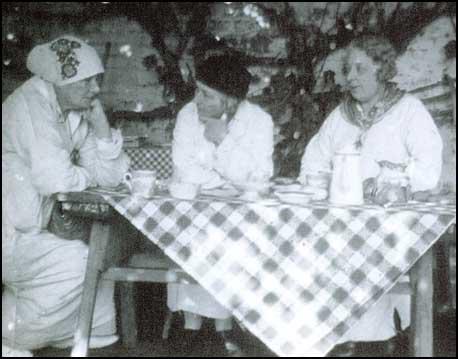 Using the name Christopher St John, she wrote a biography of Christine Murrell in 1935. Murrell, a member of the Women's Social and Political Union, eventually became a member of the Medical Council of Great Britain.
Edith Craig died of coronary thrombosis and chronic myocarditis on 27th March 1947. According to Katharine Cockin, the author of Edith Craig (1998), Christabel Marshall destroyed all her "papers (and presumably the memoirs)" after Craig's death. A second biography, published in 1958, was of Ethel Smyth, the lover of Emmeline Pankhurst.
Christabel Marshall (Christopher Marie St John) died in Tenterden on 20th October 1960 after suffering pneumonia and heart disease.