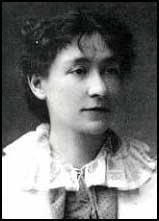 Edith Ailsa Geraldine Craig was born on 9th December 1869. Her parents, Edward William Godwin, an architect, and Ellen Terry, an actress, had eloped the previous year.
After her separation from Godwin in 1875, Ellen Terry was primary carer for Edith Craig and her brother Edward Craig. She was educated at Mrs Cole's school, a co-educational institution in Foxton Road, Earls Court and the Royal Academy of Music.
Craig became interested in the subject of women's suffrage after meeting Elizabeth Malleson when she was a child. She later recalled: "When I was at school I lived in a house of Suffrage workers, and at regular periods the task of organising Suffrage petitions kept everybody busy. Perhaps I didn't think very deeply about it, and my first ideas of Suffrage duties were concerned with the interminable addressing of envelopes; but I certainly grew up quite firmly certain that no self-respecting woman could be other than a Suffragist."
With the help of her mother she worked for the Lyceum Theatre company, designing costumes and acting under the stage name of Ailsa Craig and in 1895 appeared with Henry Irving in The Bells and Bygones, a play by Arthur Wing Pinero. Her performances were praised by George Bernard Shaw and later that year she made her first tour of America.
Craig lived with the writer Christabel Marshall from 1899, when the two women shared a flat at 7 Smith Square, London. Despite her acting success, Edith Craig decided to start a business producing costumes for several London theatre productions. In 1902–3 she collaborated with the artist Pamela Colman Smith on the design of scenes for Where there is Nothing a play by W. B. Yeats. According to her biographer, Katharine Cockin: "Craig was an active member of several significant theatre societies which produced experimental drama in London; some of them directly challenged the lord chamberlain's regulation of the stage: the Independent Theatre; the Stage Society; the Masquers; the Pioneer Players; the Phoenix Society; and the Renaissance Theatre Society."
Ellen Terry claimed: "She (Edith Craig) loathes emotional people, yet adores me. I scarcely ever dare kiss her, and I'm always dying to, but she hates it from anyone." Christabel Marshall added: "I often felt that I had not the faintest notion of what was going on in her mind and heart and soul. She seldom talked about herself; she was as reticent on that subject as she was frank and explicit on others."
Edith Craig joined the Women's Social and Political Union and in 1908, some of the members formed the Actresses' Franchise League. Craig joined this group that at this time included Elizabeth Robins, Kitty Marion, Winifred Mayo, Sime Seruya, Inez Bensusan, Ellen Terry, Lillah McCarthy, Sybil Thorndike, Lena Ashwell, Lily Langtry and Nina Boucicault.
The first meeting of the Actresses' Franchise League took place at the Criterion Restaurant at Piccadilly Circus. The AFL was open to anyone involved in the theatrical profession and its aim was to work for women's enfranchisement by educational methods, selling suffrage literature and staging propaganda plays. The AFL neither supported nor condemned militancy.
Inez Bensusan oversaw the writing, collection and publication of AFL plays. Pro-suffragette plays written by members of the Women Writers Suffrage League and performed by the AFL included the play How the Vote was Won by Cicely Hamilton and Votes for Women by Elizabeth Robins. Another play by Hamilton, A Pageant of Great Women, was directed by Edith Craig. She also acted in several of these plays.
Edith Craig sold the WSPU journal Votes for Women: "I love it. But I'm always getting moved on. You see, I generally sell the paper outside the Eustace Miles Restaurant, and I offer it verbally to every soul that passes. If they refuse, I say something to them. Most of them reply, others come up, and we collect a little crowd until I'm told to let the people into the restaurant, and move on. Then I begin all over again."
Craig, like many members of the WSPU, began to question the leadership of Emmeline Pankhurst and Christabel Pankhurst. These women objected to the way that the Pankhursts were making decisions without consulting members. They also felt that a small group of wealthy women like Emmeline Pethick-Lawrence were having too much influence over the organisation. Eventually, Craig, joined Teresa Billington-Greig, Elizabeth How-Martyn, Dora Marsden, Helena Normanton, Margaret Nevinson and Charlotte Despard as members of the Women's Freedom League (WFL).
Her close friend, Cicely Hamilton, argued: "I do not think that Edy (Edith Craig) shared these high hopes of a world reformed by the entry of women into politics; she was a feminist rather than politician and stood for the franchise chiefly as a measure of justice." Craig was a member of several women's suffrage organisations. When asked by Votes for Women in April 1910 if she was chief organiser of the Actresses' Franchise League she replied: "I organise for every society I belong to, not for any one in particular. That's nearer the truth... As to joining Suffrage societies - yes, I belong to ten now, but I don't seem to be able to remember more than seven." Lisa Tickner has argued that Craig was a "crucial link between the suffrage art and theatre organizations".
In 1910 Edith Craig joined forces with Sime Seruya, Ellen Terry and Cicely Hamilton to establish the International Suffrage Shop, a feminist publisher and bookseller, in the Strand. As Katharine Cockin has pointed out: "It was more of a cultural centre than a shop, organizing printing, book-binding, book searches, lectures and meetings and housing a lending library.
In 1911 Craig established the Pioneer Players. Under her leadership this society became internationally known for promoting women's work in the theatre. Ellen Terry was president of the Pioneer Players and Christabel Marshall contributed as dramatist, translator, actor and a member of the advisory and casting committees. One of the first productions of the group was In the Workhouse, a play written by Margaret Nevinson, one of the leaders of the Women's Freedom League (WFL). The play, based on a true story, told of how a man who used the law to keep his wife in the workhouse against her will. As a result of the play, the law was changed in 1912.
Craig openly called her productions, "propaganda plays". She argued that her plays played an important role in the struggle for women's suffrage: "I do think plays have done such a lot for the Suffrage. They get hold of naive frivolous people who would die sooner than go in cold blood to meetings. But they see the plays, and get interested, and then we can rope them in for meetings. All Suffrage writers ought to write Suffrage plays as hard as they can. It's a great work."
Christabel Marshall wrote about her relationship with Craig in her journal, The Golden Book (1911), and in her anonymously published second novel, Hungerheart: the Story of a Soul (1915). In 1916 Clare Atwood moved into the flat at 31 Bedford Street, Covent Garden, that she shared with Christabel Marshall, forming a permanent ménage à trois. Her biographer, Katharine Cockin, has pointed out that Marshall wrote they "achieved independence within their intimate relationships... working respectively in the theatre, art, and literature, drew creative inspiration and support from each other."
Nina Auerbach has argued: "Edith Craig has not the famous Terry charm; indeed, at first glance she seems almost hard and forbidding. But that she possesses a charm of her own is undeniable; it lies deeper and is more sweeping in its effect upon those it captivates. I know quite a number of women who would unhesitatingly lay down their lives for Edith Craig. She is not only their friend and teacher, but their very goddess. Edith Craig's influence upon many of the younger artists of the stage is more far-reaching than the public would suppose. Like her celebrated brother, however, she seems fated to do the greater and more important part of her life's work away from the searching limelight."
Craig also developed links with the Provincetown Theatre Group in America and in 1919 the Pioneer Players performed the play, Trifles, that had been written by Susan Glaspell in 1916. It has been argued that the play, based on the John Hossack case, is an example of early feminist drama. Heywood Broun was one of those who saw the significance of the play: "No direct statements are made for the benefit of the audience. Like the women, they must piece out the story by inference... The story is brought to mind vividly enough to induce the audience to share the sympathy of the women for the wife and agree with them that the trifles which tell the story should not be revealed." She also produced Glaspell's The Verge in 1925.
In the 1920s she directed plays for the Everyman Theatre in Hampstead and worked as art director for Leeds Art Theatre. Other notable productions by Craig included Hugo von Hofmannstahl's The Great World Theatre (1924); the first modern production of John Webster's The White Devil (1925); and George Bernard Shaw's Back to Methuselah (1930).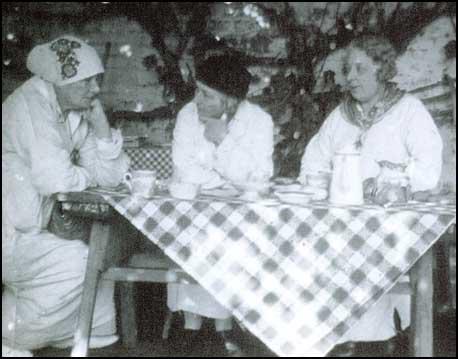 After the death of Ellen Terry in 1928, Edith Craig converted the barn in the grounds of her mother's house in Smallhythe Place, Tenterden, into a theatre. Craig's home next door, The Priest's House, became an important cultural centre that was visited by Radclyffe Hall, Una Troubridge, Vera Holme, Vita Sackville West and Virginia Woolf.
Edith Craig died of coronary thrombosis and chronic myocarditis on 27th March 1947. According to Katharine Cockin, the author of Edith Craig (1998), Christabel Marshall destroyed all her "papers (and presumably the memoirs)" after Craig's death.