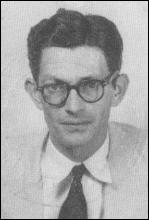 James Jesus Angleton was born in Boise, Idaho, on 9th December, 1917. His father, Hugh Angleton, was a former cavalry officer who met his wife, a seventeen-year-old Mexican woman, Carmen Mercedes Moreno, while serving in Mexico, under General John J. Pershing. (1)
Hugh Angleton was an executive of the National Cash Register Company. (2) Thomas McCoy, a family friend, described him as "a six-foot-four, raw-boned, red-faced farm boy; a broad super-friendly guy, who was the outgoing salesman type and a born trader. He and his son were as different as one can imagine." (3)
Carmen Mercedes Moreno was a devout Catholic who insisted on giving him the name of Jesus. "As he grew older he became proud of his Mexican background - but, at the beginning, no. He never liked to use his middle name... Who likes to go around with a middle name of Jesus?" (4)
In 1931 Hugh Angleton moved his family to Milan, for business reasons. He was very impressed with Benito Mussolini and his friend, Max Corvo, commented "Hugh Angleton... was ultra-conservative, a sympathizer with Fascist officials. He was certainly not unfriendly with the Fascists." (5) In 1933 Angleton was sent to Malvern College. (6) "He learned all about snobbery, prejudice, and school beatings. Before he left three years later he had served as a prefect, a corporal in the Officers' Training Corps, and joined the Old Malvern Society. He seems to have become more English than the English, a useful ruse perhaps for Malvern's lone half-Mexican Yank." (7) Angleton later recalled: "I was brought up in England in one of my formative years and I must confess that I learned, at least I was disciplined to learn, certain features of life, and what I regarded as duty." (8)
James Jesus Angleton entered Yale University in 1937: "Angleton had already developed a distinctive personal style. He spoke with a slight English accent (probably not an affection after three years in the country), and was tall, athletic, bright, and handsome... By conventional standards he was a poor student, frequently missing class, excelling only in those subjects that interested him, and occasionally failing those that didn't." (9) A fellow student, Reed Whittemore, later commented: "All through Yale, Jim was backward at completing school papers... It may be that he was just lazy - or maybe he had a psychological problem. He had the class record for incompletes, but he could invariably whitewash over these missing grades because he had a favorable presence with the teachers, who for the most part liked him a lot." (10)
Angleton and Whittemore edited a quarterly of original poetry, called Furioso, financed mostly by subscriptions raised by Whittemore's aunt. Angleton and Whittemore were both promising poets and other contributors included Archibald MacLeish, Ezra Pound, E.E. Cummings and William Carlos Williams. Whittemore later commented: "When we were short of money, which was most of the tune, we paid off our poets with fine Italian cravats from the stock that the Angleton haberdasher in Italy kept replenishing." (11)
In the autumn of 1941 Angleton moved on to Harvard Law School. Soon afterwards he met Cicely Harriet d'Autremont: "There was nothing in the room except a large reproduction of El Greco's View of Toledo. It showed a huge unearthly green sky. Jim was standing underneath the picture. If anything went together, it was him and the picture. I fell madly in love at first sight. I'd never met anyone like him in my life. He was so charismatic. It was as if the lightning in the picture had suddenly struck me. He had an El Greco face. It was extraordinary." (12) They became engaged in April 1943, a few weeks after Angleton had been drafted into the United States Army. Hugh Angleton, disapproved of the relationship but the wedding took place quietly three months later on 17th July, in Battle Creek, Michigan. (13)
James Hugh Angleton became a senior figure in the Office of Strategic Services (OSS) and was on the staff of Colonel William Donovan. It had been created by President Franklin D. Roosevelt soon after the outbreak of the Second World War. The OSS replaced the former American intelligence system, Office of the Coordinator of Information (OCI) that was considered to be ineffective. The OSS had responsibility for collecting and analyzing information about countries at war with the United States. It also helped to organize guerrilla fighting, sabotage and espionage.
In August 1944, Lieutenant Colonel James Hugh Angleton and Norman Holmes Pearson, Angleton's former English professor at Yale University, contacted James R. Murphy, the head of the new X-2 CI (Counter Intelligence) branch of the OSS. On 25th September, 1943, Murphy issued a memo: "I would greatly appreciate it if you could get provisional security for Corporal James Angleton in order that he may commence OSS school on Monday. His father is with this branch... In addition young Angleton is very well known to Norman Pearson, who recommended him to me." (14)
During his training James Jesus Angleton met Richard Helms, the former national advertising manager of the Indianapolis Times, who had joined the OSS in August 1943. In his autobiography, A Look Over My Shoulder (2003) he commented: "As a young man, Jim was bone thin, gaunt, and aggressively intellectual in aspect. His not entirely coincidental resemblance to T. S. Eliot was intensified by a European wardrobe, studious manner, heavy glasses, and lifelong interest in poetry." (15)
Angleton was also moving on, and up. The Central Intelligence Agency was formally established in September 1947. Three months later, after three years in Rome, Angleton returned to Washington to take up a new role in the Office of Special Operations (OSO), with responsibility for espionage and counter-espionage. Reunited with his long-suffering wife and their young son, Angleton set up home in the Virginia suburbs, and on New Year's Eve he formally applied to join the CIA, the intelligence organisation he would serve, shape and dominate for almost three decades.

The OSO was the intelligence-gathering division within the fledgling CIA, and from here Angleton began to carve out his own empire, working day and night, driving himself, his colleagues and his secretaries with manic determination. He started in a small office, with a single secretary; within a year he had been promoted, rated "excellent", and awarded a pay rise and a much larger office; two years later he was deploying six secretaries and assistants, and amassing a vast registry of files on the British model, which would become "the very mechanism through which the CIA organised the secret war against the Soviet Union". As that war expanded, so did Angleton's power. "He was totally consumed by his work. There was no room for anything else," said his secretary. At weekends he fished,
usually alone, or tended his orchids. Astonishingly, Cicely not only put up with his peculiarities, but loved him for them.
The driving force of OSO at the time was Jim Angleton, who had formerly served in London and had earned my respect by openly rejecting the Anglomania that disfigured the young face of OSO. We formed the habit of lunching once a week at Harvey's where he demonstrated regularly that overwork was not his only vice. He was one of the thinnest men I have ever met, and one of the biggest eaters. Lucky Jim! After a year of keeping up with Angleton, I took the advice of an elderly lady friend and went on a diet, dropping from thirteen stone to about eleven in three months.

Our close association was, I am sure, inspired by genuine friendliness on both sides. But we both had ulterior motives. Angleton wanted to place the burden of exchanges between CIA and SIS on the CIA office in London-which was about ten times as big as mine. By doing so, he could exert the maximum pressure on SIS's headquarters while minimizing SIS intrusions into his own. As an exercise in nationalism, that was fair enough. By cultivating me to the full, he could better keep me under wraps. For my part, I was more than content to string him along. The greater the trust between us overtly, the less he would suspect covert action. Who gained most from this complex game I cannot say. But I had one big advantage. I knew what he was doing for CIA and he knew what I was doing for SIS. But the real nature of my interest was something he did not know.

Although our discussions ranged over the whole world, they usually ended, if they did not begin, with France and Germany. The Americans had an obsessive fear of Communism in France, and I was astonished by the way in which Angleton devoured reams of French newspaper material daily. That this was not a private phobia of Angleton's became clear at a later date when a British proposal for giving Alexandre Parodi, head of the d'Orsay, limited secret information, was firmly squashed by Bedell Smith in person. He told me flatly that he was not prepared to trust a single French official with such information.

Angleton had fewer fears about Germany. That country concerned him chiefly as a base of operations against the Soviet Union and the Socialist states of Eastern Europe. CIA had lost no time in taking over the anti-Soviet section of the German Abwehr, under Reinard von Gehlen, and many of Harvey's lobsters went to provoke Angleton into defending, with chapter and verse, the past record and current activities of the von Gehlen organization.
The Counterintelligence Staff's primary function was blocking opposition 'home runs' - preventing penetrations at home and abroad, and protecting the security of CIA operations through research and careful analysis of incoming information. The task meant that considerable amounts of paper must be acquired, read, digested, filed, and refiled. Ironically, although Angleton had helped develop the CIA's central registry (where names, reports, and cases were indexed), his staff had one of the worst records of any CIA component for contributing data into the main system after 1955. This was because of Angleton's obsession with secrecy and his inability to trust the security of the CIA's main filing system. He believed there was nothing to prevent someone from stealing from the CIA's storehouse of secrets. Keeping the best files to himself also helped consolidate his bureaucratic power.

As Angleton extended his turf, his popularity, which had never been high with the operating divisions at home or the overseas stations, declined further. Officially, he was allowed access to everyone's personnel, operational, and communications files throughout the CIA. He needed and used this power to review all proposed and continuing operations and to approve the recruitment of agent candidates. It was a task he conducted with zeal, and with little regard for his own or his staff's popularity.

Newton "Scotty" Miler, Angleton's loyal former Chief of Operations, says succinctly, "The majority of CIA people didn't understand the role of the CI Staff and they didn't like it being a watchdog. The divisions didn't like us looking down their throats to see if they were being deceived or manipulated. "

But none of this had the slightest effect on Angleton's early efforts. He was driven by a single-minded determination to do his job, to protect the agency and the United States from harm, and to organize and centralize a new counter-intelligence empire that would withstand all future assaults.

In early 1962, the CIA moved into its present headquarters in Langley, Virginia. The offices of Angleton's Counter-Intelligence Staff, which had now increased to nearly two hundred people, were located on the southwest corner of the second floor and took up most of two corridors of the building's center and side wings...

At the entrance to Angleton's outer office there was a large reception room with a sofa, chairs, magazines, and three secretaries. One was Bertha Dasenburg, his personal assistant. Mrs. Dasenburg, of German extraction, had served in the Red Cross in Italy during World War II and joined Angleton's staff in 1952. She had a deserved reputation as a self-sacrificing and hardworking secretary who seemed to enjoy being on the inside, sharing the knowledge, and exercising power as Jim Angleton's gatekeeper. She had the authority to grant or deny access to her boss.

Angleton's inner office was large (20 by 25 feet). The windows on the far wall were covered with venetian blinds that were permanently closed when he was in residence (but always opened by Dasenburg as soon as he left). He sat in a high-backed leather chair behind a large, executive-style wooden desk that dominated the room. (One CIA psychologist, Dr. Jerrold Post, who visited Angleton's office later, noted that the place felt like a fortress and was laid out in such a way that no , one could stand behind its tenant.

The dark and imposing feel of Angleton's office was accentuated by the large, black safes that dotted the walls of his outer office. Angleton also maintained his own special vault room just across the hall. Access to this secure chamber was granted only in the presence of Angleton or the indomitable Bertha. The vault had specially strengthened walls, an electronic pushbutton entry system for access during working hours, and a combination door lock for night security. This was the secret heart of Angleton's secret world...

To understand Angleton and his research methodology, one must know a little about the man closest to him throughout his working life. The man was Raymond Rocca, Angleton's former Rome OSS colleague, who led the effort to reconstruct the past as head of the staff's new Research and Analysis Department.

Rocca's friends say he was well suited for the job. He had an excellent memory, and was considered a plodding, thorough scholar who usually provided Angleton with more detail than was needed. Like Miler, Rocca was an uncritical Fundamentalist whose loyalty to Angleton was beyond question.

Rocca reviewed the past with the devotion of an archeologist rediscovering an ancient tomb. Nearly every old Soviet intelligence case, dating back to the Cheka (the first Bolshevik secret police), was dutifully stored in the historical archives, and analyzed repeatedly...

Critics of Angleton's methodology say that both he and Rocca wasted enormous quantities of time studying the gospels of prewar Soviet intelligence operations at the very moment that the KGB had shifted the style and emphasis of its operations against the West.
The day after my ordeal with Hoover, I lunched with James Angleton, the CIA Chief of Counterintelligence. We had met once before on my first trip to Washington in 1957, and I was struck then by his intensity. He had a razor-sharp mind and a determination to win the Cold War, not just to enjoy the fighting of it. Every nuance and complexity of his profession fascinated him, and he had a prodigious appetite for intrigue. I liked him, and he gave enough hints to encourage me into thinking we could do business together.

Angleton's star was fast rising in Washington in the late 1950s, particularly after he obtained the secret text of Khrushchev's denunciation of Stalin from his contacts in Israel. He was one of the original wartime OSS recruits, and was trained in the arts of counterespionage by Kim Philby at the old MI6 office in Ryder Street. The young Yale intellectual struck up an instant friendship with his pipe-smoking English tutor, and the relationship deepened when Philby was posted to Washington as Station Chief in 1949. Ironically it was Philby who first detected the obsession with conspiracy in the fledgling CIA Chief of Counterintelligence. Angleton quickly acquired a reputation among British Intelligence officers for his frequent attempts to manipulate to his own advantage the mutual hostility of MIS and MI6.
After Kennedy was killed, the CIA launched a fantastic cover-up. The CIA literally erased any connection between Kennedy's assassination and the CIA... in fact, Counter intelligence Chief James Angleton of the CIA called Bill Sullivan of the FBI and rehearsed the questions and answers they would give to the Warren Commission investigators.
(6) Steve Sewall, James Angleton (22nd July, 2003)
My father, Richard B. Sewall, taught English at Yale for forty years. In the 1960's, he was the first Master of Ezra Stiles College. He retired in 1976. In June of last year, ten months before his death last April at age 95, he flew from Boston to Chicago to spend three months with me...

My father had finished his meal. We had discussed family matters. I fell silent, wondering how I might resume the dialogue that had guided me over the past 35 years. His eyes, sunken and watery, were fixed on me. Age be damned, I told myself, we're gonna talk, full throttle, just like we always have.

I read my father an excerpt from Joseph Trento's magisterial Secret History of the CIA. This extraordinary book is a history of American intelligence since World War II and, in many respects, of American foreign and domestic affairs as well. James Jesus Angleton '41, Yale's second most famous spy (the first being Nathan Hale), is a central figure in this book. Appointed by CIA founder Allen Dulles (a Princeton alum), Angleton was the founding Director of CIA Counterintelligence. It was his job to protect the CIA from penetration by Soviet spies.

At Yale, Angleton had majored in English. My father recalled his name and said he had taught him. Angleton, I said, was a true aesthete. He edited a poetry magazine that he himself hand-delivered to subscribers at all hours of the night. On a visit to Harvard, he had heard a lecture by the English literary critic William Empson and taken it upon himself to bring Empson to lecture at Yale. Not bad for an undergraduate, we agreed.

In 1974, CIA Director William Colby dismissed Angleton for his failed attempt to expose a Soviet mole who, Angleton was convinced, had totally penetrated the CIA. Angleton's obsessive witch hunt had destroyed the careers of dozens of wrongly accused agents and demoralized the entire agency.

But time confirmed his worst fears. As Trento and David Wise before him have shown, CIA counterintelligence and FBI counterintelligence as well were indeed totally compromised by Soviet agent Igor Orlov, a "man with the soul of a sociopath" yet supremely disciplined and loyal to Stalin. Angleton missed nabbing Orlov by a hairsbreadth. Under scrutiny for years - CIA and FBI agents openly visited Gallery Orlov, the quaint art and picture-framing store that Igor and his wife Eleanore managed in Alexandria, Virginia - Orlov managed to pass two polygraph tests and got away clean.
Within the confines of (Angleton's) remarkable life were most of America's secrets. "You know how I got to be in charge of counterintelligence? I agreed not to polygraph or require detailed background checks on Allen Dulles and 60 of his closest friends... They were afraid that their own business dealings with Hitler's pals would come out. They were too arrogant to believe that the Russians would discover it all... You know, the CIA got tens of thousands of brave people killed... We played with lives as if we owned them. We gave false hope. We - I - so misjudged what happened."

I asked the dying man how it all went so wrong.

With no emotion in his voice, but with his hand trembling, Angleton replied: "Fundamentally, the founding fathers of U.S. intelligence were liars. The better you lied and the more you betrayed, the more likely you would be promoted. These people attracted and promoted each other. Outside of their duplicity, the only thing they had in common was a desire for absolute power. I did things that, in looking back on my life, I regret. But I was part of it and I loved being in it... Allen Dulles, Richard Helms, Carmel Offie, and Frank Wisner were the grand masters. If you were in a room with them you were in a room full of people that you had to believe would deservedly end up in hell." Angleton slowly sipped his tea and then said, "I guess I will see them there soon."
Bradlee offered a completely different recollection of events. In Bradlee's book Angleton was described as an uninvited visitor to Mary's house and studio. Bradlee remembered that he and Tony were twice surprised to bump into an embarrassed Jim Angleton wearing gloves and carrying tools, breaking into Mary's house and studio, searching for the diary that Anne Truitt had sent them all to find. The first incident occurred the morning after the murder, according to Bradlee; he and Tony went to Mary's townhouse on Thirty-fourth Street, where they found Angleton already inside. "We found his presence odd, to say the least, but took him at his word," Bradlee wrote. The search party did not find the diary on that round. Later that day, as Bradlee remembered it, he and Tony decided to search Mary's studio in the alley behind their house. There again they stumbled upon Angleton in the process of picking a padlock. "He would have been red-faced if his face could have gotten red, and he left almost without a word," Bradlee wrote.

Bradlee and Tony then went inside the studio and eventually found the diary. The Bradlees read it later that night. According to the newsman, the diary was six by eight inches, with fifty or so pages, mostly filled with paint swatches and descriptions of how the colors were mixed. About ten of the pages contained "phrases" which described a love affair, and "after reading only a few phrases it was clear that her lover had been the President of the United States, although his name was never mentioned. But Tony Bradlee told a reporter for the National Enquirer it was more explicit and that "there were some JFK's in it." She also told the tabloid's Jay Gourley "it was nothing to be ashamed of."

In Cicely Angleton and Anne Truitt's account of the diary search, a group of Mary's friends, including Tony, the Angletons, "and one other friend of Mary Meyer's," together searched for Mary's diary. At some point, according to the two women, Tony Bradlee discovered the diary and "several papers bundled together" in Mary's studio. After she and Ben looked at the diary, Tony gave the bundle and the diary to Angleton and asked him to burn it all.

The Bradlees' reaction to their new knowledge of Mary's relationship with Kennedy was confusion and betrayal, Bradlee recalled. Yet Ben Bradlee was also admiring. "There was a boldness in pulling something like that off that I found fascinating," he wrote. Tony was more disturbed. "She felt she was Jack Kennedy's friend, at least as much as Mary was, and all of a sudden she had come to realize that there was this difference. She had been kept in the dark by her sister and her friend." They also recognized they held a political hot potato in their hands. "We both concluded this was in no sense a public document, despite the braying of the knee jerks about some public right to know," he wrote.

So they gave the diary and private papers to Jim Angleton. Angleton later told journalists Philip Nobile and Ron Rosenbaum that he went through the papers, catalogued them, and offered some letter writers the option of repossessing their letters. Angleton said he had read the diary, that two other people, whom he cryptically identified to the two journalists as "M" and "F," had read the diary, and that Mary's eldest son, Quentin, was also allowed to read it. Angleton then burned the loose papers that were not repossessed, mostly personal letters; Angleton later personally assured Ken Noland he had burned the artist's letters to Mary. But the counter-intelligence chief did not destroy the diary, and on this matter the women and Bradlee agree. Several years later he gave it back to Tony Bradlee. At that point, according to Anne Truitt and Cicely Angleton, the final erasure of Mary's private life was accomplished in almost ritual fashion by Tony Bradlee and Anne Truitt. According to the women, Tony burned the diary herself, "in the presence of Anne Truitt."

Some parts of the diary may have been preserved and passed around for a short period. Helen Stern used Mary's own writing about her art, taken from the papers left after her death, to create the brochure for a posthumous art show in 1967. Angleton believed some of her papers were still stored at Milford. Over the years, other people close to the family have suspected that Mary's diary was never really burned but is stored at the summer house. If that is so, the Pinchot-Pittman family has not admitted it.

In death, thanks to Anne Truitt's machinations and James Angleton's professional curiosity, Mary's private life came to seem a matter of national security. In later years, as his reputation grew, Angleton cast a long and sinister shadow over the story. It is very possible Angleton did keep a copy or notes on the diary somewhere. Like J. Edgar Hoover, Angleton had preserved his position at the pinnacle of national security by collecting secrets, not discarding them. Richard Helms claimed he never saw the diary. Other CIA men, including those instructed to go through Angleton's safes after he was forced to resign in 1976, also said the diary was not in his papers. Helms said that if Angleton had taken the diary to the CIA-and Helms would not confirm that he did-Angleton was justified because it might have embarrassed the president.
How could the KGB even dream of pulling off so convoluted a scheme? "Helms and I have talked about this many times," a high-ranking officer said. "I do not believe that any son of a bitch sitting in Moscow could have any conception that he could dispatch Golitsin here and disrupt the Allied intelligence services to the extent he did. Nobody could have expected Angleton to buy it, lock, stock, and barrel." And no one sitting in Moscow could have predicted with any certainty that Nosenko would be fingered as a plant and thereby build up Golitsin. Furthermore, it seemed incredible that the KGB would entrust to an agent whose mission was to be discovered as a fraud the message that the Soviet Union had not had a hand in Kennedy's death. Such a plot could only fuel suspicions of Soviet complicity. It was true that Angleton's counterintelligence staff, although convinced that Nosenko was lying, had concluded that there was no evidence to support the contention that Oswald was working for the Russians when he killed Kennedy. But surely the KGB could not control the workings of the counterintelligence staff with so fine a hand.

Could not - unless they already had a man inside the counterintelligence staff who could influence the handling of the case. Who controlled the counterintelligence staff? Who had directed the handling of both Golitsin and Nosenko, championing Golitsin, denigrating Nosenko, yet stopping short of the conclusion that the KGB had ordered Kennedy shot? Who but James Jesus Angleton?

Such a case had indeed been outlined. It had the attraction that all conspiracy theories possess. It provided a cause commensurate with the effect. "The effect of Golitsin was horrendous," a chief of the Soviet Bloc Division said, "the greatest disaster to Western security that happened in twenty years." Now, for the first time, the possibility arose that the entire fiasco was not a self-inflicted wound but the work of an infernal Soviet machination. Who better to cast as the villain than Angleton himself? Two men who had headed the Soviet Bloc Division at different times, neither aware that an effort had been made to develop a case against Angleton, would make the same point in almost identical terms. "If I were to pick a Soviet agent at the Agency, it would be Angleton for all the harm he's done," said one. "There is just as much reason to say Angleton could be the guy because he has done so much to be destructive," said the other. Popov, Goleniewski, Penkovsky, Golitsin, Nosenko. Everything that had gone wrong could plausibly be traced to Angleton. Complexity became simplicity. With Angleton as the mole, the KGB could dispatch any number of false defectors confident that they would be handled according to plan. "He is the guy who is perfectly placed," one of the Soviet Bloc chiefs said. "He's even better to have than the Director." The Soviets had penetrated the counterintelligence operations of the British with Kim Philby and of the Germans with Heinz Felfe. Why not the CIA with Angleton?
In 1975, after twenty-six years in the agency, Cram had retired. In the fall of 1976, he was attending a cocktail party in Washington given by Harry Brandes, the representative of the Royal Canadian Mounted Police, the Canadian security service. Theodore G. Shackley, the assistant DDO, called over Kalaris, and the two CIA men cornered Cram.

"Would you like to come back to work?" he was asked. The agency, Cram was told, wanted a study done of Angleton's reign, from 1954 to 1974. "Find out what in hell happened," Cram was told. "What were these guys doing?"

Cram took the assignment. For the duration, he moved into a huge vault down the hall from what had been Angleton's office. It was a library like room with a door that had to be opened by a combination lock. There many of the materials he needed were at hand-the vault, for example, contained thirty-nine volumes on Philby alone, all the Golitsin "serials," as Angleton had called the leads provided by his prize defector, and all of the Nosenko files.

But even this secure vault had not been Angleton's sanctum sanctorum. Inside the vault was another smaller vault, secured by pushbutton locks, which contained the really secret stuff, on George Blake, Penkovsky, and other spy cases deemed too secret for the outer vault.

Kalaris thought Cram's study would be a one-year assignment. When Cram finally finished it in 1981, six years later, he had produced twelve legal-sized volumes, each three hundred to four hundred pages. Cram's approximately four-thousand-page study has never been declassified. It remains locked in the CIA's vaults.

But some of its subject matter can be described. Cram obviously spent a substantial amount of time reviewing the history of the mole hunt that pervaded the era he studied. In doing so, he had considerable difficulty. The names of the mole suspects were considered so secret that their files were kept in locked safes in yet another vault directly across from Angleton's (then Kalaris's) office.

Even though Cram had carte blanche to conduct his study, he had trouble at first gaining access to this most sensitive material. In part, he was hampered as well by the chaotic and often mysterious nature of Angleton's files.

Eventually, Cram got access to the vaulted files on individuals kept in the locked safes. But among Kalaris and his staff, Cram detected an edginess that Angleton, in Elba, might somehow return and wreak vengeance on those who had dared to violate his files by reading them.
Epstein, Edward J. Deception: The Invisible War Between the KGB and the CIA. New York: Simon and Schuster, 1989 (335 pages).

Epstein published Deception in mid-1989, just as the Soviet Union was on the verge of its demise in the autumn of 1991. The concurrent dismantling of the KGB, its major intelligence arm, led almost overnight to the disappearance of what was once a small industry in the West employing dozens of self-appointed experts in universities and think tanks who were devoted to the study of Soviet deception, disinformation, and subversion. Their endeavors, and Epstein's book, now have the smell of attic dust.

Like its predecessor Legend, Deception has two parts. The first 105 pages explain Angleton's theories, as developed by Epstein, largely from lengthy interviews with Anatole Golitsyn. The remainder of the book describes various forms of deception. One chapter is devoted to another Soviet defector, Vitali Yurchenko, who Epstein believes is a KGB provocateur similar to Nosenko. The conclusion is a long chapter on glasnost, which Epstein dismisses as simply another massive KGB deception.

The most arresting information in the book is the author's confession regarding his sources for this book and Legend. After Angleton died on 11 May 1987, Epstein apparently felt free to admit that the former chief of CIA counterintelligence had been his major source since 1976 when they first met.

Most astute observers had concluded that Angleton was leaking classified information to Epstein and others, but nothing was officially done to caution the discredited cold warrior. On the other hand, when CIA found that Clare E. Petty had been leaking classified material to the press, he received an official warning letter. Even in forced retirement, Angleton enjoyed protected and special status, as he had when he was at the Agency.

In Part One, Epstein recites again, as in Legend, the Angleton belief in the KGB program of deception and penetration, which the former CI Staff chief had heard about from Golitsyn and then embellished. One of Golitsyn's major claims, made almost immediately after his defection, was that the KGB would soon send another defector to "mutilate" Golitsyn's leads, as Angleton invariably put it. Thus when Nosenko defected to the CIA in 1964, Angleton viewed him as the predicted plant. This in turn ensured that Golitsyn would maintain his primacy as the CI Staff's resident expert on the subject.

When Nosenko did not confess that he was a false defector, CIA incarcerated him for three years under severe conditions. Epstein blames this action entirely on the management of the Soviet Division in CIA's Directorate of Operations, and he portrays Angleton as agonizing helplessly on the sidelines. This is patently absurd. Angleton was aware of all the legal considerations associated with such action and of the construction of the prison quarters but never raised an objection. If he had, as Epstein claims he did, one word from him to Director Richard Helms would have prevented Nosenko's detainment.

This is but one of many errors and misinterpretations in the book. Like Legend, it is propaganda for Angleton and essentially dishonest. The errors are too many to document here, but one more example will give the flavor. On page 85, Epstein cites Golitsyn's assertion that Soviet intelligence was divided into an "outer" and an "inner" KGB to support the deception program. Nothing, however, can be found in any of Golitsyn's debriefings that remotely supports this. Moreover, no other Soviet source or defector has ever reported the existence of two KGBs, including the most senior defector of recent times, Oleg Gordievsky.

Golitsyn probably developed this fiction after visiting England, when other evidence indicates he began to embroider and fabricate. One exasperated senior FBI officer wrote to Director J. Edgar Hoover: "Golitsyn is not above fabricating to support his theories." Epstein, who makes considerable pretensions to scholarship, should have been more conscientious in checking such stories with more responsible sources before labeling them as fact.

In summary, this is one of many bad books inspired by Angleton after his dismissal that have little basis in fact. An interview with Epstein in Vanity Fair magazine in May 1989 suggests he too has had second thoughts about Angleton and even about Golitsyn, his pet defector. Epstein admitted that Golitsyn shaped Angleton's views and possibly was a liar. The interview ended with the remark: "Actually, I don't know whether to believe Angleton at all!"
Harvey listened to my Cyprus experiences, he was struck by the parallel between the two problems: both small islands with a guerrilla force led by a charismatic leader. He was particularly struck by my view that without Grivas, EOKA would have collapsed.

"What would the Brits do in Cuba?" he asked.

I was a shade anxious about being drawn into the Cuban business. Hollis and I had discussed it before I came to Washington, and he made no secret of his view that the CIA were blundering in the Caribbean. It was a subject, he felt, to steer clear of if at all possible. I was worried that if I made suggestions to Angleton and Harvey, I would soon find them being quoted around Washington by the CIA as the considered British view of things. It would not take long for word of that to filter back to Leconfield House, so I made it clear to them that I was talking off the record.

I said that we would try to develop whatever assets we had down there-alternative political leaders, that kind of thing.

"We've done all that," said Harvey impatiently, "but they're all in Florida. Since the Bay of Pigs, we've lost virtually everything we had inside . . ."

Harvey began to fish to see if I knew whether we had anything in the area, in view of the British colonial presence in the Caribbean.

"I doubt it," I told him, "the word in London is steer clear of Cuba. Six might have something, but you'd have to check with them." "How would you handle Castro?" asked Angleton. "We'd isolate him, turn the people against him ..."

"Would you hit him?" interrupted Harvey.

I paused to fold my napkin. Waiters glided silently from table to table. I realized now why Harvey needed to know I could be trusted.

"We'd certainly have that capability," I replied, "but I doubt we would use it nowadays."

"Why not?"

"We're not in it anymore, Bill. We got out a couple of years ago, after Suez."

At the beginning of the Suez Crisis, M16 developed a plan, through the London Station, to assassinate Nasser using nerve gas. Eden initially gave his approval to the operation, but later rescinded it when he got agreement from the French and Israelis to engage in joint military action. When this course failed, and he was forced to withdraw, Eden reactivated the assassination option a second time. By this time virtually all MI6 assets in Egypt had been rounded up by Nasser, and a new operation, using renegade Egyptian officers, was drawn up, but it failed lamentably, principally because the cache of weapons which had been hidden on the outskirts of Cairo was found to be defective.

"Were you involved?" Harvey asked.

"Only peripherally," I answered truthfully, "on the technical side."

I explained that I was consulted about the plan by John Henry and Peter Dixon, the two M16 Technical Services officers from the London Station responsible for drawing it up. Dixon, Henry, and I all attended joint M15/MI6 meetings to discuss technical research for the intelligence services at Porton Down, the government's chemical and biological Weapons Research Establishment. The whole area of chemical research was an active field in the 1950s. I was cooperating with M16 in a joint program to investigate how far the hallucinatory drug lysergic acid diethylamide (LSD) could be used in interrogations, and extensive trials took place at Porton. I even volunteered as guinea pig on one occasion. Both M15 and M16 also wanted to know a lot more about the advanced poisons then being developed at Porton, though for different reasons. I wanted the antidotes, in case the Russians used a poison on a defector in Britain, while M16 wanted to use the poisons for operations abroad.

Henry and Dixon both discussed with me the use of poisons against Nasser, and asked my advice. Nerve gas obviously presented the best possibility, since it was easily administered. They told me that the London Station had an agent in Egypt with limited access to one of Nasser's headquarters. Their plan was to place canisters of nerve gas inside the ventilation system, but I pointed out that this would require large quantities of the gas, and would result in massive loss of life among Nasser's staff. It was the usual M16 operation-hopelessly unrealistic and it did not remotely surprise me when Henry told me later that Eden had backed away from the operation. The chances of its remaining undeniable were even slimmer than they had been with Buster Crabbe.

Harvey and Angleton questioned me closely about every part of the Suez Operation.

"We're developing a new capability in the Company to handle these kinds of problems," explained Harvey, "and we're in the market for the requisite expertise."

Whenever Harvey became serious, his voice dropped to a low monotone, and his vocabulary lapsed into the kind of strangled bureaucratic syntax beloved of Washington officials. He explained ponderously that they needed deniable personnel, and improved technical facilities-in Harvey jargon, "delivery mechanisms." They were especially interested in the SAS. Harvey knew that the SAS operated up on the Soviet border in the 1950s tracking Russian rocket signals with mobile receivers before the satellites took over, and that they were under orders not to be caught, even if this meant fighting their way out of trouble.

"They don't freelance, Bill," I told him. "You could try to pick them up retired, but you'd have to see Six about that."

Harvey looked irritated, as if I were being deliberately unhelpful. "Have you thought of approaching Stephenson?" I asked. "A lot of the old-timers say he ran this kind of thing in New York during the war. Used some Italian, apparently, when there was no other way of sorting a German shipping spy. Probably the Mafia, for all I know ..."

Angleton scribbled in his notebook, and looked up impassively. "The French!" I said brightly. "Have you tried them? It's more their type of thing, you know, Algiers, and so on."

Another scribble in the notebook.

"What about technically - did you have any special equipment?" asked Harvey.

I told him that after the gas canisters plan fell through, M16 looked at some new weapons. On one occasion I went down to Porton to see a demonstration of a cigarette packet which had been modified by the Explosives Research and Development Establishment to fire a dart tipped with poison.
It is now apparent that the World War III pretext for a national security cover-up was built into the fabric of the plot to assassinate President Kennedy. The plot required that Oswald be maneuvered into place in Mexico City and his activities there carefully monitored, controlled, and, if necessary, embellished and choreographed. the plot required that, prior to 22 November, Oswald's profile at CIA HQS and the Mexico station be lowered; his 201 file had to be manipulated and restricted from incoming traffic on his Cuban activities. The plot required that, when the story from Mexico City arrived at HQS, its significance would not be understood by those responsible for reacting to it. Finally, the plot required that, on 22 November, Oswald's CIA files would establish his connection to Castro and the Kremlin.

The person who designed this plot had to have access to all of the information on Oswald at CIA HQS. The person who designed this plot had to have the authority to alter how information on Oswald was kept at CIA HQS. The person who designed this plot had the authority to alter how information on Oswald was kept at CIA HQS. The person who designed this plot had to have access to project TUMBLEWEED, the sensitive joint agency operation against the KGB assassin, Valery Kosikov. The person who designed this plot had the authority to instigate a counterintelligence operation in the Cuban affairs staff (SAS) at CIA HQS. In my view, there is only one person whose hands fit into these gloves: James Jesus Angleton, Chief of CIA's Counterintelligence Staff.

Angleton and his molehunters had always held Oswald's files very close to the vest - from the time of the young Marine's defection in October 1959 and his offer to provide classified radar information to the Soviets. That offer had lit up the counterintelligence circuits in Washington, D.C. like a Christmas tree. Angleton was the only person who knew - except for perhaps one of his direct subordinates - both the Cuban and Soviet parts of Oswald's story. He was the only one in the Counterintelligence Staff with enough authority to instigate a counterintelligence operation in the SAS against the FPCC.

In my view, whoever Oswald's direct handler or handlers were, we must now seriously consider the possibility that Angleton was probably their general manager. No one else in the Agency had the access, the authority, and the diabolically ingenious mind to manage this sophisticated plot. No one else had the means necessary to plant the WWIII virus in Oswald's files and keep it dormant for six weeks until the president's assassination. Whoever those who were ultimately responsible for the decision to kill Kennedy were, their reach extended into the national intelligence apparatus to such a degree that they could call upon a person who knew its inner secrets and workings so well that he could design a failsafe mechanism into the fabric of the plot. The only person who could ensure that a national security cover-up of an apparent counterintelligence nightmare was the head of counterintelligence.
I had known Jim Angleton for years, but I had never fully appreciated some of his qualities until a fishing trip to the Adirondacks 14 years ago. It was a bone-chilling early spring day, and with another member of the party, I had retired fishless to the bank for a consoling drink and to wait for Angleton. Finally, he came into view, waist-deep in the icy water and feeling for safe footing among the slippery rocks. He was using a 2¾-oz. Leonard rod and casting with easy grace, the tiny fly landing lightly 80 or 90 ft. below him. He took 1 ½ hours to draw abreast of us, never quitting a run or a pool until he had tested every inch of the surface with one or another of some dozen flies. In the end, though, he had five fine native trout in his creel.

Such meticulousness stood him well in the grinding, exhausting and unforgiving discipline of counterintelligence. His job was to locate, identify and neutralize the operations of hostile espionage agents, particularly those of the Soviet KGB, at home and abroad. The task offered few rewards and demanded an angler's perseverance and patience, unflagging watchfulness and a passion for anonymity. General William Donovan, the director of the Office of Strategic Services (a precursor to the CIA), called him the OSS's "most professional counterintelligence officer." In the years that followed, all the directors of the CIA leaned on him. Allen Dulles seldom made a move on the clandestine side without first consulting him. Walter Bedell Smith made him his youthful éminence grise and bequeathed him his cherished fly-tying equipment. John McCone found him a fascinating and shrewd counselor.

Angleton had a storybook background for his work. His Illinois-born father, James Hugh Angleton, joined the National Guard in Idaho in 1916 and chased Pancho Villa south of the border under General John J. ("Black Jack") Pershing. While there, Angleton courted and married a beautiful Mexican girl of 17. On returning to Boise, where their first son, christened James Jesus, was born in 1917, Angleton pére established himself as a star salesman for the National Cash Register Co. In the 1920s he took charge of the company's European operations. In 1933 he bought the firm's franchise for Italy and moved his family to Milan and later to Rome, where they lived in a handsome old villa. For years he headed the American Chamber of Commerce in Italy and was the trusted bridge between the American embassy and Italian industry.

His son's familiarity with high cuisine, wine and good tailoring was thus all naturally acquired. So too was his profound abhorrence of totalitarianism. Says Angleton: "If one has lived much of his life abroad, as I have, one is apt to judge his country more precious than do those who know no other country well." He recalls the day in 1936, when he was 18 and working through a summer holiday as an apprentice mechanic in National Cash Register's Paris factory, that the workers heard about the Wehrmacht reoccupation of the Rhineland. Says Angleton: "The workers to a man threw down their tools and standing at attention sang the Marseillaise. Then they streamed into the street, cursing the government. I stayed up all night, listening to the furious talk of the workers in the bistros. It was my first political experience - an experience in despair. And the war lengthened the experience. While gathering evidence for the Nuremberg war trials, I came upon the horrifying proof of the extermination of 6 million Jews. To prevent war, to preserve freedom are continuing causes with me. They have shaped my life."

After 3½ years at Malvern College in England, he entered Yale in the class of 1941. Says Poet Reed Whittemore, Angleton's college roommate and still a close friend: "He was quite British in his ways, though he had treasured his Middle Western accent. He was a mixture of pixiness and earnestness, very much at home in Italian literature, especially Dante, as well as the fine points of handicapping horses. He was an owl; he stayed up late, talking, reading or playing poker."

In their junior year, Whittemore and Angleton edited a quarterly of original poetry, called Furioso, financed mostly by subscriptions raised by Whittemore's aunt. Contributors included Ezra Pound, E.E. Cummings, Archibald MacLeish and William Carlos Williams. Rates were $1 a page. "When we were short of money, which was most of the tune," Whittemore remembers, "we paid off our poets with fine Italian cravats from the stock that the Angleton haberdasher in Italy kept replenishing."

As the war came on, Angleton's father moved the family to New York and joined the OSS. He took part in the planning of the Italian invasion, went ashore with the assault forces at Anzio and rose to colonel. Son Jim had meanwhile entered Harvard Law School and married Cicely d'Autremont of Tucson, Ariz., a junior at Vassar. He was called up in 1943, put through basic training and also assigned to OSS and sent to Italy. His unit uncovered some of the secret correspondence between Hitler and Mussolini that was later introduced into the Nuremberg trials as proof of their conspiracy.

After the war, Donovan asked him to help the provisional Italian government beat off a threatened Communist takeover. Angleton assisted the carabinieri in rebuilding a counter-intelligence service. Through it, he acquired the Soviet instructions to the Italian Communists for supporting the Greek Communists in the civil war in Greece. He and his principal associate for all of his career, Raymond Rocca, who retired recently from the CIA, where he had been Angleton's chief deputy, ferreted out the exchange of correspondence between Stalin and Tito that foreshadowed the 1948 breach between them.

Late in 1947 Angleton resigned from the Army as a major and returned to Washington. By then, he had become, as he puts it, "sharply aware of the Soviet long-term objectives in subversion." Having long ago turned his back on law, he joined the CIA, which had been created some months earlier. Angleton was put in charge of helping to organize its clandestine side.

Many of Angleton's covert operations after he joined the CIA remain secret. The only people who know what he really did are his superiors and those who worked with him. One exploit that can be told came early in 1956. In collaboration with a friendly intelligence service, his unit acquired a copy of Nikita Khrushchev's famed denunciation of Stalin to the 20th Party Congress. Angleton and his lieutenants also developed the evidence that helped lead the FBI in 1957 to the KGB agent Colonel Rudolf Abel, who had operated since 1948 from an obscure photographer's shop in Brooklyn. The numbers of spies who have been caught in Angleton's net run into the dozens. They include George Blake, a senior officer in the British Secret Service; George Paques, a NATO official whose activities were in part the basis of the book and film Topaz; and Heinz Felfe, a high-ranking officer of the West German intelligence service.

Angleton's CIA staff was small - no more than a few score, mostly senior men who had been with him since the agency's founding. They were chiefly specialists on the "adversary" services; a foreign intelligence officer says that the operation was "the best in the world." Three of Angleton's people, including Rocca, have left the agency, angry over its failure to stand by their boss.

His defenders regard Angleton as a casualty of the times. They believe that he was forced out because some important U.S. policymakers no longer hold counterintelligence an indispensable function and so strongly believe in the durability of detente that they are uncomfortable with a clandestine organization that persists in regarding the KGB as a serious threat. In this respect, Angleton's departure is reminiscent of the fate of a fictional counter-intelligence man, George Smiley, the sad hero of John le Carré's Tinker, Tailor, Soldier, Spy. Fired during a staff shake-up at the British Secret Service, Smiley was later called back to root out a suspected "mole," or traitor, who had burrowed deeply into his old organization. The mole resembles Kim Philby, the famed British double agent. It was Angleton who provided some of the information that enabled the British to nail down the case against Philby before the English spy fled to Moscow.
James Angleton, the erudite Central Intelligence Agency officer whose search for Soviet agents inside the Government stirred an uproar in the murky worlds of intelligence for a generation, died here this morning of lung cancer. He was 69 years old, Mr. Angleton, who joined the C.I.A. at its inception in 1947, served for more than 20 years as head of its counterintelligence office. He was forced to resign his post in 1974 by William E. Colby, then Director of Central Intelligence, who had become convinced that Mr. Angleton's efforts were harming the agency.

The tall, donnish intelligence official remains one of the most fascinating figures in the history of the C.I.A. His counterintelligence office was considered one of the most secret in the agency, and the problems it analyzed resembled the multidimensional chess games depicted in the best espionage fiction.

With his departure, the agency cut the counterintelligence staff to 80 from 300, and turned away from some of the techniques he had pioneered. Today, some intelligence officials and members of Congress say this may have been an overreaction. They say that the recent disclosures about highly damaging Soviet espionage operations suggest that Mr. Angleton was more accurate in his suspicions than was once believed.

Counterintelligence is one of the most thankless jobs in spy craft. Its practitioners think the unthinkable, examining each operation, recruit or defector for the possibility that it may be a deception. Counterintelligence agents also try to recruit agents who work for hostile intelligence services, hoping to confuse opponents with cleverly packaged false information.

Friends and associates agree that Mr. Angleton, who wore glasses and had a pronounced stoop, was ideally suited for his life's work. His view of the world was characterized by an abiding suspicion - opponents called it paranoia - about the Soviet Union's motives and maneuvers.

When the Soviet Union and China split in the early 1960's, Mr. Angleton remained convinced that the widely reported antagonism was a ruse concocted by the two Communist powers.

The defection of Yuri Nosenko from the Soviet Union in January 1964 prompted a prolonged investigation by Mr. Angleton and his staff. Mr. Nosenko insisted that he had been the Soviet case officer for Lee Harvey Oswald, the assassin of President Kennedy.

Mr. Angleton was inclined to doubt Mr. Nosenko's insistence that the Soviet security agency, the K.G.B., had no connection to the attack on the President. Mr. Nosenko was released after being interrogated for more than three years, and the consensus at the C.I.A. was that he had been a legitimate defector. Mr. Nosenko was subsequently hired as a lecturer at courses given by the agency. Powerful Role in Agency

Mr. Angleton may have lost the battle over Mr. Nosenko, but he wielded great power inside the agency for decades. His section had access to more information than virtually any other because it was permitted to examine virtually all C.I.A. operations. The counterintelligence staff under Mr. Angleton could and did effectively end the careers of C.I.A. officers suspected of working for the Soviet Union. He often declined to explain why a particular officer had fallen under suspicion.

In addition, Mr. Angleton handled one of the agency's most sensitive relationships with an allied intelligence service, its ties to the Israelis. Mr. Angleton handled ''the Israeli account'' as it was termed in C.I.A. argot, for more than a decade. Indeed, Mr. Colby, the agency director who forced his resignation, earlier insisted that Mr. Angleton relinquish his control over Israeli matters.

Even with the passage of decades, it is difficult to compile a reasonably certain account of Mr. Angleton's espionage successes, which remain classified. For instance, by one account he was instrumental in obtaining, the text of Nikita S. Khrushchev's secret denunciation of Stalin in 1956.

He was also said to have been deeply involved in the unmasking of Kim Philby, the British double agent. Others say that for a time, at least, Mr. Angleton was deceived by Mr. Philby a man who had come to be his friend.

James Jesus Angleton was born in 1917, the year of the Russian Revolution, in Boise, Idaho. His father worked for the National Cash Register Company in Italy, and James Angleton spent summers in Italy while attending Malvern College in England. In 1937, he entered Yale University, where he roomed with E. Reed Whittemore Jr., the poet. The two founded a literary magazine, reflecting what would be Mr. Angleton's lifelong interest in the letters. His favorite poets, friends say, were T.S. Eliot and E.E. Cummings, and in Washington he was often found at lectures on the writings of James Joyce.

Two years after being graduated from Yale, he was recruited by a professor into the Office of Strategic Services, the World War II intelligence agency and forerunner to the C.I.A.

Senator Malcolm Wallop, a Wyoming Republican who was a strong defender of Mr. Angleton, said in a statement today: ''James Angleton lived long enough to serve his country before, during and after World war II. He was the architect of the best counterintelligence the United States ever had. In the mid-1970's, Angleton went out of fashion, but he lived long enough to see time and events vindicate him and show how little his accusers understood of the difficult and inherently thankless business of counterintelligence.''

In World War II Mr. Angleton directed agents working against Nazi Germany. In 1944 he traveled to Rome where he worked on operations aimed at the Italian Fascist intelligence service. After the war, he worked closely with Italian counterintelligence to uncover reams of data about Soviet operations.

When he returned to the United States, he began to specialize in studying the K.G.B. Mr. Angleton built huge files on the espionage operations of the Russians, and was authorized in 1954 by Allen W. Dulles, then the director of agency, to set up its first counterintelligence staff.

In 1975 Mr. Angleton was awarded the C.I.A.'s highest award, the Distinguished Intelligence Medal.

Mr. Angleton has been sharply criticized in recent years in the memoirs of some intelligence officials, including Adm. Stansfield Turner, the director of Central Intelligence under President Carter. Admiral Turner wrote that he had got Congress to appropriate money to compensate officers whose careers had been ruined because they had come under the suspicion of Mr. Angleton.

But his staff of counterintelligence operatives were quick to defend him and his methods to reporters and others.

''He was truly a Renaissance man, '' said N. Scott Miler, the chief of operations under Mr. Angleton. ''He had a remarkable amount of knowledge about world events, art, literature. most remarkable people I have ever known.''

Mr. Angleton is survived by his wife, Cicely d'Autremont; a son, James Charles Angleton, of Los Angeles, and two daughters, Guru Sangat Kaur, of Great Falls, Va., and Lucy d'Autremont Angleton, of New Mexico. He also leaves a brother, Hugh Angleton of Boise, and two sisters, Carmen Mercedes Angleton of Rome and Delores Guarnieri of Florence, Italy.
(3) Thomas McCoy, interviewed by Jeff Goldberg (28th April, 1988)
(5) Max Corvo, interviewed by Jeff Goldberg (17th February, 1988)
(8) James Jesus Angleton, interview in the television programme, This Week (November, 1976)
(18) John Raymond Baine, interviewed by Jeff Goldberg (14th April, 1988)
(30) James Jesus Angleton, Last Will and Testament, (22nd January, 1949)
(51) Tom Braden, interviewed by Jeff Goldberg (29th April, 1989)
(58) James Jesus Angleton, testimony before the Senate (5th October, 1978)
(81) Testimony of Henry Wiggins (12th October, 1964)
(111) James Schlesinger, directive to all CIA employees (9th May, 1973)
(125) George T. Kalaris, memo to the executive assistant to the deputy director of Operations of the CIA (18th September, 1975)
(142) Chruch Committee, Volume II, pages 72-73
(143) Walter Elder, interviewed by Jeff Goldberg (11th August, 1988)