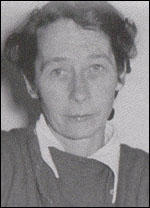 Aileen Furse was born in India in 1910. Her father had been killed in the early states of the First World War. The Furse family were well-connected and several members had important jobs. One was the private secretary to Winston Churchill as colonial minister. Another had been director of the Women's Royal Naval Service and then of the World Bureau of Girl Guides. (1)
Aileen had an unhappy childhood and had left home and taken a job on the advice of her family doctor. Phillip Knightley, the author of Philby: KGB Masterspy, has pointed out: "She had shown signs of a self-destructive streak - her family said she sometimes deliberately injured herself to gain attention when she felt she had been neglected." (2)
Aileen Furse found work as a store detective in the Marble Arch branch of Marks and Spencer. It was here that she became friends with Flora Solomon, the daughter of a Jewish-Russian gold tycoon. Solomon later recalled: "Aileen belonged to that class, now out of fashion, called county. She was typically English, slim and attractive, fiercely patriotic, but awkward in her gestures and unsure of herself in company." (3)
Another colleague with whom I was on terms of close friendship, Neil Furse, an accountant, approached me with the request that I find a position in my department for his cousin Aileen. Though not short of money, and highly intelligent, she was subject to depressions. Her doctors thought she should have a job. Aileen was appointed to our Marble Arch store as a staff manageress, and I undertook to keep an eye on her wellbeing.

Aileen Furse soon established herself as one of my principal assistants, all of whom dropped in at my home for the occasional drink. She was there one day when Kim Philby arrived, now separated but not divorced from his Litzi. Kim plonked himself in an easy chair and began talking about Spain. He found an avid listener in Aileen, and the two left together. The next I knew they were sharing a flat.

Kim appeared to me to be concentrating on making a reputation for himself in journalism. Aileen belonged to the class, now out of fashion, called 'county'. She was typically English, slim and attractive, fiercely patriotic, but awkward in her gestures and unsure of herself in company. I was pleased for her. As they left a party in my home - this must have been some time in 1938, just before Munich - Kim took me to one side, looking morose. "I want to tell you," he said, "I'm in great danger." It dawned on me then that he was still associated with the Communist Party, the cause he had espoused at Cambridge. The statement was extraordinary, perhaps, but the intimation of his affiliation provoked no suspicion. What was dangerous in Britain about being a Communist? In some circles of the intelligentsia it was the done thing.
Keeping with his new image of a responsible peacetime professional SIS officer, Philby set about tidying up his private life. The problem was that he was still married to Litzi, and although Eileen had changed her name by deed poll to Philby, their three children had all been born out of wedlock. This was not a handicap for a young SIS officer in the relaxed moral atmosphere of wartime, but for a permanent civil servant who wanted to make his way to the top it could count against him. By now Litzi was living in East Berlin with her wartime lover, Georg Honigmann, a known communist. Philby was certain that she would agree to a divorce, but if he contacted her to arrange it all, and somehow or other M15 later got to hear of the contact, it could be made to look very suspicious: why had Philby, a British counter-intelligence officer in charge of the anti-Soviet desk, been in touch with a communist living in a communist bloc country? If he then told the reason, he could well be asked why he had not mentioned before that he had been married to a communist.

Philby took the bold way out. He asked Vivian for permission to contact Litzi so as to arrange a divorce that would enable him to marry Aileen. And he got in first by describing how he met Litzi during a youthful escapade in Vienna and had married her to save her from imprisonment or death at the hands of the fascists. Vivian listened sympathetically and instantly gave his permission. Nevertheless he got M15 to make a routine check of its records for anything it had on Litzi and must have been rather surprised to read the reply that Alice (Litzi) Kohlman... was a confirmed Soviet agent. Although Vivian must have pondered over this, he did nothing about it. To begin with, he was Philby's patron in the service and to make a fuss about Philby's marriage would end up reflecting badly on Vivian as well. It would not have been hard to convince himself that the M15 trace added little to what Philby had already told him. As well, the marriage had really ended ten years earlier, before Philby had joined SIS, so there appeared little point in resurrecting a brief indiscretion that might stain the career of such a promising and much-liked officer.

So Philby got in touch with Litzi, and it was agreed that she should petition for a divorce on the grounds of Philby's adultery with Aileen. The decree was made absolute on 17 September 1946 and Philby and Aileen were married a week later. He was thirty-four; she was thirty-five and seven months pregnant with their fourth child, Miranda. The witnesses were Tommy Harris and Flora Solomon, Aileen's former boss and a longtime friend of the Philby family. The reception, a noisy, hard-drinking affair, was held in the Philby house in Carlyle Square.