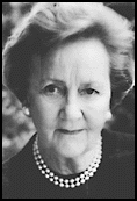 Katharine Meyer was born in New York City on 16th June, 1917. She was a daughter of Agnes Ernst Meyer and Eugene Meyer, who purchased the Washington Post at a bankruptcy sale in 1933.
Katharine was educated at Vassar and the University of Chicago. After graduating in 1938 she worked as a reporter for the San Francisco News. In 1940 she married Philip Graham. The couple had four children: Elizabeth, Donald, William and Stephen. Katharine Graham joined the staff of the Washington Post, where she worked in the editorial and circulation departments.
In 1946 Eugene appointed Katharine's husband as associate publisher. He eventually took over business side of the newspaper's operations. He also played an important role in the paper's editorial policy. It is claimed that Philip Graham had close links with the Central Intelligence Agency and it has been argued that he played an important role in Operation Mockingbird, the CIA program to infiltrate domestic American media. According to Katherine, her husband worked overtime at the Washington Post during the Bay of Pigs operation to protect the reputations of his friends who had organized the ill-fated venture.
As president of the Washington Post Company he purchased radio and television stations WTOP (Washington) and WJXT (Jacksonville). In 1961 Graham purchased Newsweek. The following year he took control of America's two leading art magazines, Art News and Portfolio.
Philip Graham committed suicide by killing himself with a shotgun on 3rd August, 1963. Katharine now took over the running of the newspaper. She held several different posts including president (1963-1973), publisher (1969-1979), chairman of the board (1973-1991) and chairman of the executive committee (1993-2001).
Graham also served as co-chairman of the International Herald Tribune, vice chairman of the board of the Urban Institute and was a member of the Council on Foreign Relations and the Overseas Development Council. She also wrote Personal History, for which she received the 1998 Pulitzer Prize for Biography.
Katharine Graham died on 17th July, 2001.
President Kennedy's charm was powerful. His intense concentration and gently teasing humor, and his habit of vacuum-cleaning your brain to see what you knew and thought, were irresistible. The Kennedy men were also unabashed chauvinists, as were the great majority of men at the time, including Phil. They liked other bright men, and they liked girls, but they didn't really know how to relate to middle-aged women, in whom they didn't have a whole lot of interest. This attitude made life difficult for middle-aged wives especially, and induced or fed feelings of uncertainty in many of us in those years. Though the men were polite, we somehow knew we had no place in their spectrum. My ever-present terror of being boring often overwhelmed me in social situations with the president and at the White House, particularly whenever I was face to face with the president himself or one of his main advisers, and my fear was a real guarantee of being boring, since it paralyzed and silenced me.

I only felt secure when Phil, whom the president liked, was with me and could do the talking. Douglas Dillon's wife, Phyllis, who I thought was the height of sophistication, confided to me that she felt the same way: she complained that she was always left on the sidelines with Rose Kennedy at parties in Palm Beach.

One notable exception to the chauvinist tradition was Adlai Stevenson. Women enjoyed Adlai. In the end, my mother, my daughter, and I all had close friendships with him. Clayton Fritchey once told me a story that helps explain Adlai's appeal - and that contrasts it with what many of us felt about other men in the Kennedy administration, including the president himself. About three weeks before Kennedy was assassinated, Clayton saw the president in New York, at a time when Adlai was the ambassador to the United Nations and Clayton was his deputy. The three men were together at a party, and Clayton was helping himself to a drink on the balcony overlooking Central Park when the president came up behind him and said, "We haven't had a chance to talk much tonight, but we've got a good subject in common," meaning Adlai. The president then told Clayton he didn't understand the hold Adlai had over women, commenting on how much Jackie liked and admired him and confessing that he himself didn't have the ease with women that Adlai had. "What do you suppose it is?" he asked, adding, "Look, I may not be the best-looking guy out there, but, for God's sake, Adlai's half bald, he's got a paunch, he wears his clothes in a dumpy kind of way. What's he got that I haven't got?"

Clayton's response hit on what I think women saw in Adlai and what they shied away from in other men of that era. "Mr. President, I'm happy to say that for once you have asked me a question I'm prepared to answer, one I can answer truthfully and accurately. While you both love women, Adlai also likes them, and women know the difference. They all respond to a kind of message that comes across from him when he talks to them. He conveys the idea that they are intelligent and worth listening to. He cares about what they're saying and what they've done, and that's really very fetching."

The president's response was: "Well, I don't say you're wrong, but I'm not sure I can go to those lengths."
(2) Michael Hasty, Secret Admirers: The Bushes and the Washington Post (5th February , 2004)
In an article published by the media watchdog group, Fairness and Accuracy in Reporting (FAIR), Henwood traced the Washington Post's Establishment connections to Eugene Meyer, who took control of the Post in 1933. Meyer transferred ownership to his daughter Katherine and her husband, Philip Graham, after World War II, when he was appointed by Harry S. Truman to serve as the first president of the World Bank. Meyer had been "a Wall Street banker, director of President Wilson's War Finance Corporation, a governor of the Federal Reserve System, and director of the Reconstruction Finance Corporation," Henwood wrote.

Philip Graham, Meyer's successor, had been in military intelligence during the war. When he became the Post's publisher, he continued to have close contact with his fellow upper-class intelligence veterans - now making policy at the newly formed CIA - and actively promoted the CIA's goals in his newspaper. The incestuous relationship between the Post and the intelligence community even extended to its hiring practices. Watergate-era editor Ben Bradlee also had an intelligence background; and before he became a journalist, reporter Bob Woodward was an officer in Naval Intelligence. In a 1977 article in Rolling Stone magazine about CIA influence in American media, Woodward's partner, Carl Bernstein, quoted this from a CIA official: "It was widely known that Phil Graham was somebody you could get help from." Graham has been identified by some investigators as the main contact in Project Mockingbird, the CIA program to infiltrate domestic American media. In her autobiography, Katherine Graham described how her husband worked overtime at the Post during the Bay of Pigs operation to protect the reputations of his friends from Yale who had organized the ill-fated venture.

After Graham committed suicide, and his widow Katherine assumed the role of publisher, she continued her husband's policies of supporting the efforts of the intelligence community in advancing the foreign policy and economic agenda of the nation's ruling elites. In a retrospective column written after her own death last year, FAIR analyst Norman Solomon wrote, "Her newspaper mainly functioned as a helpmate to the war-makers in the White House, State Department and Pentagon." It accomplished this function (and continues to do so) using all the classic propaganda techniques of evasion, confusion, misdirection, targeted emphasis, disinformation, secrecy, omission of important facts, and selective leaks.

Graham herself rationalized this policy in a speech she gave at CIA headquarters in 1988. "We live in a dirty and dangerous world," she said. "There are some things the general public does not need to know and shouldn't. I believe democracy flourishes when the government can take legitimate steps to keep its secrets and when the press can decide whether to print what it knows."
After World War II, when Harry Truman named this lifelong Republican as first president of the World Bank, Meyer made his son-in-law, Philip L. Graham, publisher of the paper. Meyer stayed at the Bank for only six months and returned to the Post as its chairman. But with Phil Graham in charge, there was little for Meyer to do. He transferred ownership to Philip and Katharine Graham, and retired.

Phil Graham maintained Meyer's intimacy with power. Like many members of his class and generation, his postwar view was shaped by his work in wartime intelligence; a classic Cold War liberal, he was uncomfortable with McCarthy, but quite friendly with the personnel and policies of the CIA. He saw the role of the press as mobilizing public assent for policies made by his Washington neighbors; the public deserved to know only what the inner circle deemed proper. According to Howard Bray's Pillars of the Post, Graham and other top Posters knew details of several covert operations - including advance knowledge of the disastrous Bay of Pigs invasion - which they chose not to share with their readers.

When the manic-depressive Graham shot himself in 1963, the paper passed to his widow, Katharine. Though out of her depth at first, her instincts were safely establishmentarian. According to Deborah Davis' biography, Katharine the Great, Mrs. Graham was scandalized by the cultural and political revolutions of the 1960s, and wept when LBJ fused to run for reelection in 1968. (After Graham asserted that the book as "fantasy," Harcourt Brace Jovanovich pulled 20,000 copies of Katharine the Great in 1979. The book as re-issued by National Press in 87.)

The Post was one of the last major papers to turn against the Vietnam War. Even today, it hews to a hard foreign policy line--usually to the right of The New York Times, a paper not known or having transcended the Cold War.

There was Watergate, of course, that model of aggressive reporting ed by the Post. But even here, Graham's Post was doing the establishment's work. As Graham herself said, the investigation couldn't have succeeded without the cooperation of people inside the government willing to talk to Bob Woodward and Carl Bernstein.

These talkers may well have included the CIA; it's widely suspected that Deep Throat was an Agency man (or men). Davis argues that Post editor Ben Bradlee knew Deep Throat, and may even have set him up with Woodward. She produces evidence that in the early 1950s, Bradlee crafted propaganda for the CIA on the Rosenberg case for European consumption. Bradlee denies working "for" the CIA, though he admits having worked for the U.S. Information Agency - perhaps distinction without a difference.

In any case, it's clear that a major portion of the establishment wanted Nixon out. Having accomplished this, there was little taste for further crusading. Nixon had denounced the Post as "Communist" during the 1950s. Graham offered her support to Nixon upon his election in 1968, but he snubbed her, even directing his allies to challenge the Post Co.'s TV license in Florida a few ears later. The Reagans were a different story - for one thing, Ron's crowd knew that seduction was a better way to get good press than hostility. According to Nancy Reagan's memoirs, Graham welcomed Ron and Nancy to her Georgetown house in 1981 with a kiss. During the darkest days of Iran-Contra, Graham and Post editorial page editor Meg GreenfieId - lunch and phone companions to Nancy throughout the Reagan years - offered the First Lady frequent expressions of sympathy. Graham and the establishment never got far from the Gipper.
Right after the election, he started talking to and writing the president-elect about appointments to the new administration. Both Phil and Joe Alsop thought Kennedy ought to appoint our friend Douglas Dillon as secretary of the Treasury. Dillon was a liberal Republican who had served as undersecretary of state in the Eisenhower administration and had contributed to the Nixon campaign, so this didn't seem like a strong possibility. Arthur Schlesinger and Ken Galbraith had dinner with us one evening, and, as Arthur noted in his book A Thousand Days, "we were distressed by (Phil's) impassioned insistence that Douglas Dillon should and would-be made Secretary of the Treasury. Without knowing Dillon, we mistrusted him on principle as a presumed exponent of Republican economic policies." But as Arthur also wrote, "When I mentioned this to the President-elect in Washington on December, he remarked of Dillon, "Oh, I don't care about those things. All I want to know is: is he able and will he go along with the program?'"

What a refreshing thought - if only more presidents felt that way! In fact, the president-elect called. Joe about the liberals wanting Albert Gore (father of the Clinton administration vice-president, Al Gore) for the position, but he told Joe that he wanted Dillon. Joe recalls Kennedy saying, "They say that if I take Doug Dillon he won't be loyal because he's a Republican." Joe responded that it would be very hard to imagine a man less likely to be disloyal than Dillon. He also added, "And if you take Albert Gore you know perfectly well, a) he's incompetent; b) you'll never be able to hear yourself think, he talks so much; c) when he isn't talking your ear off, he'll be telling the New York Times all." I'm sure this whole conversation with Kennedy was recalled in Alsopian terms, but I'm also sure that some such conversation did indeed take place.