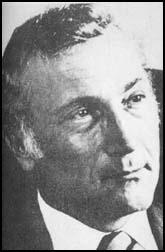 Richard Schweiker was born in Norristown on 1st June, 1926. During the Second World War he served in the United States Navy.
After graduating from Pennsylvania State University in 1950 he was employed as a manufacturing and sales executive. A member of the Republican Party he was elected to Congress in November, 1960.
In September, 1976, Schweiker became a member of the House Select Committee on Assassinations in September 1976. The resolution authorized a 12-member select committee to conduct an investigation of the circumstances surrounding the deaths of John F. Kennedy and Martin Luther King.
In 1976 Antonio Veciana was interviewed by the House Select Committee on Assassinations. The founder of the anti-Castro organization, Alpha 66, he told the committee about his relationship with his Central Intelligence Agency contact, Maurice Bishop. He claimed that in August, 1963, he saw Bishop and Lee Harvey Oswald in Dallas. Veciana admitted that Bishop had organized and funded the Alpha 66 attacks on the Soviet ships docked in Cuba in 1963.
Veciana explained the policy: "It was my case officer, Maurice Bishop, who had the idea to attack the Soviet ships. The intention was to cause trouble between Kennedy and Russia. Bishop believed that Kennedy and Khrushchev had made a secret agreement that the USA would do nothing more to help in the fight against Castro. Bishop felt - he told me many times - that President Kennedy was a man without experience surrounded by a group of young men who were also inexperienced with mistaken ideas on how to manage this country. He said you had to put Kennedy against the wall in order to force him to make decisions that would remove Castro's regime."
Schweiker, speculated that Bishop was David Atlee Phillips. Schweiker arranged for Veciana and Phillips to be introduced at a meeting of the Association of Retired Intelligence Officers in Reston. Phillips denied knowing Veciana. After the meeting Veciana told Schweiker that Phillips was not the man known to him as Bishop.
Schweiker was unconvinced by this evidence. He found it difficult to believe Phillips would not have known the leader of Alpha 66. Especially as Phillips had been in charge of covert action in Cuba when Alpha 66 was established. Another CIA agent who worked in Cuba during this period, claimed that Phillips used the code name, Maurice Bishop.
During the investigation Schweiker studied a large number of classified intelligence files. In 1978 he told the author, Anthony Summers: "Either we trained and sent him to Russia, and they went along and pretended they didn't know to fake us out, or in fact, they inculcated him and sent him back here and were trying to fake us out that way."
In 1981 President Ronald Reagan appointed him Secretary of Health and Human Services. Two years later he became president of American Council of Life Insurance.