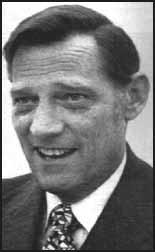 David Atlee Phillips was born in Fort Worth, Texas, on 31st October, 1922. He was educated at William and Mary College and Texas Christian University. During the Second World War he served as a nose gunner in the United States Air Force.
Phillips joined the Central Intelligence Agency in 1950. Over the next few years Phillips was involved in clandestine operations in Guatemala against President Jacobo Arbenz. The plot against Arbenz became part of Executive Action (a plan to remove unfriendly foreign leaders from power).
Tracy Barnes was placed in charge of what became known as Operation Success. Phillips was appointed to run the propaganda campaign against Arbenz's government. According to Phillips he initially questioned the right of the CIA to interfere in Guatemala: In his autobiography Phillips claims he said to Barnes: "But Arbenz became President in a free election. What right do we have to help someone topple his government and throw him out of office?" However, Barnes convinced him that it was vital important that the Soviets did not establish a "beachhead in Central America".
The CIA propaganda campaign included the distribution of 100,000 copies of a pamphlet entitled Chronology of Communism in Guatemala. They also produced three films on Guatemala for showing free in cinemas. Phillips, along with E.Howard Hunt, was responsible for running the CIA's Voice of Liberation radio station. Faked photographs were distributed that claimed to show the mutilated bodies of opponents of Arbenz. William (Rip) Robertson was also involved in the campaign against Jacobo Arbenz.
The CIA began providing financial and logistic support for Colonel Carlos Castillo. With the help of resident Anastasio Somoza, Castillo had formed a rebel army in Nicaragua. It has been estimated that between January and June, 1954, the CIA spent about $20 million on Castillo's army.
On 18th June 1954, aircraft dropped leaflets over Guatemala demanding that Arbenz resign immediately or else the county would be bombed. CIA's Voice of Liberation also put out similar radio broadcasts. This was followed by a week of bombing ports, ammunition dumps, military barracks and the international airport.
Carlos Castillo's collection of soldiers now crossed the Honduran-Guatemalan border. His army was outnumbered by the Guatemalan Army. However, the CIA Voice of Liberation successfully convinced Arbenz's supporters that two large and heavily armed columns of invaders were moving towards Guatemala City.
One CIA memo has Raymond Leddy saying: "It may be necessary to take more deadly plans might need development... The best way to bring about the fall of the Arbenz government would be to eliminate 15-20 of its leaders with Trujillo's trained pistoleros."
The CIA was also busy bribing Arbenz's military commanders. It was later discovered that one commander accepted $60,000 to surrender his troops. Ernesto Guevara attempted to organize some civil militias but senior army officers blocked the distribution of weapons. Jacobo Arbenz now believed he stood little chance of preventing Castillo gaining power. Accepting that further resistance would only bring more deaths he announced his resignation over the radio.
Castillo's new government was immediately recognised by President Dwight Eisenhower. Castillo now reversed the Arbenz reforms. In July 19, 1954, he created the National Committee of Defense Against Communism and decreed the Preventive Penal Law Against Communism to fight against those who supported Arbenz when he was in power. Over the next few weeks thousands were arrested on suspicion of communist activity. A large number of these prisoners were tortured or killed.
David Atlee Phillips also worked undercover in Cuba (1959-60). He returned to the United States in 1960 and was involved in the organization of the Bay of Pigs operation. During this period he worked with E.Howard Hunt in the attempts to have Fidel Castro murdered.
Phillips worked under Winston Scott, the head of the CIA station in Mexico. In April 1963 Scott wrote that: "His (Phillips) comprehensive understanding of human beings combined with a thorough knowledge of covert action techniques and his fluent Spanish make him unusually valuable... He is the most outstanding Covert Action officer that this rating officer has ever worked with."
Winston Scott suggested to Richard Helms that Phillips should become his deputy station chief. However, Helms decided to appoint Phillips as Chief of Cuban Operations. Desmond FitzGerald arrived in Mexico City to tell Phillips that he had the freedom to roam the entire Western Hemisphere mounting secret operations to get rid of Fidel Castro. Phillips now worked closely with David Morales at JM WAVE in Miami. Phillips also provided support to Alpha 66. It was later claimed that Phillips told Antonio Veciana his goal was to provoke US intervention in Cuba by "putting Kennedy's back to the wall."
Jefferson Morley argues in his book, Our Man in Mexico (2008) that Phillips was running an anti-Castro covert operation out of the US Embassy in Mexico City. Morley speculates that his field man was George Joannides.
On 25th November, Gilberto Alvarado, a 23 year-old Nicaraguan man, contacted the U.S. embassy in Mexico City and said he had some important information about Lee Harvey Oswald. The U.S. ambassador, Thomas C. Mann, passed the information onto Winston Scott and the following morning, Scott's deputy, Alan White and another CIA officer interviewed Avarado. He claimed that during a visit to the Cuban Embassy he overheard a man he now recognised as Oswald, talking to a red-haired Negro man. According to Avarado, Oswald said something about being man enough to kill someone. He also claimed that he saw money changing hands. He reported the information at the time to the U.S. Embassy but they replied: "Quit wasting our time. We are working here, not playing."
Winston Scott told Phillips about what Gilberto Alvarado had said to Alan White. On 26th November, Phillips had a meeting with Alvarado in a safe-house. Alvarado told Phillips that the red-haired black man had given Oswald $1,500 for expenses and $5,500 as an advance. Although he was not sure of the date, he thought it was about 18th September.
Thomas C. Mann and Phillips believed Alvarado but Scott was not so sure. He argued that there was an "outside possibility" that it might be a set-up by the right-wing government in Nicaragua who wanted the United States to invade Cuba. However, as Jefferson Morley pointed out in Our Man in Mexico: "The unstated message emanating from the White House was by now clear to Win - though not to Mann. Speculation about Oswald's motives was to be cut off, not pursued."
On 27th November, Luis Echeverria told Scott that they had rearrested Silvia Duran because she was trying to leave Mexico for Cuba. Thomas C. Mann sent a message to Winston Scott that stated: "Duran should be told that as the only living non-Cuban who knew the full story, she was in exactly the same position as Oswald prior to the assassination. Her only chance of survival is to come clean with the whole story and cooperate fully. I think she'll crack when confronted with the details."
On 28th November, Scott contacted Luis Echeverria and told him that Washington wanted the Mexicans to interrogate Gilberto Alvarado. On 29th November, Scott received a message from John M. Whitten saying: "Please continue to keep us filled in on status of interrogations of Slvia Duran, Alvarado and others implicated as fast as you can get info."
J. Edgar Hoover sent FBI agent, Larry Keenan, to Mexico City in order to have a meeting with Winston Scott, Thomas C. Mann and Phillips. Mann started the meeting by expressing the belief that Fidel Castro and the DGI were behind the assassination of John F. Kennedy and that it was just a matter of time before the United States invaded Cuba. However, Keenan replied that Hoover, Lyndon B. Johnson and Robert Kennedy, all believed that Lee Harvey Oswald acted alone.
Thomas C. Mann later told Dick Russell: "It surprised me so much. That was the only time it ever happened to me - We don't want to hear any more about the case - and tell the Mexican government not to do any more about it, not to do more investigating, we just want to hush it up.... I don't think the U.S. was very forthcoming about Oswald... it was the strangest experience of my life."
In reality, J. Edgar Hoover had not ruled out the possibility of a communist plot to kill John F. Kennedy. At 1.40 on 29th November, Hoover told Lyndon B. Johnson on the telephone: "This angle in Mexico is giving us a great deal of trouble because the story there is of this man Oswald getting $6,500 from the Cuban embassy and then coming back to this country with it. We're not able to prove that fact, but the information was that he was there on the 18th of September in Mexico City and we are able to prove conclusively he was in New Orleans that day. Now then they've changed the dates. The story came in changing the dates to the 28th of September and he was in Mexico City on the 28th. Now the Mexican police have again arrested this woman Duran, who is a member of the Cuban embassy... and we're going to confront her with the original informant, who saw the money pass, so he says, and we're also going to put the lie detector test on him."
That evening Fernando Gutiérrez Barrios told Winston Scott that Gilberto Alvarado had recanted and signed a statement admitting that his story of seeing Lee Harvey Oswald in the Cuban Embassy was completely false. He said his motive was to try to get the United States to take action against Fidel Castro.
A few days later Gilberto Alvarado reverted to his original story. He told his Nicaraguan handler that the only reason that he recanted was that his interrogators threatened "to hang him by his testicles". However, soon afterwards, he recanted again. Phillips later claimed that Alvarado was "dispatched to Mexico City by the Somoza brothers... in what they considered a covert action to influence the American government to move against Cuba". Jefferson Morley argues that Phillips is being disingenuous: "Phillips knew all along about Alvarado's service as a CIA informant. Even the FBI knew all along he was under CIA control."
Silvia Duran was questioned about her relationship with Lee Harvey Oswald. Despite being roughed up she denied having a sexual relationship with Oswald. Luis Echeverria believed her and she was released. However, Duran later admitted to a close friend that she had dated Oswald while he was in Mexico City.
David Atlee Phillips served as Station Chief in the Dominican Republic and in Rio de Janeiro. In 1970, he was called to Washington and asked to lead a special task force assigned to prevent the election of Salvador Allende as President of Chile. Allende was killed in a military takeover in 1973.
David Atlee Phillips last assignment was as head of the Western Hemisphere Division. He held the rank of GS18, the highest position in the CIA not requiring executive appointment. After he retired in 1975 he became head of the Association of Former Intelligence Officers (AFIO).
In 1976 Antonio Veciana was interviewed by Gaeton Fonzi of the House Select Committee on Assassinations. Veciani, the founder of the anti-Castro organization, Alpha 66, told the committee about his relationship with his Central Intelligence Agency contact, Maurice Bishop. He claimed that in August, 1963, he saw Bishop and Lee Harvey Oswald in Dallas. Veciana admitted that Bishop had organized and funded the Alpha 66 attacks on the Soviet ships docked in Cuba in 1963.
Antonio Veciana explained the policy: "It was my case officer, Maurice Bishop, who had the idea to attack the Soviet ships. The intention was to cause trouble between Kennedy and Russia. Bishop believed that Kennedy and Khrushchev had made a secret agreement that the USA would do nothing more to help in the fight against Castro. Bishop felt - he told me many times - that President Kennedy was a man without experience surrounded by a group of young men who were also inexperienced with mistaken ideas on how to manage this country. He said you had to put Kennedy against the wall in order to force him to make decisions that would remove Castro's regime."
Richard Schweiker, a member of the committee, speculated that Bishop was David Atlee Phillips. Schweiker asked his researcher, Gaeton Fonzi, to investigate this issue. Fonzi arranged for Veciana and Phillips to be introduced at a meeting of the Association of Former Intelligence Officers in Reston. Phillips denied knowing Veciana. After the meeting Veciana told Schweiker that Phillips was not the man known to him as Bishop.
Gaeton Fonzi was unconvinced by this evidence. He found it difficult to believe Phillips would not have known the leader of Alpha 66. Especially as Phillips had been in charge of covert action in Cuba when Alpha 66 was established. Other information also emerged to undermine Phillips. CIA agent, Ron Crozier, who worked in Cuba during this period, claimed that Phillips sometimes used the code name, Maurice Bishop.
Phillips testified before the House Select Committee on Assassinations on 25th April, 1978. He denied he ever used the name Maurice Bishop. He also insisted that he had never met Antonio Veciana.
Phillips published his autobiography, The Night Watch: 25 Years of Peculiar Service, in 1977. The following year he published Carlos Contract, a novel that dealt with political assassins. Phillips also wrote The Great Texas Murder Trials: A Compelling Account of the Sensational T. Cullen Davis Case (1979).
According to Larry Hancock, the author of Someone Would Have Talked, just before his death Phillips told Kevin Walsh, an investigator with the House Select Committee on Assassinations: "My final take on the assassination is there was a conspiracy, likely including American intelligence officers." (Some books wrongly quote Phillips as saying: "My private opinion is that JFK was done in by a conspiracy, likely including rogue American intelligence people.")
David Atlee Phillips died of cancer on 7th July, 1988. He left behind an unpublished manuscript. The novel is about a CIA officer who lived in Mexico City. In the novel the character states: "I was one of those officers who handled Lee Harvey Oswald... We gave him the mission of killing Fidel Castro in Cuba... I don't know why he killed Kennedy. But I do know he used precisely the plan we had devised against Castro. Thus the CIA did not anticipate the president's assassination, but it was responsible for it. I share that guilt."
In January 2004, E. Howard Hunt gave a taped interview with his son, Saint John Hunt, claiming that Lyndon Baines Johnson was the instigator of the assassination of John F. Kennedy, and that it was organised by Phillips, Cord Meyer, Frank Sturgis and David Sanchez Morales.