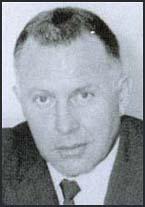 Jacob "Jake'' Esterline was born in Lewistown, Pennsylvania, on April 26, 1920. When he was eighteen he enrolled as an accounting student at Temple University in Philadelphia. In 1941 he joined the Officer Candidate School at Fort Benning.
During the Second World War Esterline was recruited into the Office of Strategic Services (OSS). Esterline was sent to India in early 1943. Later that year he was infiltrated into Burma. By the end of the war he had became a commander of a guerrilla battalion fighting the Japanese Army in China.
Other important figures working in China during this period include John K. Singlaub, Ray S. Cline, Richard Helms, E. Howard Hunt, Mitchell WerBell, Jake Esterline, Paul Helliwell, Robert Emmett Johnson, Jack Anderson and Lucien Conein. Others working in China at that time included Tommy Corcoran, Whiting Willauer and William Pawley.
After the war Esterline finished his accounting degree. He then worked for a family law firm in Pennsylvania. On the outbreak of the Korean War Esterline joined the Central Intelligence Agency (CIA). He was sent to work at what became known as "The Farm" - a clandestine training school for CIA recruits at Williamsburg, Virginia. Esterline was put in charge of guerrilla warfare training.
Esterline went to work for Frank Wisner, head of the Directorate of Plans (DPP) an organization that concentrated on "propaganda, economic warfare; preventive direct action, including sabotage, anti-sabotage, demolition and evacuation measures; subversion against hostile states, including assistance to underground resistance groups, and support of indigenous anti-Communist elements in threatened countries of the free world."
In 1954 Esterline was placed in charge of the CIA's Washington task force in the successful overthrow of Guatemalan President Jacobo Arbenz. Esterline also served as CIA station chief in Guatemala, Venezuela and Panama.
Richard Bissell, the new head of the Directorate of Plans, appointed Esterline as Task Force Chief for the Bay of Pigs invasion. He was also involved in the plot to assassinate Fidel Castro. In an interview he gave to Don Bohning of the The Miami Herald just before his death, Esterline admitted that Juan Orta, who functioned as Castro's private secretary, had been recruited to slip a poisoned pill into a drink. However, a few days before the invasion Orta changed his mind and fled to the Venezuelan Embassy.
When Esterline discovered that the assassination plot against Castro had failed he had serious doubts about whether the Bay of Pigs operation would be a success. Esterline and Jack Hawkins, Chief of Paramilitary Staff, were also unhappy about the decision to change the landing site from Trinidad to the Bay of Pigs. On 8th April, Esterline and Hawkins went to see Richard Bissell and told him they wanted to resign. Bissell persuaded them to stay and be "good soldiers".
In February, 2005, Gerry P. Hemming claimed that it was Esterline and not David Atlee Phillips who was Maurice Bishop, the man who met with Antonio Veciana and Lee Harvey Oswald in August, 1963, in the building that housed the office of Haroldson L. Hunt in Dallas.
Esterline also served as chief of the CIA's Miami office (1968-1972) and as deputy chief of the agency's Western Hemisphere division. Esterline retired from the CIA in 1978.
Jacob "Jake'' Esterline died at Hendersonville, North Carolina, in October, 1999.