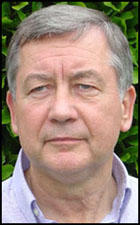 John Simkin was born on 25th June, 1945. He worked in a factory and ran a small business before studying for his first degree at the Open University (1971-1976). He also completed a Master of Philosophy degree at the University of Sussex (1977-82).
Simkin began teaching history in 1978. The following year he became a founder member of the Tressell Publishing cooperative and was involved in designing some of the first computer programs for use in the history classroom. This included Attack on the Somme, Wagons West, Wall Street and the Russian Revolution.
In 1987 Simkin established Spartacus Educational. He is the author of several books including Ghandi (1987), The Vietnam War (1988), Race Relations in the United States (1988), Slavery: An Illustrated History of Black Resistance (1988), Hitler (1988), Stalin (1987), The Roman Empire (1991), Making of the United Kingdom (1992), Expansion, Trade and Industry (1992), The Medieval Village (1996) and The Norman Invasion (1996).
In September, 1997 he established the Spartacus Educational website. After leaving the classroom he has produced online materials for the Electronic Telegraph, the European Virtual School, the Historical Association and the Guardian's educational website, Learn.
Simkin has been interested in the assassination of John F. Kennedy for over 25 years. In 2004 he created the Assassination of JFK website. This is an attempt to provide materials for students to carry out a detailed investigation into the killing.
You can follow John Simkin on Twitter, Google+ & Facebook or subscribe to our monthly newsletter)