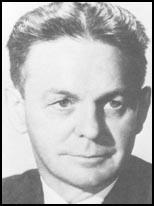 William C. Sullivan was born in 1912. Sullivan joined the Federal Bureau of Investigation and during the Second World War he was sent to Spain. He spent several months in Madrid before returning to Washington.
In 1961 Sullivan was appointed assistant director of the FBI's Intelligence Division. Sullivan gradually moved up the hierarchy and eventually became the FBI's third-ranking official behind J. Edgar Hoover, the director, and Clyde A. Tolson. Sullivan was placed in charge of FBI's Division Five. This involved smearing leaders of left-wing organizations.
When John F. Kennedy was assassinated in Dallas, Sullivan was put in charge of the bureau's in-house investigation. He was expected to work closely with John M. Whitten, who was running the CIA investgation of Lee Harvey Oswald. Whitten and his staff of 30 officers, were sent a large amount of information from the FBI. According to Gerald D. McKnight "the FBI deluged his branch with thousands of reports containing bits and fragments of witness testimony that required laborious and time-consuming name checks." Whitten later described most of this FBI material as "weirdo stuff". As a result of this initial investigation, Whitten told Richard Helms that he believed that Oswald had acted alone in the assassination of John F. Kennedy.
However, on 6th December, Nicholas Katzenbach invited John M. Whitten and Birch O'Neal, Angleton's trusted deputy and senior Special Investigative Group (SIG) officer to read Commission Document 1 (CD1), the report that the FBI had written on Lee Harvey Oswald. Whitten now realized that the FBI had been withholding important information on Oswald from him. He also discovered that Richard Helms had not been providing him all of the agency's available files on Oswald. This included Oswald's political activities in the months preceding the assassination.
After talking to Winston Scott, the CIA station chief in Mexico City, Whitten also discovered that Lee Harvey Oswald had been photographed at the Cuban consulate in early October, 1963. Scott had not reported this matter to Whitten, his boss, at the time. Nor had Scott told Whitten that Oswald had also visited the Soviet Embassy in Mexico. In fact, Whitten had not been informed of the existence of Oswald, even though there was a 201 pre-assassination file on him that had been maintained by the Counterintelligence/Special Investigative Group.
Whitten had a meeting with Richard Helms where he argued that Oswald's pro-Castro political activities needed closer examination, especially his attempt to shoot the right-wing General Edwin Walker, his relationship with anti-Castro exiles in New Orleans, and his public support for the pro-Castro Fair Play for Cuba Committee. Whitten added that has he had been denied this information, his initial conclusions on the assassination were "completely irrelevant."
Richard Helms responded by taking Whitten off the case. James Jesus Angleton, chief of the CIA's Counterintelligence Branch, was now put in charge of the investigation. According to Gerald McKnight (Breach of Trust) Angleton "wrested the CIA's in-house investigation away from John Whitten because he either was convinced or pretended to believe that the purpose of Oswald's trip to Mexico City had been to meet with his KGB handlers to finalize plans to assassinate Kennedy."
The reports written by Sullivan and Angleton became the basis for the Warren Commission. However, it only emerged in his posthumous published autobiography that Sullivan had doubts about the guilt of Lee Harvey Oswald: "Oswald didn't have a record of being an outstanding marksman and yet he hit the president with two shots while his car was moving slowly down the road. His third shot hit Governor Connally. I went to the book depository from which Oswald fired at the president and I looked out the window where he was positioned. I've been around guns all my life and I'm a reasonably good shot, but I must say that that would be quite a task for me. It was, tragically, damn good shooting."
Sullivan was a strong opponent of the leadership of Martin Luther King. In January, 1964, Sullivan sent a memo to Hoover: "It should be clear to all of us that King must, at some propitious point in the future, be revealed to the people of this country and to his Negro followers as being what he actually is - a fraud, demagogue and scoundrel. When the true facts concerning his activities are presented, such should be enough, if handled properly, to take him off his pedestal and to reduce him completely in influence."
Sullivan's suggested replacement for King was Samuel Pierce, a conservative lawyer who was later to serve as Secretary of Housing under President Ronald Reagan.
In 1968 Sullivan was the lead investigator into the assassination of Martin Luther King and was involved in the arrest of James Earl Ray. In his autobiography he wrote: "I was convinced that James Earl Ray killed Martin Luther King, but I doubt if he acted alone... Someone, I feel sure, taught Ray how to get a false Canadian passport, how to get out of the country, and how to travel to Europe because he could never have managed it alone. And how did Ray pay for the passport and the airline tickets?" Sullivan believes that Ray was paid to kill King. He quotes Ray's brother as saying: "My brother would never do anything unless he was richly paid."
Sullivan was also involved in the FBI investigation of the assassination of Robert Kennedy. In his autobiography he argued that Sirhan Sirhan probably acted alone but "we never found out why". He added: "There were so many holes in the case. We never could account for Sirhan's presence in the kitchen of the Ambassador Hotel. Did he know Kennedy would be walking through? Intelligence work is exasperating. You can work on a case for years and still not know the real answers. There are so many unknowns. Investigating Sirhan was a frustrating job, for in the end we were never sure."
Sullivan disagreed with J. Edgar Hoover about the threat to national security posed by the American Communist Party and felt that the FBI was wasting too much money investigating this group. On 28th August, 1971, Sullivan sent Hoover a long letter pointing out their differences. Sullivan also suggested that Hoover should consider retirement. Hoover refused and it was Sullivan who had to leave the organization. Sullivan told the journalist, Robert Novak, soon after he left the FBI: "Someday you will read that I have been killed in an accident, but don't believe it, I've been murdered."
After Hoover's death Sullivan was brought back to office by Richard Nixon. He was appointed as head of the Office of National Narcotics Intelligence (ONNI). Sullivan supported Nixon's policy of expanding illegal surveillance methods (Huston Plan). Journalist later speculated that Sullivan was Deep Throat, the top level mole in Nixon's administration that provided some of the important evidence to Bob Woodward and Carl Bernstein in their investigation of Watergate.
William Sullivan was shot dead near his home in Sugar Hill, New Hampshire, on 9th November, 1977. An inquest decided that he had been shot accidentally by fellow hunter, Robert Daniels, who was fined $500 and lost his hunting license for 10 years.
Sullivan had been scheduled to testify before the House Select Committee on Assassinations. Sullivan was one of six top FBI officials who died in a six month period in 1977. Others who were due to appear before the committee who died included Louis Nicholas, special assistant to J. Edgar Hoover and Hoover's liaison with the Warren Commission; Alan H. Belmont, special assistant to Hoover; James Cadigan, document expert with access to documents that related to death of John F. Kennedy; J. M. English, former head of FBI Forensic Sciences Laboratory where Oswald's rifle and pistol were tested; Donald Kaylor, FBI fingerprint chemist who examined prints found at the assassination scene.
At the time of his death Sullivan was working on a book with journalist Bill Brown about his experiences with the Federal Bureau of Investigation. The Bureau: My Thirty Years in Hoover's FBI was published posthumously in 1979. The book was highly critical of both J. Edgar Hoover and Lyndon B. Johnson.