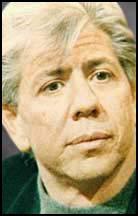 Carl Bernstein was born in Washington on 14th February, 1944. Both his parents, Al and Sylvia Bernstein, were active trade unionists and members of the American Communist Party. As a result of the Red Scare they were both blacklisted and after the execution of Julius Rosenberg and Ethel Rosenberg, the family went into hiding as they feared this was the beginning of a wave of persecution of Jews.
Bernstein became a journalist and in 1966 began working for the Washington Post. However, his articles did not find favour with his editor, Ben Bradlee. According to Deborah Davis, the author of Katharine the Great (1979): Carl Bernstein was the "house misfit, who was talented enough to be a new journalist and wrote in the dramatic prose that Bradlee enjoyed, but whose insistent pieces on ethnic neighborhoods, alternative politics (the missing link between the war and the counterculture), the movement as a movement, not a fashion, were a continual source of annoyance to him. Bernstein was not part of Bradlee's scheme; he killed a good number of his stories, and he cursed the guild for standing in the way of firing him."
On 3rd July, 1972, Frank Sturgis, Virgilio Gonzalez, Eugenio Martinez, Bernard L. Barker and James W. McCord were arrested while removing electronic devices from the Democratic Party campaign offices in an apartment block called Watergate. It appeared that the men had been to wiretap the conversations of Larry O'Brien, chairman of the Democratic National Committee.
The phone number of E.Howard Hunt was found in address books of the burglars. Reporters were now able to link the break-in to the White House. Bernstein and fellow journalist, Bob Woodward, began working on the case. Woodward had a government source who was given the name "Deep Throat". He informed Woodward that senior aides of President Richard Nixon, had paid the burglars to obtain information about its political opponents.
Bernstein and Woodward discovered that in 1972 Frederick LaRue worked with John Mitchell on Nixon's re-election committee. On 20th March, LaRue attended a meeting of the committee where it was agreed to spend $250,000 "intelligence gathering" operation against the Democratic Party. This included the decision to plant electronic devices from the Democratic campaign offices in Watergate.
Frederick LaRue now decided that it would be necessary to pay the large sums of money to secure the the silence of the burglars. LaRue raised $300,000 in hush money. Tony Ulasewicz, a former New York policeman, was given the task of arranging the payments.
In January, 1973, Frank Sturgis, E.Howard Hunt, Virgilio Gonzalez, Eugenio Martinez, Bernard L. Barker, Gordon Liddy and James W. McCord were convicted of conspiracy, burglary and wiretapping.
Nixon continued to insist that he knew nothing about the case or the payment of "hush-money" to the burglars. However, in April 1973, Nixon forced two of his principal advisers H. R. Haldeman and John Ehrlichman, to resign. A third adviser, John Dean, refused to go and was sacked.
On 20th April, Dean issued a statement making it clear that he was unwilling to be a "scapegoat in the Watergate case". When Dean testified on 25th June, 1973 before the Senate Committee investigating Watergate, he claimed that Richard Nixon participated in the cover-up. He also confirmed that Nixon had tape-recordings of meetings where these issues were discussed.
The Special Prosecutor now demanded access to these tape-recordings. At first Nixon refused but when the Supreme Court ruled against him and members of the Senate began calling for him to be impeached, he changed his mind. However, some tapes were missing while others contained important gaps.
Under extreme pressure, Nixon supplied tapescripts of the missing tapes. It was now clear that Nixon had been involved in the cover-up and members of the Senate began to call for his impeachment. On 9th August, 1974, Richard Nixon became the first President of the United States to resign from office. Nixon was granted a pardon but other members of his staff involved in helping in his deception were imprisoned.
Bernstein, Bob Woodward, Ben Bradlee and the Washington Post received a great deal of credit for exposing the Watergate Scandal and in 1973 the newspaper was awarded the Pulitzer Prize for journalism. Bernstein and Woodward also wrote two books about Watergate: All the President's Men (1975) and The Final Days (1976).
Bernstein left the Washington Post in 1976 to work as a Washington Bureau Chief and eventually as senior correspondent for ABC-TV. While at ABC, he uncovered a secret agreement between the United States, Egypt, China and Pakistan to supply arms to the Mujahadeen rebels in Afghanistan against the Soviets.
In 1977 Bernstein wrote an article about Operation Mockingbird, a CIA covert operation to control the mass media. He also contributed articles to several major publications including Time Magazine, The New Republic, New York Times, Newsweek and the Rolling Stone Magazine.
Books by Bernstein include Loyalties: A Son's Memoir (1989) an account of his parents' encounter with McCarthyism and His Holiness - John Paul II and the Hidden History of Our Time (1998).
Carl Bernstein is contributing editor for Vanity Fair magazine and in 2007 published A Woman in Charge, a biography of Hillary Rodham Clinton.