Harry Robbins Haldeman, the son of a successful businessman, was born in Los Angeles on 27th October, 1926. His father, Harry Francis Haldeman, ran a successful heating and air conditioning supply company and was active in the Republican Party. Haldeman and his brother and sister were brought up as Christian Scientists.
Haldeman attended the University of Redlands and the University of Southern California, before serving in the Naval Reserve during the Second World War. He graduated from the University of California in 1948. The following year he married Joanne Horton in 1949.
In 1949 Haldeman joined the J. Walter Thompson advertising agency in New York. Later he was promoted to the post of vice president and manager of the California office. Haldeman's father was a financial backer of Richard Nixon. Haldeman got to know Nixon when he was serving as vice president under Dwight D. Eisenhower in 1952. Haldeman helped Nixon in his unsuccessful 1960 campaign against John F. Kennedy. He also managed Nixon's unsuccessful campaign for the governorship of California in 1962.
In the 1968 Presidential Election, he was chief of staff of Nixon's presidential campaign. It has been claimed that Haldeman used his experience in the advertising industry to provide a new, more positive image of Nixon to the public. After Nixon's election he was appointed the president's chief of staff.
In April, 1969, Richard Nixon appointed Jack Caulfield as Staff Assistant to the President. Soon afterwards Nixon decided that the White House should establish an in-house investigative capability that could be used to obtain sensitive political information. After consulting Haldeman and John Ehrlichman the job was given to Caulfield.
Caulfield now appointed an old friend, Tony Ulasewicz, to carry out this investigative work. Ulasewicz's first task was to investigate the links between Bobby Baker and leading Democratic Party politicians. He was also ordered by Caulfield to set up a round-the-clock surveillance of Edward Kennedy. Over the next three years Ulasewicz traveled to 23 states gathering information about Nixon's political opponents. This included people such as Edmund Muskie, Larry O'Brien, Howard Hughes and Jack Anderson. were discussed.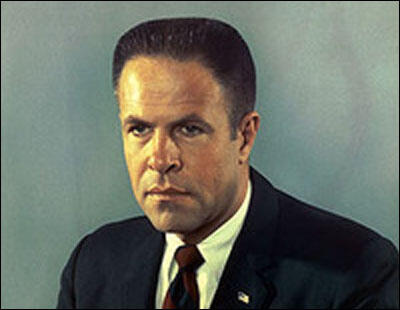 On 17th June, 1972, Frank Sturgis, Virgilio Gonzalez, Eugenio Martinez, Bernard L. Barker and James W. McCord were arrested while removing electronic devices from the Democratic Party campaign offices in an apartment block called Watergate. It appeared that the men had been to wiretap the conversations of Larry O'Brien, chairman of the Democratic National Committee.
The phone number of E.Howard Hunt was found in address books of the burglars. Reporters were now able to link the break-in to the White House. Bob Woodward, a reporter working for the Washington Post was told by a friend who was employed by the government, that senior aides of President Richard Nixon, had paid the burglars to obtain information about its political opponents.
In 1972 Nixon was once again selected as the Republican presidential candidate. On 7th November, Nixon easily won the the election with 61 per cent of the popular vote. Soon after the election reports by Bob Woodward and Carl Bernstein of the Washington Post, began to claim that some of Nixon's top officials were involved in organizing the Watergate break-in.
Haldeman was involved in the cover-up from the beginning. In April 1973, Nixon forced Haldeman and John Ehrlichman, to resign. A third adviser, John Dean, refused to go and was sacked. On 20th April, Dean issued a statement making it clear that he was unwilling to be a "scapegoat in the Watergate case". When Dean testified on 25th June, 1973 before the Senate Committee investigating Watergate, he claimed that Richard Nixon participated in the cover-up. He also confirmed that Nixon had tape-recordings of meetings where these issues were discussed.
The Special Prosecutor now demanded access to these tape-recordings. At first Nixon refused but when the Supreme Court ruled against him and members of the Senate began calling for him to be impeached, he changed his mind. However, some tapes were missing while others contained important gaps.
Under extreme pressure, Nixon supplied tapescripts of the missing tapes. It was now clear that Nixon had been involved in the cover-up and members of the Senate began to call for his impeachment. On 9th August, 1974, Richard Nixon became the first President of the United States to resign from office.
Nixon was granted a pardon but Haldeman was convicted of conspiracy and obstruction of justice and served 18 months in prison for his role in the Watergate cover-up.
On his release from prison Haldeman became vice president of the David H. Murdoch real estate development company. In 1978, Haldeman published his autobiography The Ends of Power. In the book he disclosed information on the assassination of John F. Kennedy: "After Kennedy was killed, the CIA launched a fantastic cover-up. The CIA literally erased any connection between Kennedy's assassination and the CIA... in fact, Counter intelligence Chief James Angleton of the CIA called Bill Sullivan of the FBI and rehearsed the questions and answers they would give to the Warren Commission investigators."
Harry Robbins Haldeman died of cancer on 12th November, 1993; at his home in Santa Barbara, California.