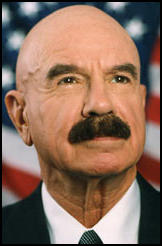 George Gordon Liddy was born on 30th November, 1930. After graduating from Fordham University in 1952 he joined the United States Army and served in Korea. Liddy later returned to Fordum to obtain a law degree.
In 1957 Liddy joined the Federal Bureau of Investigation. He remained in the organization until returning to legal work in 1962. Liddy was appointed as Assistant Attorney General, Dutchess County, New York, in 1966. One of his first tasks was to arrange the arrest and prosecution of Timothy Leary.
A member of the Republican Party, in 1968 Liddy failed in his attempt to get the House of Representatives nomination for the 28th District of New York. Liddy now decided to help Richard Nixon in his attempts to become president. Liddy's efforts were rewarded with being appointed as a lawyer in the Treasury Department.
In 1971, Liddy joined the White House Staff. Working under Egil Krogh, Liddy became a member of the Special Investigations Group (SIG). The group was (informally known as "the Plumbers" because their job was to stop leaks from Nixon's administration).
Later that year the SIG became concerned about the activities of Daniel Ellsberg. He was a former member of the McNamara Study Group which had produced the classified History of Decision Making in Vietnam, 1945-1968. Ellsberg, disillusioned with the progress of the war, believed this document should be made available to the public. Ellsberg gave a copy of what later became known as the Pentagon Papers to Phil Geyelin of the Washington Post. Katharine Graham and Ben Bradlee decided against publishing the contents on the document.
Daniel Ellsberg now went to the New York Times and they began publishing extracts from the document on 13th June, 1971. This included information that Dwight Eisenhower had made a secret commitment to help the French defeat the rebellion in Vietnam. The document also showed that John F. Kennedy had turned this commitment into a war by using a secret "provocation strategy" that led to the Gulf of Tonkin incidents and that Lyndon B. Johnson had planned from the beginning of his presidency to expand the war.
On 3rd September, 1971, Liddy and E. Howard Hunt supervised the burglary of a psychiatrist who had been treating Ellsberg. The main objective was to discover incriminating or embarrassing information to discredit Ellsberg. Another project involved the stealing of certain documents from the safe of Hank Greenspun, the editor of the Las Vegas Sun. Later, James W. McCord claimed that Greenspun was being targeted because of his relationship with Robert Maheu and Howard Hughes.
In 1972 Liddy joined the Committee to Re-Elect the President (CREEP). Later that year Liddy presented Nixon's attorney general, John N. Mitchell, with an action plan called Operation Gemstone. Liddy wanted a $1 million budget to carry out a series of black ops activities against Nixon's political enemies. Mitchell decided that the budget for Operation Gemstone was too large. Instead he gave him $250,000 to launch a scaled-down version of the plan.
On 28th May, 1972, McCord and his team broke into the DNC's offices and placed bugs in two of the telephones. It became the job of Alfred Baldwin to eavesdrop the phone conversations. Over the next 20 days Baldwin listened to over 200 phone calls. These were not recorded. Baldwin made notes and typed up summaries. Nor did Baldwin listen to all phone calls coming in. For example, he took his meals outside his room. Any phone calls taking place at this time would have been missed.
It soon became clear that the bug on one of the phones installed by James W. McCord was not working. As a result of the defective bug, McCord decided that they would have to break-in to the Watergate office again. He also heard that a representative of the Vietnam Veterans Against the War had a desk at the DNC. McCord argued that it was worth going in to see what they could discover about the anti-war activists. Liddy later claimed that the real reason for the second break-in was "to find out what O'Brien had of a derogatory nature about us, not for us to get something on him."
The original operation was unsuccessful and on 17th June, 1972, McCord, Frank Sturgis, Virgilio Gonzalez, Eugenio Martinez and Bernard L. Barker returned to O'Brien's office. However, this time they were caught by the police.
The phone number of E.Howard Hunt was found in address books of the burglars. Reporters were now able to link the break-in to the White House. Bob Woodward, a reporter working for the Washington Post was told by a friend who was employed by the government, that senior aides of President Richard Nixon, had paid the burglars to obtain information about its political opponents.
Frederick LaRue now decided that it would be necessary to pay the large sums of money to secure their silence. LaRue raised $300,000 in hush money. Tony Ulasewicz, a former New York policeman, was given the task of arranging the payments.
In 1972 Nixon was once again selected as the Republican presidential candidate. On 7th November, Nixon easily won the the election with 61 per cent of the popular vote. Soon after the election reports by Bob Woodward and Carl Bernstein of the Washington Post, began to claim that some of Nixon's top officials were involved in organizing the Watergate break-in.
On 30th January, 1973, Liddy, Frank Sturgis, E. Howard Hunt, Virgilio Gonzalez, Eugenio Martinez, Bernard L. Barker, and James W. McCord were convicted of conspiracy, burglary and wiretapping. Liddy was sentenced to 20 years in prison but served only four years before President Jimmy Carter ordered his release.
Over the next few years Liddy became a writer and a radio talk show host. The G. Gordon Liddy Show was broadcast on 232 stations nationwide. His autobiography, Will: The Autobiography of G. Gordon Liddy, was published in 1982. Liddy has also appeared on several television shows including Miami Vice (1985), Password (1992) and Politically Incorrect (1997).
In 1992 John Dean began legal action against Liddy. Dean objected to information that appeared in books by Liddy (Will: The Autobiography of G. Gordon Liddy) and Len Colodny (Silent Coup) that claimed that Dean was the mastermind of the Watergate burglaries and the true target of the break-in was to destroy information implicating him and his wife in a prostitution ring. The case was dismissed by the U.S. District Court in Baltimore after jurors could not reach a verdict. The publisher of Silent Coup settled a similar suit by Dean and his wife for an unknown amount of money.
In 2002 Liddy published When I Was a Kid, This Was a Free Country. This was followed by Fight Back: Tackling Terrorism Liddy Style (2007).
G. Gordon Liddy died on 30th March, 2021.