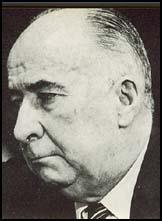 John Newton Mitchell was born in Detroit on 15th November, 1913. He played semi-professional hockey in the 1930s. He studied law at Fordam University before serving in the US Navy as a torpedo boat commander during the Second World War.
After the war Mitchell became a lawyer and eventually became a partner in the law firm, Rose, Guthrie, Alexander and Mitchell. In 1962 Richard Nixon joined the law firm of Mudge, Stern, Baldwin and Todd. In 1967 these two law firms merged.
Mitchell became a key Nixon adviser and helped manage his successful 1968 presidential campaign. Mitchell was rewarded by being appointed as Nixon's attorney general.
In early 1972 Mitchell resigned as attorney general to become director of the Committee to Re-elect the President (CREEP). Later that year Gordon Liddy presented with an action plan called Operation Gemstone. Liddy wanted a $1 million budget to carry out a series of black ops activities against Nixon's political enemies. Mitchell decided that the budget for Operation Gemstone was too large. Instead he gave him $250,000 to launch a scaled-down version of the plan. On 20th March, Liddy and Frederick LaRue attended a meeting of the committee where it was agreed to spend $250,000 "intelligence gathering" operation against the Democratic Party.
One of Liddy's first tasks was to place electronic devices in the Democratic Party campaign offices in an apartment block called Watergate. Liddy wanted to wiretap the conversations of Larry O'Brien, chairman of the Democratic National Committee. This was not successful and on 3rd July, 1972, Frank Sturgis, Virgilio Gonzalez, Eugenio Martinez, Bernard L. Barker and James W. McCord returned to O'Brien's office. However, this time they were caught by the police.
The phone number of E. Howard Hunt was found in address books of the burglars. Reporters were now able to link the break-in to the White House. Bob Woodward, a reporter working for the Washington Post was told by a friend who was employed by the government, that senior aides of President Richard Nixon, had paid the burglars to obtain information about its political opponents.
In 1972 Nixon was once again selected as the Republican presidential candidate. On 7th November, Nixon easily won the the election with 61 per cent of the popular vote. Soon after the election reports by Bob Woodward and Carl Bernstein of the Washington Post, began to claim that some of Nixon's top officials were involved in organizing the Watergate break-in.
Frederick LaRue now decided that it would be necessary to pay the large sums of money to secure their silence. LaRue raised $300,000 in hush money. Tony Ulasewicz, a former New York policeman, was given the task of arranging the payments. Hugh Sloan, testified that LaRue told him that he would have to commit perjury in order to protect the conspirators.
Mitchell resigned from CREEP on 1st July, 1972, saying that he had been spending too much time away from his wife and daughter. Rumours began to circulate that Mitchell had resigned as a result of the Watergate scandal. In September, 1972, the Washington Post published a story claiming that while attorney general, Mitchell "personally controlled a secret Republican fund used to gather information about the Democrats."
In January, 1973, Frank Sturgis, E. Howard Hunt, Virgilio Gonzalez, Eugenio Martinez, Bernard L. Barker, Gordon Liddy and James W. McCord were convicted of conspiracy, burglary and wiretapping.
Nixon continued to insist that he knew nothing about the case or the payment of "hush-money" to the burglars. However, in April 1973, Nixon forced two of his principal advisers H. R. Haldeman and John Ehrlichman, to resign. A third adviser, John Dean, refused to go and was sacked.
Mitchell and Maurice Stans were accused of obstructing an investigation of Robert Vesco after he made a $200,000 contribution to the Nixon campaign.. In April 1974 both men were acquitted in a New York federal court.
The following year Mitchell appeared in court over his role in the Watergate Scandal. On 21st February, 1975, Mitchell was convicted of conspiracy and obstruction of justice. He served 19 months at the minimum-security institution at Maxwell Air Force Base in Alabama before being released for medical reasons.
After his release, Mitchell lived quietly in Georgetown with longtime companion Mary Gore Dean. In 1981, Simon and Schuster sued Mitchell after he failed to deliver a promised autobiography. Unlike most of the conspirators, Mitchell never published a book about Watergate.
John Newton Mitchell died after suffering a heart attack in Washington on 9th November, 1988. He is buried in Arlington National Cemetery.