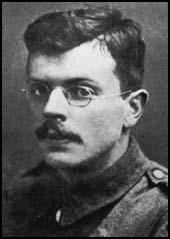 Ivor Gurney, the son of a tailor, was born in Gloucester on 28th August, 1890. Gurney was educated at King's School, Gloucester as a chorister and he won an open scholarship to the Royal College of Music in 1911.
Gurney showed considerable talent as a composer and poet but in May 1913 he was diagnosed as suffering from dyspepsia and was sent home to Gloucester to recuperate. However, it is now accepted that he had a nervous breakdown and was the first sign of bipolar illness.
On the outbreak of the First World War, Gurney volunteered for the Gloucester regiment. He was initially turned down because of his defective eyesight, but as the British Army was short of men, was allowed to join in 1915.
After training at Salisbury he was sent to Riez Bailleul on the Western Front in May 1916. Three months later he was transferred to Albert during the Somme offensive. On 7th April 1917, Gurney was shot in the army and sent to the army hospital at Rouen. The following month he rejoined his regiment at Arras.
In July 1917 Gurney was transferred to the 184 Machine Gun Company and was moved to Buysscheure and joined the forces preparing for the offensive at Passchendaele. Gurney was gassed at St. Julien on 10th September 1917. He was sent to Edinburgh War Hospital and while recovering a collection of his war poems, Severn and Somme, appeared in November 1917.
After the war Gurney spent time in the Newcastle General Hospital, Lord Derby's War Hospital in Warrington and the Middlesex War Hospital in St. Albans. Gurney was finally discharged from hospital and the army on 4th October 1918.
Gurney's second book of poems, War's Embers was published in May 1919. However he was unable to make a living from his writing and over the next three years worked as a farm labourer, as a pianist in a cinema and as a clerk in the Gloucester Tax Office.
Gurney suffered from a severe manic depressive illness and after several failed attempts at suicide was sent to a mental asylum in Gloucester. On 28th September 1922, Gurney was certified insane and was transferred to the City of London Mental Hospital at Dartford. He continued to write poetry and his work was published in the London Mercury .
Ivor Gurney died of bilateral pulmonary tuberculosis at the City of London Mental Hospital on 26th December, 1937. Five days later he was buried at Twigworth, Gloucestershire.
(1) Ivor Gurney, The Silent One (1917)
Who died on the wires, and hung there, one of two -

Who for his hours of life had chattered through

Infinite lovely chatter of Bucks accent:

Yet faced unbroken wires; stepped over, and went

A noble fool, faithful to his stripes - and ended.

But I weak, hungry, and willing only for the chance

Of line - to fight in the line, lay down under unbroken

Wires, and saw the flashes and kept unshaken,

Till the politest voice - a finicking accent, said:

"Do you think you might crawl through, there: there's a hole"

Darkness, shot at: I smiled, as politely replied -

"I'm afraid not, Sir." There was no hole no way to be seen

Nothing but chance of death, after tearing of clothes

Kept flat, and watched the darkness, hearing bullets whizzing -

And thought of music - and swore deep heart's deep oaths

(Polite to God) and retreated and came on again,

Again retreated - and a second time faced the screen.
(2) Ivor Gurney, Strange Hells (1917)
There are strange Hells within the minds War made

Not so often, not so humiliating afraid

As one would have expected - the racket and fear guns made.

One Hell the Gloucester soldiers they quite put out;

Their first bombardment, when in combined black shout

Of fury, guns aligned, they ducked low their heads

And sang with diaphragms fixed beyond all dreads,

That tin and stretched-wire tinkle, that blither of tune;

"Apres la guerre fini" till Hell all had come down,

Twelve-inch, six-inch, and eighteen pounders hammering Hell's thunders.

Where are they now on State-doles, or showing shop patterns

Or walking town to town sore in borrowed tatterns

Or begged. Some civic routine one never learns.

The heart burns - but has to keep out of face how heart burns.