The third major battle of Ypres, also known as the Battle of Passchendaele, took place between July and November, 1917. General Sir Douglas Haig, the British Commander in Chief in France, was encouraged by the gains made at the offensive at Messines. Haig was convinced that the German army was now close to collapse and once again made plans for a major offensive to obtain the necessary breakthrough. The official history of the battle claimed Haig's plan "may seem super-optimistic and too far-reaching, even fantastic". Many historians have suggested that the main problem was that Haig "had chosen a field of operations where the preliminary bombardment churned the Flanders plain into impassable mud." (1)
The opening attack at Passchendaele was carried out by General Hubert Gough and the British Fifth Army with General Herbert Plumer and the Second Army joining in on the right and General Francois Anthoine and the French First Army on the left. After a 10 day preliminary bombardment, with 3,000 guns firing 4.25 million shells, the British offensive started at Ypres a 3.50 am on 31st July.
Allied attacks on the German front-line continued despite very heavy rain that turned the Ypres lowlands into a swamp. The situation was made worse by the fact that the British heavy bombardment had destroyed the drainage system in the area. This heavy mud created terrible problems for the infantry and the use of tanks became impossible.
Percival Phillips of The Daily Express commented: "The weather changed for the worse last night, although fortunately too late to hamper the execution of our plans. The rain was heavy and constant throughout the night. It was still beating down steadily when the day broke chill and cheerless, with a thick blanket of mist completely shutting off the battlefield. During the morning it slackened to a dismal drizzle, but by this time the roads, fields, and footways were covered with semi-liquid mud, and the torn ground beyond Ypres had become in places a horrible quagmire." (2)
As William Beach Thomas, a journalist working for the Daily Mail, pointed out: "Floods of rain and a blanket of mist have doused and cloaked the whole of the Flanders plain. The newest shell-holes, already half-filled with soakage, are now flooded to the brim. The rain has so fouled this low, stoneless ground, spoiled of all natural drainage by shell-fire, that we experienced the double value of the early work, for today moving heavy material was extremely difficult and the men could scarcely walk in full equipment, much less dig. Every man was soaked through and was standing or sleeping in a marsh. It was a work of energy to keep a rifle in a state fit to use." (3)
On 31st July 1917, Lieutenant Robert Sherriff and his men of the the East Surrey Regiment were called forward to attack the German positions. "The living conditions in our camp were sordid beyond belief. The cookhouse was flooded, and most of the food was uneatable. There was nothing but sodden biscuits and cold stew. The cooks tried to supply bacon for breakfast, but the men complained that it smelled like dead men.... At dawn on the morning of the attack, the battalion assembled in the mud outside the huts. I lined up my platoon and went through the necessary inspection. Some of the men looked terribly ill: grey, worn faces in the dawn, unshaved and dirty because there was no clean water. I saw the characteristic shrugging of their shoulders that I knew so well. They hadn't had their clothes off for weeks, and their shirts were full of lice." (4)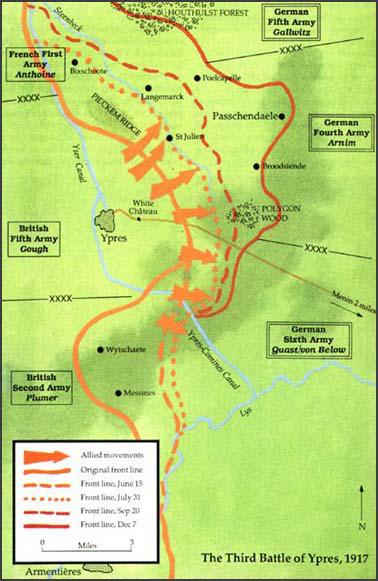 In the first few days of fighting the Allies suffered about 35,000 killed and wounded. Haig described the situation as "highly satisfactory" and "the losses slight". David Lloyd George was furious and met with Sir William Robertson, the Chief of Staff, and complained about "the futile massacre... piled up the ghastly hecatombs of slaughter". Lloyd George repeatedly told Robertson that the offensive must be "abandoned as soon as it became evident that its aims were unattainable." (5)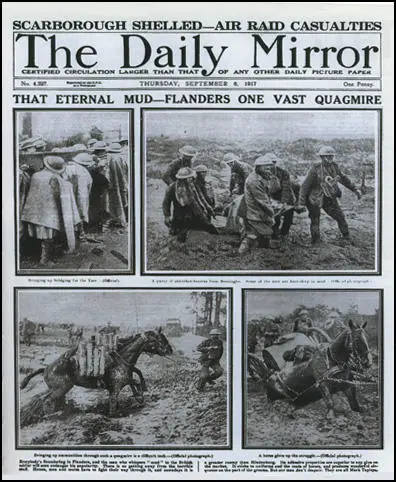 The German Fourth Army held off the main British advance and restricted the British to small gains on the left of the line. Eventually, General Haig called off the attacks and did not resume the offensive until 26th September. These attacks enabled the British forces to take possession of the ridge east of Ypres. Despite the return of heavy rain, Haig ordered further attacks towards the Passchendaele Ridge. Attacks on the 9th and 12th October were unsuccessful. As well as the heavy mud, the advancing British soldiers had to endure mustard gas attacks. This gas caused particular problems, because its odour was not very strong. (6)
Three more attacks took place in October and on the 6th November the village of Passchendaele was finally taken by British and Canadian infantry. Sir Douglas Haig was severely criticized for continuing with the attacks long after the operation had lost any real strategic value. Since the beginning of the offensive, British troops had advanced five miles at a cost of at least 250,000 casualties, though some authorities say 300,000. "Certainly 100,000 of them occurred after Haig's insistence on continuing the fighting into October. German losses over the whole of the Western Front for the same period were about 175,000." (7)