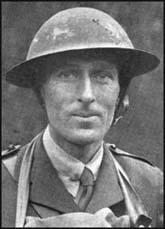 Philip Gibbs, the fifth son of Henry James Gibbs, a civil servant at the Board of Education, and Helen Hamilton, was born in London in 1877. Mainly educated at home by his parents, Gibbs was determined to became a writer and at seventeen had his first article published by the Daily Chronicle. Gibbs worked for the publishing house Cassell and his first book, Founders of the Empire appeared in 1899.
In 1902 Alfred Harmsworth appointed Gibbs as literary editor of the Daily Mail. This was followed by periods with the Daily Express and the Daily Chronicle. He also joined with J. L. Hammond, Henry Brailsford and Leonard Hobhouse to produce a new Liberal newspaper called the Tribune. The newspaper was not a success and Gibbs began writing novels. The Street of Adventure (1909) described his early years as a journalist in London. His next book, Intellectual Mansions (1910), dealt sympathetically with the Suffragette struggle for the vote.
In 1913 Gibbs went to Germany to report the growing tensions between the Triple Alliance and the Triple Entente. His articles forecasting a peace agreement between the two groups proved incorrect and in 1914 was sent to France to report the First World War. The War Office decided to control the news that appeared in British newspapers. When Gibbs continued to report the war he was arrested and returned to England.
In 1915 Gibbs was one of the five journalists selected by the government to become official war correspondents with the British Army. Gibbs had to submit all his reports to the censor, C. E. Montague, the former leader writer with the Manchester Guardian.
As well as writing articles about the war for the Daily Chronicle and the Daily Telegraph, Gibbs wrote several books on the conflict: The Soul of the War (1915), The Battle of the Somme (1917), From Bapaume to Passchendaele (1918) and The Realities of War (1920). Like the other four official British journalists in the war, Gibbs was awarded a knighthood in 1920.
In 1919 Gibbs undertook a very successful lecture tour of the United States. Later that year, Gibbs became the first journalist ever to obtain an interview with the Pope. Gibbs was a Roman Catholic and in 1920 resigned from the Daily Chronicle in protest at the newspaper's support of David Lloyd George's policy of reprisals in Ireland.
Over the next fifteen years Gibbs worked as a freelance journalist. He also published several books on European politics including Since Then (1930), European Journey (1934), England Speaks (1935), Ordeal in England (1937) and Across the Frontiers (1938).
On the outbreak of the Second World War he worked briefly as a foreign reporter for the Daily Sketch. Later he was invited to work for the Ministry of Information in the United States. After the war failing eyesight prevented Gibbs from continuing his work as a journalist.
Gibbs first book of reminiscences, Adventures in Journalism, appeared in 1923. In his later years, he published three more volumes of autobiography: The Pageant of the Years (1946), Crowded Company (1949) and Life's Adventure (1957).
Philip Gibbs died in Godalming on 10th March, 1962.
I have left a wife behind, the woman who loves me and sees something more in me than vileness. Shall I tell you how I left her Monsieur? Dying - in a hospital at Charenton. I shall never see her again. I shall never take her thin white face in my dirty hands and say - "You and I have tasted the goodness of life, my little one, while we have starved together." For life is good, Monsieur, but in a little while I shall be dead in one place and my woman in another. That is certain.

I left a child behind me - a little girl. What will happen to her when I am killed? I left her with the concierge, who promised to take care of her - not for money you understand, because I had none to give. My little girl will never see me again, and I shall never see her grow into a woman, because I am going to be killed.

But do you know, I shall not be sorry to die. I shall be glad, Monsieur. And why glad, you ask? Because I love France and hate the Germans who have put this war on us. I am going to fight - I, a socialist and Syndicalist - so that we shall make an end to war, so that the little ones of France will sleep in peace, and the women go without fear. This war will be the last war. It is a war of justice against injustice. When they have finished this time the people will have no more of it. We who go out to die shall be remembered, because we gave the world peace. That will be our reward, though we will know nothing of it, but lie rotting in the earth - dead.
Along the roads of France and in the port of Boulogne, the B.E.F. was greeted with ecstasy by the French civilians who went mad at the sight of them. In every village girls threw flowers at them, ran alongside with gifts of fruit, and flung kisses at them in wayside stations when they leaned out of the railway trucks. they had come to help save France. Nothing in those first weeks was too good for them.
One night we saw the retreat of a French army through Amiens. It was announced as a French victory by the French Minister of War. I did not see any sign of victory but only the retreat of the French forces engaged in the battle. It was a few minutes before midnight when they came back along the road to Amiens, crawling back slowly in a long dismal trail, with ambulance wagons loaded with wounded and dying, with many carts piled high with saddles and accouterments upon which there lay, immobile, like men already dead, spent and exhausted soldiers.
(4) Philip Gibbs entered Paris during the invasion of France on 2nd September, 1914.
Paris was deserted when we entered it on September 2nd, that day when Foch turned the tide of battle on the Marne. A million and a half people had fled. It was so quiet that morning in Paris that the heels of my two companions and myself were loud on the deserted pavements. It was a city of shuttered shops, and barred windows, and deserted avenues.
(5) In the autumn of 1914 Philip Gibbs accompanied Dr. Munro and Lady Dorothy Fielding and the ambulance unit they had taken to the Western Front.
I made many journeys with the flying column under the leadership of Dr. Munro. We went into Dixmude, sixteen kilometers away from Furnes. There were many wounded there, we were told. As we drove nearer to it, over a flat landscape through which went the Yser canal, we saw a line of villages and small towns. From each one of them rose separate columns of smoke, meeting in a pall overhead, and through the smoke came stabbing flashes of fire as German shells burst with thudding shocks of sound. This was the front line of battle.

I remember, as vividly as though it had happened yesterday, the scene at Dixmude into which we crawled at a slow pace with our ambulances. Outside the town we had been brought to a halt by a frightful barrier of dead horses and dead bodies. A German shell had burst into an ammunition convoy and blown it to bits. One Belgian soldier had been cut in half by a scythe of flying steel. Our tyres were splashed by pools of blood. Dixmude itself was being destroyed as we entered. Shells were smashing into its streets, and the cobble pavements were whipped by shrapnel bullets. A shop collapsed like a house of cards as we went down one of the narrow streets.

One of the men with me was an American journalist named Gleeson, who had given up journalism for this work of rescue with the ambulance column. I remember the clear-cut image of his face, calm and grave. It gave me more courage.

When we got down from the ambulances there were sharp cracks about us as bursts of shrapnel splashed down upon the Town Hall square. Dead soldiers lay outside and I glanced at them coldly. We were in search of the living.

Getting up the wounded and packing them in the ambulances took fifteen and twenty minutes in the open square, with shells bursting close and the shrapnel whipping the cobblestones. Lady Dorothy Fielding always had some morphia handy to give them a shot to ease their agony.
(6) In the early months of the war the War Office tried to prevent journalist in France from sending reports back to England. Philip Gibbs was arrested at Le Havre on the way back to the Western Front.
During the early months of the war in 1914 there was a conflict of opinion between the War Office and the Foreign Office regarding news from the Front. The War Office wanted to black out all but the official communiqués, and some innocuous articles by an official eye-witness (Ernest Swinton). A friend in the War Office warned me that I was in Kitchener's black books, and that orders had been given for my arrest next time I appeared in France.

All was well, until I reached the port of Havre. Three officers with the rank of lieutenant, whom afterwards I knew to be Scotland Yard men, came aboard and demanded to see my papers which they took away from me. I was arrested and taken into the presence of General Bruce Williams in command of the base at Havre. He was very violent in his language, and said harsh things about newspaper fellows who defied all orders, and wandered about the war zone smuggling back uncensored nonsense. He had already rounded up some of them and had a good mind to have us all shot against a white wall.

He put me under house arrest in the Hotel Tortoni, in charge of six Scotland Yard men who had their headquarters there. Meanwhile, before receiving instructions what to do with me, General Bruce Williams forbade me all communication with Fleet Street or my family. For nearly a fortnight I kicked my heels about in the Hotel Tortoni, standing drinks to the Scotland Yard men, who were very decent fellows, mostly Irish. One of them became quite a friend of mine and it was due to him that I succeeded in getting a letter to Robert Donald, explaining my plight. He took instant action and, by the influence of Lord Tyrell at the Foreign Office, I was liberated and allowed to return to England.

The game was up, I thought. I had committed every crime against War Office orders. I should be barred as a war correspondent when Kitchener made up his mind to allow them out. So I believed, but in the early part of 1915 I was appointed one of the five men accredited as official war correspondents with the British Armies in the Field.
One of the censors was C. E. Montague, the most brilliant leader writer and essayist on the Manchester Guardian before the war. Prematurely white-haired, he had dyed it when the war began and had enlisted in the ranks. He became a sergeant and then was dragged out of his battalion, made a captain, and appointed as censor to our little group. Extremely courteous, abominably brave - he liked being under shell fire - and a ready smile in his very blue eyes, he seemed unguarded and open.

Our worst enemy for a time was Sir Douglas Haig. He had the old cavalry officers' prejudice against war correspondents and "writing fellows", and made no secret of it. When he became Commander-in-Chief he sent for us and said things which rankled. One of them was that "after all you are only writing for Mary Ann in the kitchen."

I would not let him get away with that, and told him that it was not only for Mary Ann that we were writing, but for the whole nation and Empire, and that he could not conduct his war in secret, as though the people at home, whose sons and husbands were fighting and dying, had no concern in the matter. The spirit of the fighting men, and the driving power behind the armies, depended upon the support of the whole people and their continuing loyalties.
There was an idea, still lingering, that we war correspondents of the First World War were "spoon fed", and just wrote that we were told. That was partly due to an arrangement we made among ourselves. We decided to pool all our information, in order to give the fullest record of any action, reserving only to ourselves our personal impressions and experiences.

The limitations of censorship were of course irritating. We could not give the figures of our losses - the immense sum of our casualties, as on the first day of the Somme battle. That was inevitable because that was what the enemy would have liked to know. But the worst handicap we had the prohibition of naming individual units who had done the fighting.
The 8/10th Highlanders had already gone through the village of Loos, capturing many prisoners. A friend of mine was one of their officers, by name John Wood. He was one of the bravest men I have ever met, and was entirely regardless of shell fire and all such terrors, walking about a battlefield as though it were a field of buttercups and daises. On this day he commanded a company of Gordons and told me afterwards that he won the M.C. "for saving the lives of a bunch of German prisoners". That was his way of putting it. His men had their blood up. When the enemy emerged from cellars and machine-gun posts with their hands held high, the Gordons wanted to bayonet the lot. John Wood stood in front of them, and held his revolver, and threatened to shoot the first man who bayoneted these Germans who had surrendered.
(10) Philip Gibbs watched the preparation for the major offensive at the Somme in July, 1916.
Before dawn, in the darkness, I stood with a mass of cavalry opposite Fricourt. Haig as a cavalry man was obsessed with the idea that he would break the German line and send the cavalry through. It was a fantastic hope, ridiculed by the German High Command in their report on the Battles of the Somme which afterwards we captured.

In front of us was not a line but a fortress position, twenty miles deep, entrenched and fortified, defended by masses of machine-gun posts and thousands of guns in a wide arc. No chance for cavalry! But on that night they were massed behind the infantry. Among them were the Indian cavalry, whose dark faces were illuminated now and then for a moment, when someone struck a match to light a cigarette.

Before dawn there was a great silence. We spoke to each other in whispers, if we spoke. Then suddenly our guns opened out in a barrage of fire of colossal intensity. Never before, and I think never since, even in the Second World War, had so many guns been massed behind any battle front. It was a rolling thunder of shell fire, and the earth vomited flame, and the sky was alight with bursting shells. It seemed as though nothing could live, not an ant, under that stupendous artillery storm. But Germans in their deep dugouts lived, and when our waves of men went over they were met by deadly machine-gun and mortar fire.

Our men got nowhere on the first day. They had been mown down like grass by German machine-gunners who, after our barrage had lifted, rushed out to meet our men in the open. Many of the best battalions were almost annihilated, and our casualties were terrible.

A German doctor taken prisoner near La Boiselle stayed behind to look after our wounded in a dugout instead of going down to safety. I met him coming back across the battlefield next morning. One of our men were carrying his bag and I had a talk with him. He was a tall, heavy, man with a black beard, and he spoke good English. "This war!" he said. "We go on killing each other to no purpose. It is a war against religion and against civilization and I see no end to it."
The German soldiers called the war the "Great Swindle". They had more sense of comradeship with our own men, who were killing them and whom they killed, than with their war lords and generals. In the first Christmas of the war they had come out into No Man's Land, and said: "This killing of each other is senseless. Let's stop it. Let's all go home." it might have stopped war for ever in Europe and created a new comradeship across frontiers.
I came in touch with most of our generals. They belonged, I thought, to a definite type and tradition. Many of them were of the same physical mould, stolidly built, with grey-blue eyes, square jaws, grey hair and clipped moustaches. They were men of honour and intelligence. They were not arrogant, nor ill mannered. There was a quality in them, and a strength, which I admired and envied. But, with a few exceptions, they did not reveal any spark of genius, or any imagination, or any touch of spirituality, or any eccentricity of mind. Faced by this appalling trench warfare - it was really siege war - blasting a way through fortress positions, they just slogged ahead, sending up more guns, more human gun fodder, and more supplies, whatever the cost.
The cheery optimism of our generals always thought we were going forward, and therefore it was not worth while making ourselves comfortable and safe. We never made a dugout worthy of the name. But the Germans worked like beavers, and after their retreat I went down into dugouts, forty feet deep, connected with passages and with separate exists. Many of them were panelled, and had excellent bathrooms for the officers with a little gadget where the gentleman in the bath might place his cigar during his ablutions - a very German idea.
The wounded who came back, and the men on leave, spoke very little about their own way of life. They put it away from their own mines, or could not find words to tell the tale. People did not understand anyhow. Imagination could not cross the Channel or get as far as the trenches. One had to have been there to understand.

So it was that when R. C. Sherriff wrote his Journey's End after the war it came as a revelation and a shock to those who had pictured the war in terms of conventional heroism. I remember seeing it with a man who had been through all that, and had shirked seeing the play because it might be too painful and bring back hideous memories. But he sat very quiet and afterwards said: I was back there again. The illusion was complete. That is how I saw the war."

But a young girl, not more than nineteen or twenty, was furious. She made a little speech in the foyer, raising her voice so that people could hear. "It's a libel on our officers and men. It ought to be suppressed!" It was because she had believed that all officers, like her father perhaps, were noble and perfect, and ready to die with simple heroism and fine words. She did not believe that fear broke any of them down, or that the horror of a dugout under bombardment was like that, shaking our men with shell-shock or straining their nerves until sometimes they snapped.