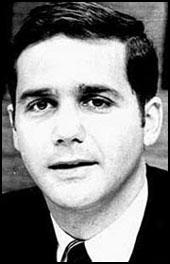 Jeb Stuart Magruder was born in New York City on 5th November, 1934. He was named by his father who was an American Civil War enthusiast who was a great admirer of General Jeb Stuart.
Magruder went to Curtis High School in Staten Island, where he was a good competitive swimmer. He went on to Williams College in Massachusetts, but interrupted his time there to serve in the United States Army in Korea.
After leaving the army he worked for a time at IBM and then Crown Zellerbach in San Francisco. Later he joined the management consultancy Booz Allen. From 1962 he worked for the grocery chain Jewell. In 1964 Jeb Stuart Magruder worked briefly for the Republican Party presidential candidate Barry Goldwater. Two years later he helped Donald Rumsfeld run successfully for Congress.
In 1966 Jeb Stuart Magruder moved back to California for a well-paid job at Broadway Stores. In 1968 he worked for Richard Nixon during his presidential campaign and the following year he was appointed to the White House staff as Special Assistant to the President. Magruder worked under H. R. Haldeman. He later recalled in his autobiography, The Ends of Power (1978): "At the White House... I had found him eager but unreliable. Under constant pressure from me to produce, he would furnish massive memos designed to please the President's ever present urge to mount a P.R. initiative to kickback at his enemies in the outside world. But on closer inspection, they generally turned out to be flights of fantasy without much possibility of Magruder carrying them out."
Jeb Stuart Magruder was involved in the recruitment of Jack Caulfield: "Jack was about forty, a chunky Irishman who'd started his career as a policeman in New York, but won a promotion to detective and specialized in terrorist organizations. During the 1960 Presidential campaign he helped guard candidate Nixon when he was in New York, and he held a temporary security job with the 1968 campaign, one that led Ehrlichman to hire him, in April of 1969, to be a special investigator on the White House staff. Caulfield's office was next to Lyn Nofziger's office in the Executive Office Building and I'd see him there from time to time. He was always very hush-hush about his work, but he seemed to be particularly active during antiwar demonstrations, so I assumed he was investigating antiwar leaders and other of our political opponents.... Caulfield explained that he hoped to start a private-investigation firm - codenamed Sand Wedge - that could do work for both CRP and the Republican National Committee, as well as for corporate clients. The firm would provide both security services and covert intelligence-gathering, Caulfield said. John Dean added that both Mitchell and Haldeman were interested in Sand Wedge. The plan had an extra boost in that one of Caulfield's partners was to be Joe Woods, the former sheriff of Cook County, who was Rose Mary Woods's brother."
In 1971 H. R. Haldeman suggested that Jeb Stuart Magruder went to work for the Committee to Re-elect the President (CREEP) as assistant to former Attorney General John N. Mitchell. "President Nixon clearly recognized his need for effective public relations, and constantly pushed me to get something going. I had brought Magruder into the White House specifically to help fill this need. When the Committee to Re-elect the President was first being staffed, I saw a chance to reassign him to a position that was less demanding and better suited to him. At the No. 2 post of C.R.P., he simply would be following the orders of a strong leader, John Mitchell, who would be moving, over from Attorney General to Campaign Chairman."
The following year Gordon Liddy also joined CREEP. Liddy presented John N. Mitchell, with an action plan called Operation Gemstone. Liddy wanted a $1 million budget to carry out a series of black ops activities against Nixon's political enemies. Mitchell decided that the budget for Operation Gemstone was too large. Instead he gave him $250,000 to launch a scaled-down version of the plan.
On 20th March, 1972, Jeb Stuart Magruder attended a meeting with Mitchell and Liddy. During the meeting the men discussed Liddy's proposal to bug the telephone of the chairman of the national Democratic Party, Larry O'Brien. Jeb Stuart Magruder later claimed that John Dean was at these meetings: "Once again Dean joined us, and once again we had an inconclusive talk with Mitchell. Liddy had not specified the targets for wiretapping, but in discussion we agreed that priority should go to Larry O'Brien's office at the Democratic National Committee in the Watergate complex, to O'Brien's hotel suite in Miami Beach during the Democratic Convention, and to the campaign headquarters of whoever became the Democratic nominee for President. O'Brien had emerged in the past year as the Democrats' most effective spokesman and critic of our Administration." Magruder was concerned about this suggestion and phoned H. R. Haldeman about it. Haldeman confirmed that Richard Nixon wanted the operation carried out.
Liddy now went ahead with placing electronic devices in the Democratic Party campaign offices in an apartment block called Watergate. Liddy wanted to wiretap the conversations of O'Brien. This was not successful and on 3rd July, 1972, Frank Sturgis, Virgilio Gonzalez, Eugenio Martinez, Bernard L. Barker and James W. McCord returned to O'Brien's office. However, this time they were caught by the police.
The phone number of E.Howard Hunt was found in address books of the burglars. Reporters were now able to link the break-in to the White House. Bob Woodward, a reporter working for the Washington Post was told by a friend who was employed by the government, that senior aides of President Richard Nixon, had paid the burglars to obtain information about its political opponents.
Jeb Stuart Magruder was also involved in dealing with George Wallace: "The Alabama governor was a constant concern to us. If he ran in 1972, would the third-party split help us or hurt us? The equation was a complex one, but the consensus was that he would hurt us, and there were constant discussions and plans on how to keep him out of the race, ranging from preempting him with go-slow school integration policies to our putting several hundred thousand dollars into the campaign of the man who ran against Wallace for governor in 1970. The ongoing White House concern about Wallace was reflected in a constant stream of memos from Haldeman asking us for up-to-the-minute reports on how many state primaries Wallace would be able to enter."
In 1972 Richard Nixon was once again selected as the Republican presidential candidate. On 7th November, Nixon easily won the the election with 61 per cent of the popular vote. Magruder went on to manage Nixon's inauguration in January, 1973, as Inaugural Director.
The trial of Frank Sturgis, Virgilio Gonzalez, Eugenio Martinez, Bernard L. Barker, James W. McCord, E. Howard Hunt and Gordon Liddy began in Washington in January, 1973. All the men refused to explain who paid them to take part in the break-in. As a result they all received long prison sentences.
On 19th March, James W. McCord wrote a letter to Judge John J. Sirica claiming that the defendants had pleaded guilty under pressure (from John Dean and John N. Mitchell) and that perjury had been committed during the trial. Soon afterwards Dean also began providing information on Watergate. This included the claim that Richard Nixon participated in the cover-up.
Nixon was concerned about J being involved in the scandal. In his Memoirs (1978) he talked about a meeting he had with John Ehrlichman: "On Saturday afternoon, July 8, Ehrlichman and I went for a walk on the beach. It was a beautiful California day, and we could see the surfers bobbing on their boards in the water far down the coast. As we walked along the conversation turned to Magruder. I told John Ehrlichman in a long walk on the beach that under the circumstances the question is whether Magruder is going to be better off in the event that he anticipates what will happen and voluntarily indicates what his role was and takes responsibility for the action, or whether he will face the fact that he will be questioned on such matters and then be forced at a later time to resign. I strongly urged the first course in his own interests."
Magruder also began cooperating with federal prosecutors. On May 21, 1974, Magruder was sentenced by Judge John J. Sirica to 4 months to 10 years for his role in the failed Watergate burglary and subsequent cover up. However, he only served seven months of the sentence before being released.
In 1974, Jeb Stuart Magruder published An American Life: One Man's Road to Watergate. The book was criticised for not completely explaining his role in the Watergate Scandal. A book about his religious beliefs, From Power to Peace, was published in 1976. Magruder "Somewhere between my ambition and my ideals I lost my ethical compass."
After studying for a Masters Degree in Divinity from the Princeton Theological Seminary he was ordained as a Presbyterian minister in 1981. He served as associate minister at the First Presbyterian Church in Burlingame, California and First Community Church of Columbus, Ohio, and in 1990 became senior pastor at the First Presbyterian Church of Lexington, Kentucky.
In July, 2003, Magruder admitted for the first time that Richard Nixon gave the orders for the Watergate break-in on 20th March, 1972. As Godfrey Hodgson pointed out: "Later there was considerable controversy about how much Nixon knew of the dirty tricks plans and Magruder contradicted himself several times. In 2003 he went back on his early statements that Nixon knew nothing by stating that Nixon had telephoned during one of these meetings, was briefed about the plans by Mitchell and had approved them, though others denied this." Magruder did receive support for this view from John Dean. However, he was criticized by others for not providing this information during his trial in 1974.
Jeb Stuart Magruder died on 11th May, 2014.