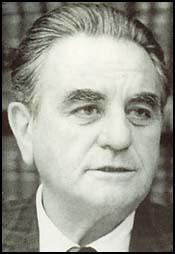 John Joseph Sirica, the son of Italian immigrants, was born in Waterbury, Connecticut, on 19th March, 1904. He graduated from Georgetown University Law School in 1926. He engaged in private practice in the District of Columbia until August, 1930, when he was appointed assistant United States attorney for the District of Columbia. After resigning from this post in 1934 he resumed the practice of law.
A member of the American Bar Association, Sirica served as state chairman of the Junior Bar Association for the District of Columbia (1938-39). He was also a member of the Republican Party.
In 1944 Sirica served as general counsel to the House Select Committee to Investigate the Federal Communications Commission and between 1949 and 1957 was a member of the law firm of Hogan and Hartson.
In February, 1957, President Dwight Eisenhower nominated Sirica as a judge of the United States District Court for the District of Columbia. He became chief judge of the court in April, 1971. He soon gained the reputation as a maverick judge, and earned the nickname "Maximum John" for his sentencing policy. It was not unusual for his decisions to be overturned during appeal.
On 17th June, 1972, Frank Sturgis, Virgilio Gonzalez, Eugenio Martinez, Bernard L. Barker and James W. McCord were arrested placing electronic devices in the Democratic Party campaign offices in an apartment block called Watergate. The phone number of E. Howard Hunt was found in address books of the burglars. Reporters were now able to link the break-in to the White House. Bob Woodward, a reporter working for the Washington Post was told by a friend who was employed by the government, that senior aides of President Richard Nixon, had paid the burglars to obtain information about its political opponents. Soon afterwards, another White House aide, Gordon Liddy, was also arrested.
In 1973 Sirica presided over the Watergate trials. He did not believe the burglar's claim that they had acted alone and adopted the controversial tactic of questioning the witnesses himself. Frank Sturgis, E. Howard Hunt, Virgilio Gonzalez, Eugenio Martinez, Bernard L. Barker, Gordon Liddy and James W. McCord were eventually convicted of conspiracy, burglary and wiretapping.
On 19th March, 1973, James W. McCord wrote a letter to Sirica claiming that the defendants had pleaded guilty under pressure (from John Dean and John N. Mitchell) and that perjury had been committed. Sirica decided to publish the contents of this letter.
In 1979 Sirica published his own account of the Watergate Scandal: To Set the Record Straight: The Break-in, the Tapes, the Conspirators, the Pardon.
John Joseph Sirica died on 14th August, 1992.