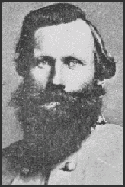 James Ewell Brown (Jeb) Stuart was born in Patrick County, Virginia, on 6th February, 1833. After graduating 13th in a class of 46 from the U.S. Military Academy at West Point in 1854, he joined the Mountain Rifles Cavalry.
Stuart was seriously wounded while fighting on the frontier against Native Americans. In 1859 he accompanied Robert E. Lee and the company of U.S. Marines that captured John Brown at Harper's Ferry. in October, 1859.
On the outbreak of the American Civil War Stuart resigned from the US Army and joined the Confederate Army. Commissioned as lieutenant colonel he took part the the first battle at Bull Run (June, 1861) against the Union Army led by Irvin McDowell. The Confederate troops led by Joseph E. Johnston, Thomas Stonewall Jackson, Jubal Early and Pierre T. Beauregard easily defeated the inexperienced Union troops.
He also led his men at Fredericksburg (November/December, 1862), Chancellorsville (May 1863) and Gettysburg (June/July, 1863), where for the first time he faced an organized Union Army cavalry. During these battles Stuart developed a reputation as a good gather of information on the enemy and Robert E. Lee called him the "eyes of the army".
Stuart took part in the Wilderness Campaign (May, 1864) but soon afterwards was mortally wounded at Yellow Tavern near Richmond. James (Jeb) Stuart died on 12th May, 1864.
We were incorporated into the First Virginia Cavalry, which Stuart had just organized, now on outpost to watch Patterson. I had never seen Stuart before, and the distance between us was so great that I never expected to rise to even an acquaintance with him. Stuart was a graduate of West Point and as a lieutenant in Colonel Sumner's regiment, the First Cavalry, had won distinction and had been wounded in an Indian fight. At the beginning of the war he was just twenty-eight years old. His appearance - which included a reddish beard and a ruddy complexion - indicated a strong physique and great energy.

In his work on the outposts Stuart soon showed that he possessed the qualities of a great leader of cavalry. He never had an equal in such service. He discarded the old maxims and soon discovered that in the conditions of modern war the chief functions of cavalry are to learn the designs and to watch and report the movements of the enemy.
(2) General Oliver Howard wrote about James Stuart in his autobiography published in 1907.
J. E. B. Stuart was cut out for a cavalry leader. In perfect health, but thirty-two years of age, full of vigor and enter[rise, with the usual ideas imbibed in Virginia concerning State Supremacy, Christian in thought and temperate by habit, no man could ride faster, endure more hardships, make a livelier charge, or be more hearty and cheerful while so engaged. A touch of vanity, which invited the smiles and applause of the fair maidens of Virginia, but added to the zest and ardor of Stuart's parades and achievements. He commanded Lee's cavalry corps - a well-organized body, of which he was justly proud.
(3) John Haskell, a fellow Confederate Army officer, commenting on Jeb Stuart after the war.
Stuart was a remarkable mixture of a green, boyish, undeveloped man, with a shrewd man of business and a strong leader. To hear him talk no one would think that he could ever be anything more than a dashing leader of a small command, with no dignity, and much boastful vanity. But with all he was a shrewd, gallant commander.
(4) Philip Katcher, The American Civil War (1992)
In many ways he was more lucky than able, leading such efforts as his 'ride around McClellan' in June 1862 against poorly trained and organized Union cavalry. All this created the myth of the 'bold cavalier'. Therefore, when finally a trained and organized Union cavalry struck unprepared cavalry under Stuart at Brandy Station, Virginia, in 1863, he was taken aback by the outcry of criticism he received.