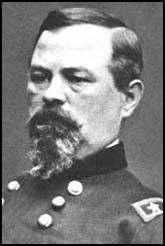 Irvin McDowell was born in Columbus, Ohio, in 1818. He studied at the College de Troyes, in France, and graduated from West Point in 1838, 23rd in his class of 45. During the border dispute with Canada he was stationed on the Niagara and Maine frontiers.
In 1841 he served at West Point as assistant instructor in tactics, becoming adjutant in 1845. During the Mexican War he went to Mexico as aide-de-camp to General Wood and for gallant conduct at Buena Vista in 1847 was promoted to brevet captain. Shortly afterward he was given the rank of assistant adjutant general.
Following the Mexican War McDowell was stationed at the War Department in Washington. A close associate of General Winfield Scott, he became an adviser to several Republican Party politicians including Abraham Lincoln and Salmon Chase.
On the outbreak of the American Civil War McDowell he was given command of the Union Army south of the Potomac. In July Abraham Lincoln sent McDowell to take Richmond, the new base the Confederate government. On 21st July McDowell engaged the Confederate Army at Bull Run. The Confederate troops led by Joseph E. Johnson, Thomas Stonewall Jackson, James Jeb Stuart, Jubal Early and Pierre T. Beauregard, easily defeated the inexperienced Union Army. The South had won the first great battle of the war and the Northern casualties totaled 1,492 with another 1,216 missing.
McDowell was recalled and given the task of defending Washington from the Confederate Army. In May, 1862, McDowell joined Major General John Pope, the commander of the Army of Virginia. Pope was instructed to move east to Blue Ridge Mountains towards Charlottesville. It was hoped that this move would help George McClellan by drawing Robert E. Lee away from defending Richmond. Lee's 80,000 troops were now faced with the prospect of fighting two large armies: McClellan (90,000) and Pope (50,000)
Joined by Thomas Stonewall Jackson, the Confederate troops constantly attacked George McClellan and on 27th June they broke through at Gaines Mill. Convinced he was outnumbered, McClellan retreated to James River. Abraham Lincoln, frustrated by McClellan's lack of success, sent in McDowell and John Pope, but they were easily beaten back by Jackson.
Criticised for his performance, McDowell was relieved on his command. However, he demanded and was ultimately exonerated by a court of inquiry. In July, 1864, McDowell was given command of the Department of the Pacific. He retired as a major general in 1882 and afterwards served as Park Commissioner of San Francisco. Irvin McDowell died in 1885.
(1) Henry Villard wrote about General Irvin McDowell in his Memoirs: Journalist and Financier (1904)
McDowell was a man of strong character and much intellectual ability. While his practical military experience was necessarily limited by the narrow opportunities offered in the active service of the small regular army, his theoretical knowledge was very extensive. He was well read in war history. But in my frequent intercourse with him I gained the impression that he lacked the resolute determination which alone could insure success in his trying task of organizing an effective army for aggressive war out of the raw material gathering under his command.