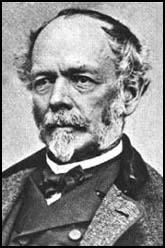 Joseph Eggleston Johnston was born in Farmville, Virginia, Westernville, on 3rd February, 1807. He graduated from the U.S. Military Academy at West Point in 1829, standing 13th in his class of 46. He served in the 4th Artillery and as first lieutenant in the Topographical Engineers, saw action in the Seminole War and the Mexican War.
On the outbreak of the American Civil War Johnston resigned from the US Army and on 14th May, 1861, was commissioned as brigadier general in the Confederate Army. Initially stationed at Harper's Ferry, he then brought his troops forward in July to take part in the first battle at Bull Run against the Union Army led by Irvin McDowell. His support of Pierre T. Beauregard played an important role in this Confederate victory. As a result of this action Johnston was promoted.
In January 1862 the Union Army began to push the Confederates southward. The following month Ulysses S. Grant took his army along the Tennessee River with a flotilla of gunboats and captured Fort Henry. This broke the communications of the extended Confederate line and Johnston decided to withdraw his main army to Nashville. He left 15,000 men to protect Fort Donelson on the Cumberland River but this was enough and Grant had no difficulty taking this prize as well.
On 31st May, 1862, Johnston with some 41,800 men attacked McClellan's slightly larger army at Fair Oaks. Johnston was wounded and General Robert E. Lee took command.
As commander of Confederate forces along the Mississippi in 1863, Johnston was unable to prevent the capture of Vicksburg by General Ulysses S. Grant and the Union Army. He warned General John Pemberton to evacuate the city but was over-ruled by Jefferson Davis. Johnston was also unable to stop William Sherman taking Atlanta. Johnston surrendered to Sherman at Durham Station on 26th April, 1865.
After the war Johnston represented Virginia in the U.S. House of Representatives (1879-81) and was commissioner of railroads (1887-91), a post to which he was appointed by President Grover Cleveland. Joseph Eggleston Johnston died in Washington on 2nd March, 1891.