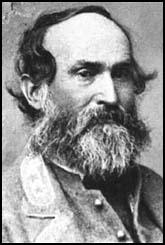 Jubal Anderson Early was born in Franklin County, Virginia, on 3rd November, 1816. After graduating from the U.S. Military Academy at West Point in 1837 he joined the United States Army and saw action in the Seminole War (1838-42) and the Mexican War (1846-48).
After leaving the United States Army Early became a lawyer in Rocky Mount, Virginia. Early was an opponent of secession but when Virginia left the Union but on the outbreak of the American Civil War he accepted command of the 24th Virginia Infantry. He led this regiment at Bull Run after afterwards was promoted to the rank of brigadier general.
Early fought well at Antietam and Fredericksburg and on 23rd April, 1863, was promoted to major general. He led his troops at Chancellorsville, Gettysburg and the Wilderness.
In June, 1864, Early successfully defeated Major General David Hunter in Shenandoah Valley. Robert E. Lee then sent him north with 14,000 men in an attempt to draw off troops from Grant's army. Major General Lew Wallace encountered Early by the Monacacy River and although defeated was able to slow his advance to Washington. Early's attempts to breakthrough the ring forts around the city ended in failure. Abraham Lincoln, who witnessed the attack from Fort Stevens, became the first president in American history to see action while in office.
In August 1864 the Union Army made another attempt to take control of the Shenandoah Valley. Philip Sheridan and 40,000 soldiers entered the valley and soon encountered troops led by Early who had just returned from Washington. After a series of minor defeats Sheridan eventually gained the upper hand. His men now burnt and destroyed anything of value in the area and after defeating Early in another large-scale battle on 19th October, the Union Army took control of the Shenandoah Valley.
When Early heard that Robert E. Lee had surrendered to Ulysses S. Grant at Appomattox, he went to Mexico. He also lived in Canada before returning to practice law at Lynchburg.
His memoirs, Autobiographical Sketch and Narrative appeared in 1866. Early, as president of the Southern Historical Association, helped to promote the military reputation of Robert E. Lee, Thomas Stonewall Jackson, James Jeb Stuart, and other generals in the Confederate Army. Jubal Anderson Early died in Lynchburg, Virginia, on 2nd March, 1894.