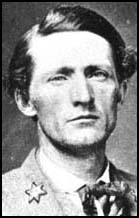 John Singleton Mosby was born in Edgemont, Virginia, on 6th December, 1833. Brought up near Charlottesville he entered the University of Virginia in 1849. At university he was charged with shooting another student and was sentenced to a term of imprisonment. While in prison he studied law and after his release he became a lawyer in Bristol.
On the outbreak of the American Civil War Mosby joined the Confederate Army. At first he served as a private in the 1st Virginia Cavalry and fought at Bull Run. Promoted to the rank of lieutenant in February, 1862, Mosby began scouting for James Jeb Stuart and was responsible for the ride around George McClellan in June.
In January, 1863 Mosby and a team of nine men began attacking isolated Union Army posts in Virginia and Maryland. As captured goods were divided up between the men Union officials regarded Mosby's men as criminals rather than soldiers.
July, 1863, Mosby was given permission to organize his Partisan Rangers. Mosby became an expert in guerrilla warfare tactics and his small unit of a hundred soldiers were very active during the Union Army during the Wilderness campaign. Mosby and his men undermined the enemy's transport system by destroying rail lines and bridges.
In 1865 General Philip Sheridan sent out a hundred men to hunt down Mosby. Within a few months 98 of these men had been killed or wounded. Mosby's military successes earned him promotions to captain, major and finally colonel in December, 1864.
On news of the Confederate surrender, Mosby disbanded his Partisan Rangers and resumed his work as a lawyer. He upset many of his former supporters by joining the Republican Party and backed Ulysses S. Grant for president in 1868.
Mosby served as U.S. consul at Hong Kong (1878-1885) and assistant attorney in the Justice Department (1904-10). He wrote two books about his war experiences: Memoirs of Colonel John S. Mosby (1887) and Stuart's Cavalry in the Gettysburg Campaign (1908).
John Singleton Mosby died on 30th May, 1916.
(1) John Singleton Mosby, Memoirs of Colonel John S. Mosby (1887)
In my youth I was very delicate and often heard that I would never live to be a grown man. But the prophets were wrong, for I have outlived nearly all the contemporaries of my youth. I was devoted to hunting, and a servant always had coffee ready for me at daylight on a Saturday morning, so that I was out shooting when nearly all were sleeping. My father was a slaveholder, and I still cherish a strong affection for the slaves who nursed me and played with me in my childhood. That was the prevailing sentiment in the South - not one peculiar to myself - but one prevailing in all the South toward an institution which we now thank Abraham Lincoln for abolishing.
(2) John Singleton Mosby, Memoirs of Colonel John S. Mosby (1887)
We were incorporated into the First Virginia Cavalry, which Stuart had just organized, now on outpost to watch Patterson. I had never seen Stuart before, and the distance between us was so great that I never expected to rise to even an acquaintance with him. Stuart was a graduate of West Point and as a lieutenant in Colonel Sumner's regiment, the First Cavalry, had won distinction and had been wounded in an Indian fight. At the beginning of the war he was just twenty-eight years old. His appearance - which included a reddish beard and a ruddy complexion - indicated a strong physique and great energy.

In his work on the outposts Stuart soon showed that he possessed the qualities of a great leader of cavalry. He never had an equal in such service. He discarded the old maxims and soon discovered that in the conditions of modern war the chief functions of cavalry are to learn the designs and to watch and report the movements of the enemy.
(3) John Singleton Mosby, letter to his wife after the battle of Bull Run (22nd June, 1861)
There was a great battle yesterday. The Yankees are overwhelmingly routed. Thousands of them killed. I was in the fight. We at one time stood for two hours under a perfect storm of shot and shell - it was a miracle that none of our company was killed. We took all of their cannon from them; among the batteries captured was Sherman's - battle lasted about 7 hours - about 90,000 Yankees, 45,000 of our men. The cavalry pursued them till dark - followed 6 or 7 miles. General Scott commanded them. I just snatch this moment to write - am out doors in a rain - will write you all particulars when I get a chance. We start just as soon as we can get our breakfast to follow them to Alexandria. We made a forced march to get here to the battle - travelled about 65 miles without stopping. My love to all of you. In haste.
(4) John Singleton Mosby, Memoirs of Colonel John S. Mosby (1887)
In June, 1862, McClellan was astraddle of the Chickahominy; his right rested on the Pamunkey, but there was a gap of several miles between his left and the James. The two armies were so close to each other that the cavalry was of little use, and it was therefore kept in the rear.

One morning I was at breakfast with Stuart, and he said that he wanted to find out if McClellan was fortifying on the Totopotomy, a creek that empties into the Pamunkey. I was glad to go for him and started off with three men. But we found a flag of truce on the road and turned off to scout in another direction - I did not want to go back without doing something. We did not get the information for which we were sent, but we did get intelligence of even more value.

We penetrated McClellan's lines and discovered that for several miles his right flank had only cavalry pickets to guard his line of communication with his depot at the White House on the Pamunkey. Here, it seemed to me, was an opportunity to strike a blow. McClellan had not anticipated any such move and had made no provision against it.

On discovering the conditions, I hastened back to Stuart and found him sitting in the front yard. It was a hot day - I was tired and lay down on the grass to tell him what I had learned. A martinet would have ordered me to stand in his presence. He listened to my story and, when I had finished, told me to go to the adjutant's office and write it down.
(5) John Singleton Mosby, letter to his wife (16th June, 1862)
I returned yesterday with General Stuart from the grandest scout of the war. I not only helped to execute it, but was the first one who conceived and demonstrated that it was practicable. I took four men, several days ago, and went down among the Yankees and found out how it could be done. The Yankees gave us a chase, but we escaped. I reported to General Stuart, suggested his going down, he approved, asked me to give him a written statement of the facts, and went immediately to see General Lee, who also approved it.

We were out nearly four days, rode continuously four days and nights, found among the Yankee camps and sutlers' stores every luxury of which you ever conceived. I had no way of bringing off anything. General Stuart gave me the horses and equipments I captured. What little I brought off is worth at least $350. Stuart does not want me to go with Floyd, -told me before this affair that I should have a commission, on returning yesterday he told me that I would have no difficulty in doing so now.

I met Wyndham Robertson on the street to-day. He congratulated me on the success of the exploit, and said I was the hero, and that he intended to write an account of it for the papers - made me promise to dine with him to-day. I send you some captured things, the carpet was in an officer's tent. There is no prospect of a battle here, heavy reinforcements have been going to Jackson. I got two splendid army pistols. Stuart's name is in every one's mouth now. I was in both cavalry charges, they were magnificent. . . . I have been staying with General Stuart at his headquarters. . . . The whole heavens were illuminated by the flames of the burning wagons, etc. of the Yankees. A good many ludicrous scenes I will narrate when I get home. Richmond in fine spirits, everybody says it is the greatest feat of the war. I never enjoyed myself so much in my life.
(6) John Singleton Mosby, letter to his wife (9th December, 1862)
With nine men I stampeded two or three thousand Yankees. I see the Richmond papers give Colonel Rosser the credit of it. He had nothing to do with it, and was not in twenty-five miles of there. General Lee sent me a message expressing his gratification at my success. I believe I have already written of my trip around McClellan at Catlett's Station, when I saw him leave his army at the time he was superseded by Burnside. The courier by whom I sent the dispatch to General Stuart announcing it passed five Yankee cavalry in the road. Not dreaming there was a rebel army in their rear, they passed on by him, merely saying "Good morning." We did not go in disguise, as spies, but in Confederate uniform and with our arms. Had a slip from a Northern paper, which I lost, giving an account of a squad of rebel cavalry having been seen that day in their rear. Aaron thinks himself quite a hero, though he does not want to come again in such disagreeable proximity to a bombshell.

I want you to send me some books to read. Send Plutarch, Macaulay's "History" and "Essays," "Encyclopedia of Anecdotes," Scott's Works, Shakespeare, Byron, Scott's Poems, Hazlitt's "Life of Napoleon," - if you can get me a copy of "My Novel," send it, also "Memoirs of an Irish Gentleman", "Corinne," and "Sketch Book."
(7) James Jeb Stuart commenting on John Singleton Mosby's success in capturing Brigadier-General Stoughton (12th March, 1863)
Captain John S. Mosby has for a long time attracted the attention of his generals by his boldness, skill, and success, so signally displayed in his numerous forays upon the invaders of his native soil. None know his daring enterprise and dashing heroism better than those foul invaders, those strangers themselves to such noble traits.

His last brilliant exploit - the capture of Brigadier-General Stoughton, U. S. A., two captains, and thirty other prisoners, together with their arms, equipments, and fifty-eight horses - justifies this recognition in General Orders. This feat, unparalleled in the war, was performed in the midst of the enemy's troops, at Fairfax Court House, without loss or injury. The gallant band of Captain Mosby shares his glory, as they did the danger of this enterprise, and are worthy of such a leader.
Last Saturday morning I captured a train of twelve cars on the Virginia and Alexandria Railroad loaded with supplies for the troops above. The cars were fired and entirely consumed. Having destroyed the train, I proceeded some distance back, when I recognized the enemy in a strong force immediately in my front. One shell which exploded in their ranks sufficed to put them to flight. After going about a mile further, the enemy were reported pursuing. Their advance was again checked by a shot from the howitzer. In this way we skirmished for several miles, until seeing the approach of their overwhelming numbers and the impossibility of getting off the gun, I resolved to make them pay for it as dearly as possible. Taking a good position on a hill commanding the road we awaited their onset. They came up quite gallantly, not in dispersed order, but in columns of fours, crowded in a narrow lane. At eighty yards we opened on them with grape and following this up with a charge of cavalry, we drove them half a mile back in confusion. Twice again did they rally and as often were sent reeling back. At last our ammunition became exhausted, and we were forced to abandon the gun. We did not then abandon it without a struggle, and a fierce hand to hand combat ensued in which, though overpowered by numbers, many of the enemy were made to bite the dust. In this affair I had only 48 men - the forces of the enemy were five regiments of cavalry. My loss, one killed - Captain Hoskins, a British officer who fell when gallantly fighting, - four wounded. It is with pleasure I recommend to your attention the heroic conduct of Lieutenant Chapman and Privates Mountjoy and Beattie, who stood by their gun until surrounded by the enemy.
(9) James Jeb Stuart report on John Singleton Mosby during the Gettysburg Campaign (15th June, 1863)
Major Mosby, with his usual daring, penetrated the enemy's lines and caught a staff-officer of General Hooker - bearer of despatches to General Pleasanton, commanding United States cavalry near Aldie. These despatches disclosed the fact that Hooker was looking to Aldie with solicitude, and that Pleasanton, with infantry and cavalry, occupied the place; and that a reconnaissance in force of cavalry was meditated toward Warrenton and Culpeper. I immediately despatched to General Hampton, who was coming by way of Warrenton from the direction of Beverly Ford, this intelligence, and directed him to meet this advance at Warrenton. The captured despatches also gave the entire number of divisions, from which we could estimate the approximate strength of the enemy's army. I therefore concluded in no event to attack with cavalry alone the enemy at Aldie.
On the morning of August 24, with about 30 men, I reached a point (Annandale) immediately on the enemy's line of communication. Leaving the whole command, except three men who accompanied me, in the woods, concealed, I proceeded on a reconnaissance along the railroad to ascertain if there were any bridges unguarded. I discovered there were three. I returned to the command just as a drove of horses with a cavalry escort of about 50 men were passing. These I determined to attack and to wait until night to burn the bridges. I ordered Lieutenant Turner to take half of the men and charge them in front, while with the remainder I attacked their rear.

In the meantime the enemy had been joined by another party, making their number about 63. When I overtook them they had dismounted at Gooding's Tavern to water their horses. My men went at them with a yell that terrified the Yankees and scattered them in all directions. A few taking shelter under cover of the houses, opened fire upon us. They were soon silenced, however. At the very moment when I had succeeded in routing them, I was compelled to retire from the fight, having been shot through the side and thigh. My men, not understanding it, followed me, which gave time to the Yankees to escape to the woods. But for this accident, the whole party would have been captured. As soon as I perceived this, I ordered the men to go back, which a portion of them did, just as Lieutenant Turner, who had met and routed another force above, came gallantly charging up.

Over 100 horses fell into our possession, though a good many were lost in bringing them out at night; also 12 prisoners, arms, etc. I learn that 6 of the enemy were killed. In this affair my loss was 2 killed and 3 wounded. I afterwards directed Lieutenant Turner to burn the bridges. He succeeded in burning one.

During my absence from the command, Lieutenant Turner attacked an outpost of the enemy near Waterloo, killing 2 and capturing 4 men and 27 horses.

About September 15 he captured 3 wagons, 20 horses, 7 prisoners and a large amount of sutlers' goods near Warrenton Junction.

On the 20th and 21st instant, I conducted an expedition along the enemy's line of communication, in which important information obtained was forwarded to the army headquarters, and I succeeded in capturing 9 prisoners and 21 fine horses and mules.

On the 27th and 28th instant, I made a reconnaissance in the vicinity of Alexandria, capturing Colonel Dulaney, aide to the bogus Governor Pierpont, several horses, and burning the railroad bridge across Cameron's Run, which was immediately under cover of the guns of two forts.

The military value of the species of warfare I have waged is not measured by the number of prisoners and material of war captured from the enemy, but by the heavy detail it has already compelled him to make, and which I hope to make him increase, in order to guard his communications and to that extent diminishing his aggressive strength.
Perhaps two hundred yards ahead of us, we observed a troop of ten or twelve of them, who advanced towards us. They looked rather ragged, and I took them for teamsters or similar folk. But one of the orderlies cried out: "There are the rebels!" And true enough, they were a band of Mosby's guerrillas. Now they came up at a gallop, and in a minute they were among us. While we whipped out our revolvers, I shouted to my bugler: "Sound the advance, double-quick!" which he did; and there was an instant "double-quick" signal in response from the infantry patrol close behind us. We had a lively, but, as to my party, harmless conversation with revolvers for a few seconds, whereupon the guerrillas, no doubt frightened by the shouts of the patrol coming at a run, hastily turned tail and galloped down the road, leaving in our hands one prisoner and two horses.
(12) John Singleton Mosby, Memoirs of Colonel John S. Mosby (1887)
During this campaign of 1864, my battalion of six companies was the only force operating in the rear of Sheridan's army in the Shenandoah Valley. Our rendezvous was along the eastern base of the Blue Ridge, in what is known as the Piedmont region of Virginia. Fire and sword could not drive the people of that neighborhood from their allegiance to what they thought was right, and in the gloom of disaster and defeat they never wavered in their support of the Confederate cause. The main object of my campaign was to vex and embarrass Sheridan and, if possible, to prevent his advance into the interior of the State. But my exclusive attention was not given to Sheridan, for alarm was kept up continuously by threatening Washington and occasionally crossing the Potomac. We lived on the country where we operated and drew nothing from Richmond except the gray jackets my men wore. We were mounted, armed, and equipped entirely off the enemy, but, as we captured a great deal more than we could use, the surplus was sent to supply Lee's army. The mules we sent him furnished a large part of his transportation, and the captured sabres and carbines were turned over to his cavalry - we had no use for them.

I believe I was the first cavalry commander who discarded the sabre as useless and consigned it to museums for the preservation of antiquities. My men were as little impressed by a body of cavalry charging them with sabres as though they had been armed with cornstalks. In the Napoleonic wars cavalry might sometimes ride down infantry armed with muzzle-loaders and flintlocks, because the infantry would be broken by the momentum of the charge before more than one effective fire could be delivered. At Eylau the French cavalry rode over the Russians in a snowstorm because the powder of the infantry was wet and they were defenseless. Fixed ammunition had not been invented. I think that my command reached the highest point of efficiency as cavalry because they were well armed with two six-shooters and their charges combined the effect of fire and shock. We were called bushwhackers, as a term of reproach, simply because our attacks were generally surprises, and we had to make up by celerity for lack of numbers. Now I never resented the epithet of "bushwhacker" - although there was no soldier to whom it applied less - because bushwhacking is a legitimate form of war, and it is just as fair and equally heroic to fire at an enemy from behind a bush as a breastwork or from the casemate of a fort.
Some time in the month of September, during my absence from my command, six of my men who had been captured by your forces, were hung and shot in the streets of Front Royal, by order and in the immediate presence of Brigadier-General Custer. Since then another (captured by a Colonel Powell on a plundering expedition into Rappahannock) shared a similar fate. A label affixed to the coat of one of the murdered men declared "that this would be the fate of Mosby and all his men."

Since the murder of my men, not less than seven hundred prisoners, including many officers of high rank, captured from your army by this command have been forwarded to Richmond; but the execution of my purpose of retaliation was deferred, in order, as far as possible, to confine its operation to the men of Custer and Powell. Accordingly, on the 6th instant, seven of your men were, by my order, executed on the Valley Pike - your highway of travel.

Hereafter, any prisoners falling into my hands will be treated with the kindness due to their condition, unless some new act of barbarity shall compel me, reluctantly, to adopt a line of policy repugnant to humanity.
I will soon commence work on Mosby. Heretofore I have made no attempt to break him up, as I would have employed ten men to his one, and for the reason that I have made a scapegoat of him for the destruction of private rights. Now there is going to be an intense hatred of him in that portion of the valley which is nearly a desert. I will soon commence on Loudoun County, and let them know there is a God in Israel. Mosby has annoyed me considerably; but the people are beginning to see that he does not injure me a great deal, but causes a loss to them of all that they have spent their lives in accumulating. Those people who live in the vicinity of Harper's Ferry are the most villainous in this valley, and have not yet been hurt much. If the railroad is interfered with, I will make some of them poor. Those who live at home in peace and plenty want this war to go on; but when they have to bear the burden by loss of property and comforts, they will cry for peace.
(15) John Singleton Mosby's mother kept a diary during the final stages of the American Civil War (March-April, 1865)
Saturday, March 6: To-day will be a day never to be forgotten. We heard the Yankees occupied Charlottesville last evening and are advancing up here. All is consternation and confusion. We are trying to get our things out of the way. Rumor after rumor arrives, and we know not how to proceed. We expect to be driven from our homes. Oh! may we be spared, and our house, and the vile Yankees driven back.

Saturday, April 3: There is a craven spirit abroad with our people. If overpowered we will have to submit to the powers that be, but I would feel that the Yankees themselves would despise us, if we recanted our Southern principles. They would have no confidence in us and look with contempt on us, as they should do. I think a deserter on either side the most degraded human being that breathes. Yes, we hate them, and the Yankees do too, and they will hiss them.

Sunday, April 9th: I went out and heard the deep toned cannon, carrying hundreds and perhaps thousands to that long sleep that knows no waking. Oh, how my heart went up for our great, our noble Lee, that God would give him strength in weakness to bring us out of battle a victorious people. If God does see fit to crush us and bow us down, because of our sins and the sins of this nation, I feel it will be in justice and mercy, and will even believe he death all things well; but there are hearts too noble to be conquered. Our Lee will stand out a man in all the nations of the earth, nobler and greater in adversity than any other man with a crown on his head. I hear of fearful desertions. Poor craven spirits - I hope the Yankee bullets will yet pierce their hateful hides.
(16) John Singleton Mosby, Memoirs of Colonel John S. Mosby (1917)
MY first meeting with General Robert E. Lee was in August, 1862, when I brought the news of Burnside's reinforcement of Pope, a story I have told in the preceding pages. The next time we met was at his headquarters in Orange, about two months after Gettysburg. He did not seem in the least depressed, and was as buoyant and aggressive as ever. He took a deep interest in my operations, for there was nothing of the Fabius in his character. Lee was the most aggressive man I met in the war, and was always ready for an enterprise. I believe that his interest in me was largely due to the fact that his father, "Light Horse Harry", was a partisan officer in the Revolutionary War.

After General Stuart was killed, in May, 1864, I reported directly to General Lee. During the siege of Petersburg I visited him three times - twice when I was wounded. Once, when I got out of the ambulance, he was standing near, talking to General Longstreet. When he saw me hobbling up to him on crutches, he came to meet me, introduced me to General Longstreet, and said, "Colonel, the only fault I have ever had to find with you is that you are always getting wounded." Such a speech from General Lee more than repaid me for my wound.

The last time I saw him during the war was about two months before the surrender. I had been wounded again. He was not only kind, but affectionate, and asked me to take dinner with him, though he said he hadn't much to eat. There was a leg of mutton on the table; he remarked that some of his staff officers must have stolen it.

After dinner, when we were alone, he talked very freely. He said that in the spring of 1862, Joe Johnston ought not to have fallen back from the Rapidan to Richmond, and that he had written urging him to turn against Washington. He also said that when Joe Johnston evacuated his lines at Yorktown, in May of that year, he should have given battle with his whole force on the isthmus at Williamsburg, instead of making a rear-guard fight.
(17) In 1867 John Singleton Mosby, was interviewed in the Philadelphia Post about the merits of the different generals in the Union Army during the American Civil War.
Whom do you consider the ablest General on the Federal side?" "McClellan, by all odds. I think he is the only man on the Federal side who could have organized the army as it was. Grant had, of course, more successes in the field in the latter part of the war, but Grant only came in to reap the benefits of McClellan's previous efforts. At the same time, I do not wish to disparage General Grant, for he has many abilities, but if Grant had commanded during the first years of the war, we would have gained our independence. Grant's policy of attacking would have been a blessing to us, for we lost more by inaction than we would have lost in battle. After the first Manassas the army took a sort of 'dry rot', and we lost more men by camp diseases than we would have by fighting."
Since the close of the war, I have come to know Colonel Mosby personally and somewhat intimately. He is a different man entirely from what I supposed. He is able and thoroughly honest and truthful.
(19) John Singleton Mosby, Memoirs of Colonel John S. Mosby (1887)
I first met General Grant in May, 1872, after Mr. Greeley had been nominated for the presidency by a convention whose members called themselves Liberal Republicans - although, as a matter of fact, many of them had been the most radical element of the party, but had seceded on account of personal grievances.

In common with most Southern soldiers, I had a very kindly feeling towards General Grant, not only on account of his magnanimous conduct at Appomattox, but also for his treatment of me at the close of hostilities. I had never called on him, however. If I had done so, and if he had received me even politely, we should both have been subjected to severe criticism, so bitter was the feeling between the sections at the time.

No doubt, in those days, most Northerners believed the imaginative stories of the war correspondents and supposed that my battalion fought under the black flag. General Grant was as much misunderstood in the South as I was in the North. But time has healed wounds which were once thought to be irremediable; and there is to-day no memory of our war so bitter, probably, as the Scottish recollection of Culloden. Like most Southern men, I had disapproved the reconstruction measures and was sore and very restive under military government; but since my prejudices have faded, I can now see that many things which we regarded as being prompted by hostile and vindictive motives were actually necessary, in order to prevent anarchy and to secure the freedom of the newly emancipated slave.

I had given little attention to politics and had devoted my time to my profession, although I was under no political disability. As we had all been opposed to the Republican party before the war, it was a point of honor to keep on voting that way.

When Horace Greeley was nominated, I saw - or thought I saw - that it was idle to divide longer upon issues which we acknowledged to have been legally, if not properly, settled; and that if the Southern people wanted reconciliation, as they said they did, the logical thing to do was to vote for Grant. I have not changed my opinion, nor yet have I any criticism to make of those who differed with me. We were all working for the same end. Some said they couldn't sacrifice their principles for Grant's friendship; I didn't sacrifice mine.