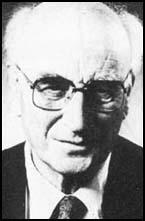 Peter Wright was born in Chesterfield in 1916. While at Bishop's Stortford College he met Dick White who was later to play an important role in his life. Wright worked in farming before joining the Admiralty's Research Laboratory during the Second World War.
After the war Wright was employed as a research scientist at Marconi. In 1953 he helped the CIA deal with small bugging devices that had been placed in the American embassy in Moscow.
In 1954 R. V. Jones suggested to Dick White, the head of MI5, that the organization needed a permanent scientist. Eventually it was agreed to employ Wright in this role. His work included the development of electronic surveillance that could be used against the Soviet Union. He was later to write "we bugged and burgled our way across London at the State's behest, while pompous bowler-hatted civil servants in Whitehall pretended to look the other way."
In 1959 Arthur Martin became head of D1 and became responsible for Soviet Counter Espionage. In this role he interviewed Anatoli Golitsin, the KGB officer who had defected to the CIA in December, 1961. Golitsin claimed that Donald Maclean, Guy Burgess and Kim Philby were members of a Ring of Five agents based in Britain.
Arthur Martin arranged for Kim Philby to be interviewed in Beirut by Nicholas Elliot. Comments by Philby in the interview convinced Martin that there was still a Soviet spy working at the centre of MI5. Martin eventually came to the conclusion that Director General Roger Hollis or his deputy, Graham Mitchell had been involved in Philby's spy ring.
Wright also carried out his own investigation into attempts by the KGB to penetrate MI5. Accusations had been made against Guy Liddell and Victor Rothschild. Wright became convinced that both men were innocent. However, like Martin he thought that Hollies and Mitchell could be Soviet spies.
Wright, Martin and Evelyn McBarnet now carried out an investigation into Roger Hollis and Graham Mitchell. They discovered documents that suggested Maxwell Knight had also thought that there was a Soviet mole inside MI5. In 1945 he had worked on the case of Igor Gouzenko, a Russian cipher clerk who defected to the Canadians. Gouzenko claimed that there was a spy code-named Elli inside MI5. Knight wrote: "if MI5 is penetrated I think it is most likely to be Roger Hollis or Graham Mitchell."
Wright took the view that Oleg Penkovsky was part of a deception operation that had been predicted by Anatoli Golitsin in 1961. Wright was highly suspicious of Penkovsky because he handed over a large number of original secret Soviet documents. This was extremely rare as spies normally made copies as otherwise the authorities would discover they were missing. Wright therefore decided that Penkovsky was in collusion with the KGB.
In 1964 Roger Hollis ordered the investigation into Graham Mitchell should be brought to an end. Arthur Martin protested by accusing Hollis of protecting Mitchell. Hollis was furious and took his revenge by replacing Martin with Ronald Symonds as head of DI (Investigations). Soon afterwards Martin was sacked from MI5. Wright now became convinced the real Soviet mole was Hollis. After carrying out further research into Hollis he discovered that while at university he became a close friend of Claude Cockburn, a suspected KGB agent. Although Hollis knew that MI5 had been investigating Cockburn for many years he had never revealed details of this relationship. Wright also found out that Hollis had been in contact with Agnes Smedley, another suspected Soviet agent, while he was in China.
Wright was also asked to investigate Michael Hanley in 1964. Defectors from the Soviet Union had given information about a Soviet agent who held a senior position in MI5. This included Michael Goleniewski who had defected in January 1961. These defectors claimed that this Soviet mole had been educated at Eton and Oxford University, had once worked at the Foreign Office and had been recruited while on a course at the Joint Services Language School at Cambridge. This information suggested that the agent was Hanley. However, after carrying out a thorough investigation, Wright came to the conclusion that Goleniewski was part of a disinformation campaign and Hanley was officially cleared of being a Soviet spy.
Wright also collected information about Harold Wilson. He suspected that he was not only a spy but had been involved in the death of Hugh Gaitskell in January, 1963. Wright was also concerned by several of Wilson's friends who were also under investigation by MI5.
In 1968 Wright was involved with Cecil King, the publisher of the Daily Mirror and a MI5 agent, in a plot to bring down Wilson's government and replace it with a coalition led by Lord Mountbatten.
When Harold Wilson returned to power in 1974 Wright once again became involved in a plot against the Labour government. It was suggested that MI5 files on Wilson should be leaked to the press. Eventually Victor Rothschild persuaded Wright not to take part in the conspiracy. Rothschild warned him that he was likely to get a caught and if that happened he would lose his job and pension.
Wright retired in 1976 and purchased a sheep ranch in Tasmania. He wrote his autobiography, Spycatcher, which claimed that Roger Hollis had been a Soviet double-agent and had been the fifth man in the spy ring that included Kim Philby, Guy Burgess, Donald Maclean and Anthony Blunt. Other allegations included attempts by MI6 to assassinate Gamal Abdel Nasser during the Suez Canal Crisis and a conspiracy by MI5 to overthrow the government of Harold Wilson between 1974 and 1976.
Margaret Thatcher attempted to suppress the publication and distribution of the book. This was unsuccessful and Spycatcher was published in 1987.
Peter Wright died in 1995.