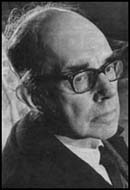 Claud Cockburn, the only son of Henry Cockburn, was born at the British embassy in Peking (Beijing) on 12th April 1904. His father was Chinese secretary in the diplomatic service and later consul-general in Korea. Claud was the great-grandson of Henry Cockburn, the famous Scottish lawyer.
In 1908 he was sent to Scotland with his Chinese nanny to be cared for by his grandmother. His father retired from the diplomatic service in 1909 and eventually settled near Tring, Hertfordshire. Cockburn was sent to Berkhamsted School where Charles Greene was headmaster. He became a close friend of the headmaster's son Graham Greene. According to Richard Ingrams, the boys "shared a liking for mischief-making and adventure stories, especially the yarns of John Buchan, in which brilliant but corrupted villains seek to overthrow the established order from within."
Cockburn went to Keble College where he associated with Evelyn Waugh and Harold Acton. He also did some teaching in his vacation. According to one of his students, Hugh Carleton Greene, he was the most brilliant teacher he ever encountered. Cockburn also edited the university newspaper, Isis. He obtained second classes in classical honour moderations (1924) and literae humaniores (1926).
In 1926 he won a travelling scholarship from Queen's College. He went to Berlin, where he was mentored by Norman Ebbutt, who worked for The Times. Ebbutt told him "you will write for the newspaper, and we will get as many pieces of yours in as we can, although naturally it will be necessary to pretend that I have sent them". While researching these articles he made important contacts, including Gustav Stresemann and Wolfgang zu Putlitz.