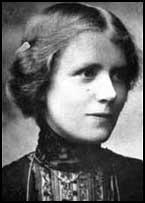 Ethel Annakin was born on 8th September 1881 at Pannal, near Harrogate, the daughter of Richard Annakin, a nonconformist building contractor, and his wife, Hannah Hymas.
Ethel went to Edge Hill College in Liverpool, to train as a teacher, where a radical preacher, Rev. C. F. Aked, converted her to Christian Socialism. In 1903 she moved to Leeds to take up a post as a schoolteacher and became a member of the Independent Labour Party (ILP) she was also active in the Temperance Society. At the ILP she met Mary Gawthorpe and Isabella Ford, and the three women formed a local branch of the Nation Union of Women's Suffrage Societies.
In 1904 Ethel met Philip Snowden at a Fabian Society meeting in Leeds. The couple were married the following year at Otley Register Office. The guests included Isabella Ford and Fred Jowett. Snowden, who had not previously supported votes for women, was persuaded by his wife's arguments, and over the next few years played an active role in the women's suffrage campaign.
As her biographer, June Hannam, has pointed out: "After her marriage Ethel Snowden resigned from teaching to concentrate on helping her husband's political career. She also continued to carry out propaganda for socialism and feminism, although the suffrage campaign increasingly became her main concern." As a member of the executive committee of the National Union of Women's Suffrage Societies Ethel Snowden lectured all over the country and also attended conferences in Europe organized by the International Women's Suffrage Alliance.
The Labour Leader described Ethel Snowden as a "second Annie Besant … to her good gifts of dark eyes, golden brown hair and rich colour, nature has added a sweet singing voice and musical ability of no mean order … she has won the affectionate regard of all those who have come into intimate acquaintance with her by her warm enthusiasm for the cause."
Philip Snowden, who had been trying to enter the House of Commons, was finally successful in the 1906 General Election when he was elected as the member for Blackburn. Over the next ten years, Snowden, who was a member of the Men's League For Women's Suffrage gave considerable support to the campaign for equal rights.
Ethel Snowden wrote several pamphlets on the subject of women where she advocated co-operative child-minding and state benefits for mothers. Snowden also wrote two important books on politics, The Woman Socialist (1907) and The Feminist Movement (1913). June Hannam has argued: "She (Snowden) argued that the state should assume major responsibility for the costs of childcare, including state salaries for mothers and advocated co-operative housekeeping and easier divorce. Influenced by the ideas of eugenicists she called for state control of marriage, believing that the mentally ill and those aged under twenty-six should not be able to marry."
Like her husband, Ethel was a pacifist and refused to support Britain's involvement in the First World War. They both joined the Union of Democratic Control (UDC). Other members included Arthur Ponsonby, J. A. Hobson, Charles Buxton, Frederick Pethick-Lawrence, Norman Angell, Arnold Rowntree, Philip Morrel, Morgan Philips Price, George Cadbury, Helena Swanwick, Fred Jowett, Ramsay MacDonald, Tom Johnston, Philip Snowden, Ethel Snowden, Arthur Henderson, David Kirkwood, William Anderson, Isabella Ford, H. H. Brailsford, Israel Zangwill, Bertrand Russell, Margaret Llewelyn Davies, Konni Zilliacus, Margaret Sackville, Olive Schreiner and Morgan Philips Price.
The Union of Democratic Control soon emerged at the most important of all the anti-war organizations in Britain and by 1915 had 300,000 members. Frederick Pethick-Lawrence explained the objectives of the UDC: "As its name implies, it was founded to insist that foreign policy should in future, equally with home policy, be subject to the popular will. The intention was that no commitments should be entered into without the peoples being fully informed and their approval obtained. By a natural transition, the objects of the Union came to include the formation of terms of a durable settlement, on the basis of which the war might be brought an an end."
In 1915 and Ethel Snowden became a member of the executive of the Women's International League. She made speeches all over Britain where she called for an early and just peace settlement. Inspired by the Russian Revolution Snowden joined with other socialists to establish the Women's Peace Crusade. She was both secretary and treasurer of the organization.
After the war Snowden continued in her campaign to achieve a successful peace settlement. She attended the International Congress of Women in Zürich in 1919. She was also a delegate to the Labour International at Bern in February and to the League of Nations conference in March 1919.
Ethel Snowden made many enemies in the Labour Party. She had been very critical of those members who were unwilling to give their full support to women's suffrage. Snowden visited Russia and upset a large number of party members with her report entitled Through Bolshevik Russia (1920) that was highly critical of Lenin and the Bolshevik government. This especially upset Beatrice Webb, who had welcomed the Russian Revolution. She claimed that Snowden was no longer a socialist and was upset when she was elected to the National Executive. Webb wrote in her diary that "she (Ethel Snowden) is a climber of the worst description, refusing to associate with the rank-and-file and plebeian elements in the Labour Party."
Ethel Snowden was invited to stand for one the Leicester constituencies in the 1922 General Election, but she decided to devote her energies to help Philip Snowden win his seat at Colne Valley and to concentrate on her work for world peace.
In 1926 Ethel was made a member of the BBC Board of Governors where she clashed with the Director General, John Reith, who wrote in his diary: "What a poisonous creature she is". Reith's biographer, Ian McIntyre argues in The Expense of Glory: Life of John Reith (1993) that she was "fearsome when crossed, with an unerring knack of squeezing the last drop of drama out of the most trivial incident". In 1932 Ethel was not reappointed to the BBC and this marked the end of her public career.
In 1947 Ethel Snowden suffered a stroke and was confined to a nursing home, and she died of a second stroke on 22nd February 1951 at 28 Lingfield Road, Wimbledon.
I first met my wife at a Fabian meeting in Leeds. Our wedding took place at Otley-in-Wharfdale on 13th March 1905. We were married quietly and without advertisement, because it had come to our knowledge that the West Riding Socialists, who were expecting the wedding to take place, were preparing to turn it into a Socialist demonstration. There were present at the wedding my wife's sister, Isabella and Bessie Ford, my cousin and boyhood friend John A. Whitaker of Bradford, and my close Socialist comrade Fred Jowett.
The privilege of helping women to win the vote is one that I now look back upon with pride and satisfaction. About the beginning of this century the Woman Suffrage Movement suddenly sprang into great activity. The women textile workers of Lancashire and Yorkshire had been roused to a knowledge of poverty of their labour conditions. This awakening was due in a large measure to the rise of the Labour Party, which was carrying on at this time a vigorous propaganda for political action amongst trade unionists. The women of the unions were called upon to contribute to the political funds, but had not votes themselves. The absurdity of this soon struck them.
Now that an equal Franchise Bill has become an Act of Parliament I am writing a few lines to convey to you the deep gratitude of the societies with which I am connected for the invaluable support you have given us all along. It was largely your influence that made the Labour Party definitely a supporter of woman suffrage. That was a very great step in advance for us. When I am thinking of you I am thinking of your wife and of dear Isabella Ford and I am thanking them both. Bless you all for all you have done for women's freedom.