William (Bill) Shankly, the son of John and Barbara Shankly, was born at the mining village of Glenbuck in Scotland on 2nd September, 1913. Bill had four brothers (John, Bob, Jimmy and Alec) and five sisters (Netta, Elizabeth, Isobel, Barbara and Jean).
Although most of the men living in the village worked as miners, John Shankly was a tailor. People living in Glenbuck were strong trade unionists and during his youth Bill Shankly developed socialist beliefs. "The socialism I believe in is not really politics. It is a way of living. It is humanity. I believe the only way to live and to be truly successful is by collective effort, with everyone working for each other, everyone helping each other, and everyone having a share of the rewards at the end of the day."
Bill Shankly's mother was very interested in football. Her two brothers, Robert Blyth and and William Blyth, both moved to England to play professional football. Both became involved in the administration of football with Robert being appointed chairman of Portsmouth and William was director of Carlisle United for many years.
Bill Shankly attended the local village school: "We played football in the playground, of course, and sometimes we got a game with another school, but we never had an organized school team. It was too small a school. If we played another school we managed to get some kind of strip together, but we played in our shoes."
Bill Shankly - Glenbuck Colliery
Bill Shankly left school at 14 and like the other boys in the village went to work at the Glenbuck Colliery. As he later recalled: "My wages would be no more than two shillings and sixpence a day. My job was to empty the trucks when they came up full of coal and send them back down the pit again and to sort out the stones from the coal on a conveyer-belt... After about six months working at the pit top, a job that was active but not heavy, I went down to the pit bottom. The coal mines and pits were the first places to have electricity, before people had it in their houses, and the pit was like Piccadilly Circus. First I would shift full trucks and put them into the cages and then take out the empty trucks and run them along to where they were loaded."
Shankly played junior football for for Cronberry Eglinton. In 1932 a scout working for Carlisle United, saw Shankly play and arranged for him to join the club. Like his four brothers, John Shankly, Bob Shankly, Jimmy Shankly and Alec Shankly, Bill was now a professional footballer. As he later pointed out in his autobiography, Shankly: "All the boys became professional footballers and once, when we were all at our peaks, we could have beaten any five brothers in the world." In fact, despite only having a population of less than a 1,000 people, the village produced near fifty professional footballers in a sixty year period.
Bill Shankly was transferred to Preston North End for £500 in 1933. A teetotaler, non-smoker and fitness fanatic, this very energetic 20 year old, formed a great partnership with former English international, Robert Kelly. In the 1933-34 season Kelly and Shankly helped the club win promotion to the First Division.
Kelly, now aged 41, was considered too old for First Division football and was allowed to become player manager at Carlisle United. Preston signed another veteran, Ted Critchley, to replace Kelly. Other players brought in that year included Jimmy Maxwell (Kilmarnock) and Jimmy Dougal (Falkirk). In the 1934-35 season Preston finished 11th in the league. Maxwell, who played at centre-forward, was the club's leading scorer with 26 league and cup goals.
The following season Preston North End persuaded the Scottish international, Tom Smith, to join the club. Other signings that year included the brothers, Hugh O'Donnell and Francis O'Donnell, from Celtic.
In the 1935-36 season, Preston finished 7th in the league. Jimmy Maxwell was again top scorer with 19 goals in all competitions. Shankly, a powerful wing half, had emerged as the most important player in the team. He rarely missed a game and helped Preston North End reach the 1937 FA Cup Final against Sunderland at Wembley. Francis O'Donnell scored in the first-half but with Raich Carter in top form, Sunderland responded by scoring three in reply.
At the beginning of the next season, Preston made two important signings. In September, 1937, Preston purchased the high scoring George Mutch, from Manchester United for £5,000. The following month, Robert Beattie a skillful inside forward, arrived from Kilmarnock for a fee of £2,500. They joined fellow Scotsmen, Bill Shankly, Jimmy Dougal, Andrew Beattie, Jimmy Maxwell, Tom Smith, Hugh O'Donnell, Francis O'Donnell and Andrew McLaren.
In the 1937-38 season Preston North End (49 points) finished 3rd in the First Division of the Football League behind Arsenal (52) and Wolverhampton Wanderers (51). Preston also had another successful run in the 1937-38 FA Cup. Preston beat West Ham United in the 3rd round with George Mutch scored a hat trick. Mutch also scored goals in the 4th round against Leicester City and in the semi-final when Preston beat Aston Villa 2-1.
In the FA Cup Final Preston played Huddersfield Town. This was the first time that a whole match was shown live on television. Even so, far more people watched the game in the stadium as only around 10,000 people at the time owned television sets. No goals were scored during the first 90 minutes and so extra-time was played. In the last minute of extra-time, Bill Shankly put George Mutch through on goal. Alf Young, Huddersfield's centre-half, brought him down from behind and the referee had no hesitation in pointing to the penalty spot. Mutch was injured in the tackle but after receiving treatment he got up and scored via the crossbar. It was the only goal in the game and Shankly won a cup winners' medal.
Shankly had a magnificent season and on 9th April, 1938 he won his first international cap when he played for Scotland against England at Wembley. Also in the Scottish team were Preston colleagues, George Mutch, Andrew Beattie, Tom Smith and Francis O'Donnell. Scotland won 1-0 with Mutch scoring the only goal of the game. Later that season, two other Preston players, Jimmy Dougal and Robert Beattie, were called up to play for Scotland.
Shankly also played for Scotland against Northern Ireland (October, 1938), Wales (November, 1938), Hungary (December, 1938) and England (April, 1939). Shankly's international career was interrupted by the outbreak of the Second World War. Games in the Football League were brought to an end as the government imposed a fifty mile travelling limit. However, the clubs were divided into seven regional areas where games could take place. In the 1940-1941 season Preston North End needed to win their last game against Liverpool to win the North Regional League title. The nineteen year old Andrew McLaren scored all six goals in the 6-1 victory.
Preston North End also took part in the 1941 Football League War Cup. The teenage Andrew McLaren scored five of the goals in Preston's 12-1 victory over Tranmere. He also scored a hat-trick in the fourth-round tie against Manchester City. Preston reached the final by beating Newcastle United 2-0. The Preston team that faced Arsenal at Wembley on 31st May was: Jack Fairbrother, Frank Gallimore, William Scott, Bill Shankly, Tom Smith, Andrew Beattie, Tom Finney, Andrew McLaren, Jimmy Dougal, Robert Beattie and Hugh O'Donnell.
The game took place in front of a 60,000 crowd. Arsenal was awarded a penalty after only three minutes but Leslie Compton hit the foot of the post with the spot kick. Soon afterwards Andrew McLaren scored from a pass from Tom Finney. Preston dominated the rest of the match but Dennis Compton managed to get the equaliser just before the end of full-time.
The replay took place at Ewood Park, the ground of Blackburn Rovers. The first goal was as a result of a move that included Tom Finney and Jimmy Dougal before Robert Beattie put the ball in the net. Frank Gallimore put through his own goal but from the next attack, Beattie scored again. It was the final goal of the game and Preston ended up the winners of the cup.
Bill Shankly retired from playing football in 1948. During his time at Preston North End he scored 14 goals in 337 league and cup games. This included a record 43 successive FA Cup ties.
Shankly became the coach of Preston's reserve team but in March, 1949 he agreed to become manager of Carlisle United. The club finished 3rd in the Third Division (North) league in 1950-51. Carlisle had little money to spend and in 1951 he resigned complaining about a lack of resources. It was a similar story at Grimsby Town (1951-54) and Workington (1954-55).
In 1956 Shankly became assistant manager under Andrew Beattie at Huddersfield Town, a club that had just been relegated from the First Division of the Football League. Soon after joining the club, Shankly signed the 15 year old Dennis Law. Over the next three years Shankly was involved in keeping Law at the club. This included an offer of £45,000 from Everton.
Shankly did not manage to get Huddersfield Town back into the First Division finishing 12th (1956-57), 9th (1957-58) and 14th (1958-59). In December 1959, Shankly became manager of Liverpool, another Second Division club trying to get promotion to the top league. Shankly got them into 3rd place in 1959-60. He repeated this in 1960-61, but the following year won the championship with 62 points.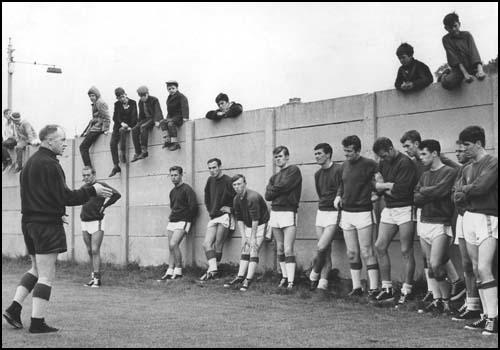 Wilf Mannion was a great advocate of Shankly's man-management: "What I like about Bill is that he never panics. Even when things weren't going so well, he stuck to the same team and gave them a chance to settle down. 'Panic and all is lost,' is one of the Shankly maxims. Everything Bill does is done to plan. Even training is scheduled to a strict timetable. But that doesn't make him a strict disciplinarian. Far from it. He is one of the easiest-going characters I have met. Ask the players. He's always 'Bill' to them. There's no 'Mr' or 'Boss' when he's around. 'Let the players regard you as an equal,' says Bill, 'and you gain just as much respect.' I couldn't agree more."
Liverpool finished in a respectable 8th place in their first season back in the First Division. The following season (1963-64) they won the league with their arch-rivals, Everton, finishing in 3rd place. Over the next ten years Liverpool won the league on two more occasions: 1965-66 and 1972-73. They also won the FA Cup in 1974.
Shankly remained interested in politics and once said: "The socialism I believe in is everybody working for the same goal and everybody having a share in the rewards. That's how I see football, that's how I see life."
In July, 1974, Shankly, now 60 years old, decided to retire. He later commented: "It was the most difficult thing in the world, when I went to tell the chairman. It was like walking to the electric chair." He was replaced by Bob Paisley. Soon after he retired Shankly was awarded the OBE.
Bill Shankly died of a heart attack on 28th September, 1981.