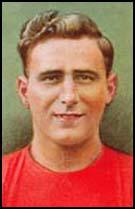 George Mutch was born at Ferryhill, Scotland, on 21st September, 1912. An inside-right, Mutch played for Arbroath in the Scottish League before joining Manchester United in 1934. At the time the club was struggling at the bottom of the Second Division of the Football League.
Mutch was a great success at Manchester United and was leading scorer in the 1935-36 season. He repeated the feat the following year when he helped the club win the Second Division title. Mutch had scored 48 goals in 112 games for the club.
In September, 1937, Mutch was transferred to Preston North End for £5,000. Mutch was an immediate success and the following month he scored two goals in Preston's victory over Everton. He also scored a hat trick when Preston beat West Ham United in the 3rd round of the FA Cup. Mutch also scored goals in the 4th round against Leicester City and in the semi-final when Preston beat Aston Villa 2-1.
In the 1938 FA Cup Final Preston played Huddersfield Town. This was the first time that a whole match was shown live on television. Even so, far more people watched the game in the stadium as only around 10,000 people at the time owned television sets. No goals were scored during the first 90 minutes and so extra-time was played. In the last minute of extra-time, Bill Shankly put George Mutch through on goal. Alf Young, Huddersfield's centre-half, brought him down from behind and the referee had no hesitation in pointing to the penalty spot. Mutch was injured in the tackle but after receiving treatment he got up and scored via the crossbar. It was the only goal in the game.
Mutch's form for Preston North End was so good that he was selected to play for Scotland against England in April 1938. Also in the Scottish team were Preston colleagues, Bill Shankly, Andrew Beattie, Tom Smith and Francis O'Donnell. Scotland won 1-0 with Mutch scoring the only goal of the game. Despite his good performance, he did not win anymore international caps.
Mutch's Preston career was interrupted by the Second World War. By the time he left the club in 1946 he had scored 24 goals in 83 games. Mutch also played for Bury (1946-47) and Southport (1947-48) before retiring from the game.
George Mutch died in 2001.