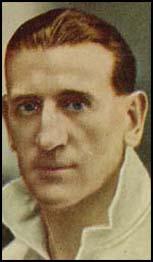 Robert Kelly was born in Ashton-in-Makerfield on 16th November, 1893. Kelly became a miner after leaving school. He also played football for local club, Ashton Central, before joining Earlstown Rovers in the Liverpool County League. He also briefly played for St Helens Town.
At the age of 19, Kelly left the mines and signed to play professional football with Burnley. In his first season he helped his club finish 4th in the First Division of the Football League. His career was interrupted by the First World War.
In the first season after the war, Burnley finished second to West Bromwich Albion in the league. Kelly, who played at inside or outside right, won his first international cap for England against Scotland in April, 1920. He scored twice in England's 5-4 victory.
Kelly played in 27 of his club's run of 30 undefeated league matches in 1920-21. That year Burnley won the First Division league title.
Kelly was a successful striker with Burnley and scored 88 goals in 277 games for his club. In December 1925 Sunderland paid a record fee of £6,550 for Kelly. That year Sunderland finished in 3rd place in the league.
In 1926 Kelly joined Huddersfield Town. In his first season the team finished second to Newcastle United in the league. The following year the club finished second to Everton. Huddersfield was also beaten 3-1 in the FA Cup Final by Blackburn Rovers. Kelly also won a loser's medal in the 1930 final against Arsenal.
Kelly played in the England team that was defeated 4-1 by Scotland in March, 1928. Now aged 35, Kelly was never again picked for his country. All told, he had scored 7 goals in 14 games.
Kelly, now aged 39, left Huddersfield Town in 1932. He had scored 37 goals in 186 games for the club. Kelly joined Preston North End in the Second Division. In the 1933-34 season he helped the club win promotion to the First Division.
It was considered that Kelly, now aged 41, was too old for the First Division and he spent the last season as a footballer playing for Carlisle United.
Kelly managed Stockport County and Barry Town. After the Second World War Kelly coached in Portugal, Switzerland and the Channel Islands.
Robert Kelly died in 1969.