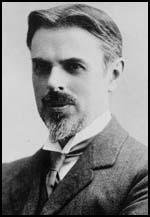 Laurence Housman was born in Bromsgrove, Worcestershire, on 18th July, 1865. His father, Edward Housman (1831–1894), was a solicitor who held very conservative views. His mother died when he was only five years old, leaving five sons (Laurence, Alfred Edward Housman, Robert, Basil, and Herbert) and two daughters (Clemence and Kate) in their father's care.
Laurence studied art at the Lambeth School of Art and the Royal College of Art. A talented illustrator, his work was exhibited at the Baillie Gallery, the Fine Art Society, and the New English Art Club. His best known work includes Goblin Market (1893) and The Sensitive Plant (1898). He also published two volumes of poetry, Green Arras (1896) and Spikenard (1898). In 1900 he created great controversy when he published An Englishwoman's Love Letters. It was very successful and it is claimed he received over £2,000 in royalties. During this period he also worked as an art critic for the Manchester Guardian.
In 1906 Housman joined Harley Granville-Barker to produce a play, Prunella. A committed socialist and pacifist, in 1907, he joined with Henry Nevinson and Henry Brailsford to form the Men's League for Women's Suffrage. He became friends with Edith Craig and she produced his play, Pains and Penalties, about Queen Caroline, wife to George IV.
His biographer, Katharine Cockin has pointed out that "Laurence and Clemence Housman moved to 1 Pembroke Cottages, Edwardes Square, Kensington, London.... This became the headquarters of the Suffrage Atelier, a society which produced banners and artwork for the movement. Housman took part in the Hyde Park demonstration of 1908. Clemence Housman was imprisoned in October 1911 during another campaign of passive resistance in support of women's enfranchisement: tax resistance. Housman was disgusted by the sexual discrimination in favour of male supporters of women's suffrage, as his arrest for protesting against the forcible feeding of hunger-striking suffragists, unlike that of the female protesters, did not result in imprisonment."
In July 1910 he collaborated with Edith Craig on the design of one section of a Women's Social and Political Union (WSPU) demonstration. However he split with the WSPU over its arson campaign and he worked with the non-violent Women's Freedom League and wrote for its newspaper, The Vote.
On 6th February 1914 a group of supporters of women's suffrage, who were disillusioned by the lack of success of the National Union of Women's Suffrage Societies and disapproved of the militant tactics of the WSPU decided to form the United Suffragists movement. Membership was open to both men and women, militants and non-militants. Members included Houseman, Henry Harben, Emmeline Pethick-Lawrence, Frederick Pethick-Lawrence, Evelyn Sharp, Mary Neal, Henry Nevinson, Margaret Nevinson, Hertha Ayrton, Barbara Ayrton Gould, Gerald Gould, Israel Zangwill, Edith Zangwill, Lena Ashwell, Louisa Garrett Anderson, Eveline Haverfield, Maud Arncliffe Sennett, John Scurr and Julia Scurr.
During the First World War he worked closely with Sylvia Pankhurst and wrote for her newspaper, The Workers' Dreadnought. In 1916 he visited the United States on a lecture tour in support of the League of Nations. He was also a member of the British Society for the Study of Sex Psychology and the Independent Labour Party.
After his eyesight began to fail he turned to writing books and plays, including Angels and Ministers (1921), Little Plays of St. Francis (1922) and Victoria Regina (1937). His autobiography, The Unexpected Years, appeared in 1937. Katharine Cockin argues that the book "is of interest in its representations of his upbringing, and the cultural and political milieu of his times in London, but reticent on his homosexuality".
Houseman was a strong supporter of the Peace Pledge Union. In 1945 the organization opened Housmans Bookshop in Shaftesbury Avenue, London, and it became a major source of literature on pacifism.
Clemence Housman's death in 1955 left Laurence depressed over the loss of his long-term companion. Laurence Housman died on 20th February 1959 in Butleigh Hospital in Glastonbury, Somerset.