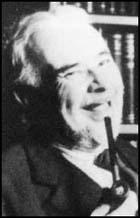 Cyril Edwin Mitchinson Joad, the son of Edwin Joad, a university lecturer,was born in Durham on 12th August, 1891. His father became a school inspector and moved the family to Southampton. Cyril attended the Dragon School, Oxford, and Blundell's School, Tiverton, before entering Balliol College, in 1910, to study philosophy.
Joad later recalled: "Whatever they had to teach me I had assimilated. Admittedly I had learned nothing for myself; but then I had never been encouraged to think that learning for one-self was either possible or desirable. As a result I went up to Oxford ignorant of the major events that have determined the history of the Western world and made our civilization what it is."
According to Jason Tomes: "Greek philosophy fascinated Joad, whose enthusiasm for Plato and Aristotle led not only to a first in literae humaniores (1914) but also to a contemporary brand of radical positivism." Joad was also influenced by the socialist ideas of G. D. H. Cole, H. G. Wells and George Bernard Shaw and in 1912 he joined the Fabian Society. Joad argued that "Shaw became for me a kind of god. I considered that he was not only the greatest English writer of his time (I still think that), but the greatest English writer of all time (and I am not sure that I don't still think that too)."
In his autobiography, Under the Fifth Rib (1932), Joad wrote: "The dominating interest of my University career, an interest which has largely shaped my subsequent outlook on life, was Socialism. And my Socialism was by no means the mere undergraduate pose which what I have said hitherto may have suggested. Admittedly I and my Socialist contemporaries talked a good deal of inflated nonsense; admittedly we played with theories as a child plays with toys from sheer intellectual exuberance. But we also did a considerable amount of hard thinking."
Joad was especially impressed by the writings of G. D. H. Cole. "Cole's Socialism in those days-for all I know, it has been so ever since - was what it is customary to call Left Wing. Already he was finding the Fabian Society timid and slow; soon he was to break away from it and become, with S. G. Hobson, the joint originator of Guild Socialism. Meanwhile he advocated a new militancy in labour disputes, urged that workers should strike in and out of season."
Joad was also a supporter of women's suffrage and he joined the Men's Political Union for Women's Suffrage. He later recalled: "I hobnobbed with emancipated feminists who smoked cigarettes on principle, drank Russian tea and talked with an assured and deliberate frankness of sex and of their own sex experiences, and won my spurs for the movement by breaking windows in Oxford Street for which I spent one night in custody."
Joad left Oxford University in the summer of 1914. "I left Oxford a revolutionary Socialist, convinced that our social arrangements were contemptible, that they were not so of necessity but could be improved, but that nothing short of a change in the economic structure of Society would improve them. Such a change, I considered, would inevitably involve violence and in all probability an armed conflict between classes. This conflict, therefore, I believed - I suppose that I must have believed it; it seems incredible enough to me now - desirable."
In 1914 he found employment in the labour exchanges department of the Board of Trade and talked about "infusing the civil service with a socialist ethos". By this time he had become a pacifist and on the outbreak of the First World War he joined the No-Conscription Fellowship (NCF), an organisation formed by Clifford Allen and Fenner Brockway, that encouraged men to refuse war service. Joad later recalled: "When the war came, I never for a moment thought of it as other than a gigantic piece of criminal folly; the nation, I considered, had simply gone mad, and it was incumbent upon a wise man to stay quiet until the fit had passed. Never for a moment did it occur to me that it was my duty to participate in the madness by learning to fight. On the contrary, I thought that I ought to do whatever I could to avoid being implicated. I was, therefore, a potential conscientious objector from the first, my objection being based not on religious grounds but on a natural reluctance on the part of a would-be rational and intelligent individual to participate in an orgy of public madness."
The No-Conscription Fellowship required its members to "refuse from conscientious motives to bear arms because they consider human life to be sacred." The group received support from public figures such as Bertrand Russell, Philip Snowden, Bruce Glasier, Robert Smillie, C. H. Norman, William Mellor, Arthur Ponsonby, Guy Aldred, Alfred Salter, Duncan Grant, Wilfred Wellock, Maude Royden, Max Plowman and Rev. John Clifford.
As Martin Ceadel, the author of Pacifism in Britain 1914-1945 (1980) has pointed out: "Joad's similarly acute aversion to suffering can be linked to the (heterosexual) hedonism and love of sensual pleasure for which he was notorious. Highly gifted, but restless and opportunistic, he was a puckish and lightweight amalgam of Bertrand Russell (who believed Joad plagiarized his ideas) and H. G. Wells, tending to the former's iconoclastic optimism rather than to the latter's Olympian seriousness."
Joad married Mary White in 1915 and moved to Westhumble, near Dorking. Over the next few years she gave birth to a son and two daughters. Joad joined the Independent Labour Party and contributed book reviews and articles to left-wing journals, such as the Daily Herald and New Statesman. He also wrote two books on philosophy, Common Sense Ethics (1921) and Common Sense Theology (1922). Jason Tomes has argued: "Joad declared Christianity moribund and rejoiced that clergymen would be extinct by 1960. Unreason in every shape was his foe: superstition, romanticism, psychoanalysis, and also outmoded social convention... What reforms did reason require? Easier divorce and birth control, legalized abortion and sodomy, an end to Sunday trading laws and performing animals, sterilization of the feeble-minded, total disarmament, and less frequent baths."
Joad left his wife in 1921 and moved to Hampstead in London with a student teacher named Marjorie Thomson. This was the first of many mistresses. His biographer has pointed out: "Sexual desire, he opined, resembled a buzzing bluebottle that needed to be swatted promptly before it distracted a man of intellect from higher things... Female minds lacked objectivity; he had no interest in talking to women who would not go to bed with him. A surprising number would - notwithstanding his increasingly gnome - like appearance. Joad was short and rotund, with bright little eyes, round, rosy cheeks, and a stiff, bristly beard. He dressed in old tweeds of great shabbiness as a test: anyone who sneered at his clothing was too petty to merit acquaintance."
In 1925 Joad was expelled from the Fabian Society for sexual misbehaviour during a summer school he was attending. He admitted in his autobiography, Under the Fifth Rib (1932): "I started my adult life, as I have recounted, with such high hopes of women, that the process of disillusionment has left a bitterness behind. If I was never sentimental enough to expect women to be soul mates, at least I thought to treat them as intellectual equals. It was a shock to find that the equality had been imposed by myself upon unequals who resented it. If only women could have remained at the silent-film stage, all would have been well; but the invention of talking has been as disastrous in women as it has in the cinema."
Joad remained a socialist and went to visit the Soviet Union in 1930. "There were no rich and in the towns no poor; all citizens were living on incomes ranging from about, £100 to £200 a year. What is more, the Bolsheviks had succeeded in establishing a society in which the possession of money had been abolished as a criterion of social value. The effects were far-reaching, and, so far as I could see, entirely beneficial. The snobbery of wealth, which is so important a factor in the social life of Anglo-Saxon communities, was absent. There was no ostentation and no display, and the contemporary fat man, complete with fur coat, white waistcoat, champagne and cigars, was missing. It was only when one returned to England that one realized by contrast the vulgarity of wealth... The Russians, admittedly, are poor and live badly, but the sting is removed from poverty if it is not outraged by the continual spectacle of others' wealth. I cannot believe that complete equality of income would not produce similar effects here, and, if snobbery and vulgarity were eliminated from English society, the gain would be incalculable." However, as a pacifist he rejected the idea of violent revolution.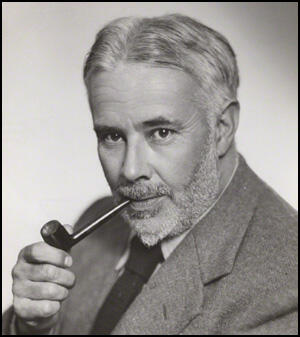 In 1930 Joad obtained the post of head of philosophy at Birkbeck College. Joad retained an interest in politics and impressed with the views of Oswald Mosley he joined his New Party. In 1932 Joad set up the Federation of Progressive Societies and Individuals (FPSI). According to Martin Ceadel, the organisation was "an attempt - with the master's blessing - to implement the Wellsian vision of an enlightened elite of intellectuals uniting to plan rational solutions for the problems of the world."
In January 1932 Mosley met Benito Mussolini in Italy. Mosley was impressed by Mussolini's achievements and when he returned to England he disbanded the New Party and replaced it with the British Union of Fascists. Joad was horrified with Mosley's move towards fascism and along with John Strachey refused to join the BUF.
Joad remained a pacifist and was a member the of the National Peace Council, No More War, the National Civil Liberties Union and the Next Five Years Group. On 9th February 1933 he persuaded the Oxford Union to resolve by 275 votes to 153 "That this house will under no circumstances fight for its King and Country".
With his books, Guide to Modern Thought (1933) and Guide to Philosophy (1936), Joad became Britain's most popular philosopher. He remained a pacifist and he wrote a pamphlet during this period entitled What Fighting Means about the First World War: "Men were burned and tortured; they were impaled, blinded, disembowelled, blown to fragments; they hung shrieking for days and nights on barbed wire with their insides protruding, praying for a chance bullet to put an end to their agony; their faces were blown away and they continued to live."
Joad had a terrible fear of the growth of fascism in Europe and was a supporter of the Popular Front government in Spain during the Spanish Civil War. He joined with Emma Goldman, Rebecca West, Sybil Thorndyke and Fenner Brockway to establish the Committee to Aid Homeless Spanish Women and Children.
Joad was deeply shocked by the way the West had allowed Adolf Hitler and Benito Mussolini to help Francisco Franco gain power in Spain. He abandoned his pacifism as he felt it was contributing to the inevitability of war. As his old friend Fenner Brockway pointed out: "There is no doubt that the society resulting from an anarchist victory (during the Spanish Civil War) would have far greater liberty and equality than the society resulting from a fascist victory. Thus I came to see that it is not the amount of violence used which determines good or evil results, but the ideas, the sense of human values, and above all the social forces behind its use. With this realisation, although my nature revolted against the killing of human beings just as did the nature of those Catalonian peasants, the fundamental basis of my old philosophy disappeared."
On the outbreak of the Second World War he offered his services to the Ministry of Information. This idea was rejected but in January 1941, Joad became a member of the panel of the BBC radio programme The Brains Trust. The programme was a great success and Joad became a well-known public figure. His favourite expression, "It depends what you mean by..." became a popular catch-phrase. However, the Conservative Party complained about his "socialistic" answers.
After the war he purchased a farm in Hampshire. He rejoined the Labour Party but lost a by-election for the Combined Scottish Universities in 1946. Joad continued to write and blamed President Harry Truman for the Cold War and the nuclear arms race.
On 12th April 1948, Joad was convicted of "unlawfully travelling on the railway without having previously paid his fare and with intent to avoid payment." He was fined £2 but as a result of the conviction he was sacked from The Brains Trust team. He was also told that he had lost all chance of gaining a peerage.
Joad was now in poor health and was confined to bed. In 1952 he published The Recovery of Belief. In the book he endorsed Christianity and the Anglican Church. He died of cancer at his home, 4 East Heath Road, Hampstead, London, on 9th April 1953. As Jason Tomes has pointed out: "Cyril Joad was an outstanding educator, a tireless proponent of progressive causes, and one of the best-known broadcasters of the 1940s. His religious conversion alienated radical agnostics who might otherwise have kept his reputation alive."