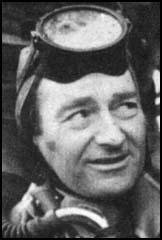 Lionel (Buster) Crabb, the son of Hugh Alexander Crabb and his wife, Beatrice Goodall, was born in Streatham, London, on 28th January 1909. His father was a commercial traveller for a firm of photographic merchants. According to his biographer, Richard Compton-Hall, "little is known about Crabby or Buster Crabb's early life save that it was modestly commercial." (1)
Lionel Crabb earned his nickname from the Hollywood actor, athlete and pin-up Buster Crabbe, who had played Flash Gordon in the film series and won a gold medal for swimming at the 1932 Olympic Games. "In almost every way, the English Buster Crabb was entirely unlike his namesake, being English, tiny, and a poor swimmer (without flippers, he could barely complete three lengths of a swimming pool). With his long nose, bright eyes and miniature frame, he might have been an aquatic garden gnome." (2)
He worked in a variety of jobs and eventually joined the Merchant Navy. On the outbreak of the Second World War he transferred to the Royal Navy where he was trained as a diver. In 1940 he volunteered for bomb disposal duties. In 1942 he was sent to Gibraltar, to take part in the underwater battle around the Rock, where Italian frogmen, using rnanned torpedoes and limpet mines, were sinking thousands of tons of Allied shipping. Crabb and his fellow divers set out to stop them, with remarkable success, blowing up enemy divers with depth charges, intercepting torpedoes and peeling mines off the hulls of ships. "Despite his nickname, Commander Lionel Kenneth ("Buster") Crabb was no great shakes as a surface swimmer; but given a pair of rubber flippers, some goggles and an oxygen tank, he was at home in the murky depths. In 1942 when Italian divers were busily attaching lethal limpet mines to the bottoms of Royal Navy ships at anchor off Gibraltar, Buster Crabb was even busier at the far more dangerous job of removing them." (3) Nicholas Elliott worked with Crabb during the war, and considered him "a most engaging man of the highest integrity... as well as being the best frogman in the country, probably in the world". (4)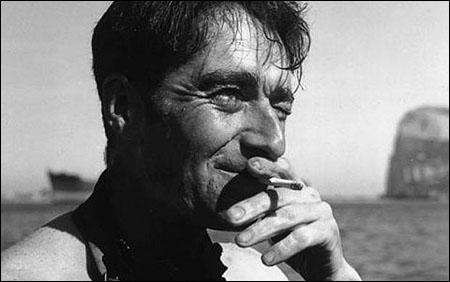 In 1945 Crabb cleared mines from the ports of Venice and Livorno, and when the militant Zionist group Irgun began attacking British ships with underwater explosives, he was called in to defuse them. This was an extremely dangerous job, but Crabb survived and in 1947 awarded the George Medal for "undaunted devotion to duty" and the OBE. Crabb also investigated a suitable discharge site for a pipe from the atomic weapons station at Aldermaston. Crabbe later returned to the Royal Navy and after helping rescue men trapped in a submarine, and was promoted to the rank of commander in 1952. Buster Crabb married Margaret Elaine on 15th March 1952. The couple separated in 1953.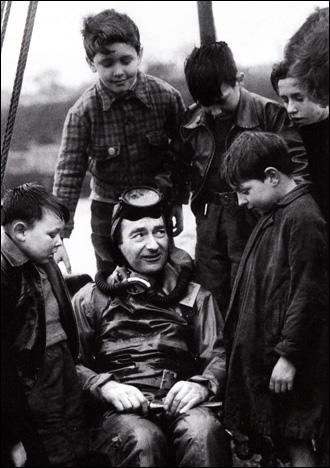 In March 1955 Buster Crabb was forced to leave the navy on age grounds. According to Ben Macintyre: "He cut a remarkable figure in civilian life, wearing beige tweeds, a monocle and a pork pie hat, and carrying a Spanish swordstick with a silver knob carved into the shape of a crab. But there was another, darker side... Crabb suffered from deep depressions, and had a weakness for gambling, alcohol and barmaids. When taking a woman out to dinner he liked to dress up in his frogman outfit; unsurprisingly, this seldom had the desired effect, and his emotional life was a mess. In 1956 he was in the process of getting divorced after a marriage that had lasted only a few months. He worked, variously, as a model, undertaker and art salesman, but like many men who had seen vivid wartime action, he found peace a pallid disappointment. (5)
Visit of Nikita Khrushchev
In April 1956, the Soviet leaders, Nikita Khrushchev and Nikolai Bulganin paid a visit on the battleship Ordzhonikidz, docking at Portsmouth. The visit was designed to improve Anglo-Soviet relations. Sir Anthony Eden, the prime minister, who had high hopes of establishing better relations and moderating the Cold War issued a precise directive to all services banning any intelligence operation of any kind against the Soviet leaders and the ship. (6)
The MI6 London station - run by Nicholas Elliott - decided that the visit was too good an opportunity to miss and ten days beforehand put up a list of six operations to MI6's Foreign Office adviser. "The Admiralty had been particularly keen to understand the underwater-noise characteristics of the Soviet vessels. The placing of a Foreign Office adviser inside MI6 was part of a drive to put the service on a somewhat tighter leash, but when an MI6 officer ambled into his office for a ten-minute chat about the plans, the adviser came away thinking they would then be cleared at a higher level (as some sensitive operations were) while Elliott and his colleagues assumed that the quick conversation constituted clearance." (7) When Eden heard about it he told MI6: "I am sorry, but we cannot do anything of this kind on this occasion." Elliott would later insist that the "operation was mounted after receiving a written assurance of the Navy's interest and in the firm belief that government clearance had been given". (8) Elliott also argued: "We don't have a chain of command. We work like a club." (9)
MI5 decided to bug the rooms at Claridge's Hotel that had been taken over by the Soviet delegation. The operation was a failure: "We listened to Khrushchev for hours at a time, hoping for pearls to drop. But there were no clues to the last days of Stalin, or to the fate of the KGB henchman Beria. Instead, there were long monologues from Khrushchev addressed to his valet on the subject of his attire. He was an extraordinary vain man. He stood in front of the mirror preening himself four hours at a time, and fussing with his hair parting." (10)
On 16th April 1956, the day before the cruiser was due to arrive, Crabb and Bernard Smith, his MI6 minder, arrived in Portsmouth and registered with a local hotel. Against the rules of the SIS both men signed in their real names. Contrary to the fundamental rules of diving, that evening Crabb drank at least five double whiskys. By daybreak, the toxicity in his blood remained fatally high. (11)
The following morning Crabb dived into Portsmouth Harbour. "The main task was to swim underneath the Soviet cruiser Ordzhonikidze, explore and photograph her keel, propellers and rudder, and then return. It would be a long, cold swim, alone, in extremely cold and dirty water, with almost zero visibility at a depth of about thirty feet. The job might have daunted a much younger and healthier man. For a forty seven-year-old, unfit, chain-smoking depressive, who had been extremely drunk a few hours earlier, it was close to suicidal." (12) However, Elliott insisted that "Crabb was still the most experienced frogman in England, and totally trustworthy ... He begged to do the job for patriotic as well as personal motives." (13) Peter Wright, who worked for MI5 said that it was a typical piece of MI6 adventurism, ill-conceived and badly executed." (14)
Gordon Corera, the author of The Art of Betrayal (2011) has pointed out: "Where Bond battled the bad guys in the crystal-clear Caribbean, the diminutive Crabb plunged into the cold, muddy tide of Portsmouth Harbour just before seven in the morning. He had about ninety minutes of air and by 9.15 it was clear something had gone wrong. For a while, it looked like the whole affair might be hushed up. The MI6 officer went back to the hotel to rip out the registration page. The hotel owner went to the press, who sniffed a good story. The disappearance of a well-known hero could not be covered up." (15)
That night, James Thomas, the First Lord of the Admiralty, was dining with some of the Soviet visitors, one of whom asked, "What was that frogman doing off our bows this morning". According to the Russian, Crabb had been seen swimming at the surface at 7.30 a.m. by a Soviet sailor. (16) The commander-in-chief Portsmouth, denying knowledge of any frogman, assured the Russian there would be an Inquiry and hoped that all discussion had been terminated. With the help of the intelligence services, the Admiralty attempted to cover up the attempt to spy on the Russian ship. On 29th April the Admiralty announced that Crabb went missing after taking part in trials of underwater apparatus in Stokes Bay (a place five kilometres from Portsmouth).
The Soviet government now issued a statement announcing that a frogman was seen near the cruiser Ordzhonikidze on 19th April. This resulted in newspapers publishing stories claiming that Crabb had been captured and taken to the Soviet Union. Time Magazine reported: "... soon after anchoring, the Ordzhonikidze had taken the precaution of putting a crew of its own frogmen over the side. Had the Russian frogmen met their British counterpart in the quiet deep? Had Buster Crabb been killed then and there, or kidnapped and carried off to Russia? At week's end, the mystery of Frogman Crabb's fate remained as deep and impenetrable as the waters that surrounded so much of his life." (17) Nicholas Elliott claimed that he knew how Crabb died: "He almost certainly died of respiratory trouble, being a heavy smoker and not in the best of health, or conceivably because some fault had developed in his equipment." (18)
Sir Anthony Eden, the British prime minister was furious when he discovered about the MI6 operation that had taken place without his permission. Eden pointed out in the House of Commons: "I think it is necessary, in the special circumstances of this case, to make it clear that what was done was done without the authority or knowledge of Her Majesty's Ministers. Appropriate disciplinary steps are being taken." (19) Ten days later, Eden made another statement making it clear that his explicit instructions had been disobeyed. (20)
Eden forced the Diretor-General of MI6, Major-General John Sinclair, to take early retirement. He was replaced by Sir Dick White, the head of MI5. As MI5 was considered by MI6 to be an inferior intelligence service, this was the severest punishment that could be inflicted on the organization. George Kennedy Young, a senior figure in MI6 defended the actions of Elliott. He argued that in "a world of increasing lawlessness, cruelty and corruption... it is the spy who has been called upon to remedy the situation created by the deficiencies of ministers, diplomats, generals and priests.. these days the spy finds himself the main guardian of intellectual integrity." (21)
On 9th June 1957, a headless body in a frogman suit was discovered floating off Pilsey Island. As the hands were also missing it was impossible to identify it as being that of Lionel Crabb. His former wife inspected the body and was unsure if it was Crabb. Pat Rose, his girlfriend, claimed it was not him but another friend, Sydney Knowles, said that Crabb, like the dead body, had a scar on the left knee. The coroner recorded an open verdict but announced that he was satisfied the remains were those of Crabb.
In 1960 J. Bernard Hutton published his book Frogman Spy. Hutton argues that his sources claim that Crabb had been captured alive during his espionage activities and had been smuggled back to Soviet Union for torture and interrogation. According to Russian documents that Hutton had seen, Crabb later served as a diving officer in the Russian Navy. To help conceal the fate of Crabb, the Soviets dropped a headless and handless body wearing Crabb's equipment in the water near where he was lost a year earlier.
Tim Binding wrote a fictionalized account of Crabb's life, Man Overboard. Published in 2005, Binding novel is based on the story that appeared in Frogman Spy. Soon afterwards Binding was contacted by Sydney Knowles, the man who had originally identified Crabb's body. Knowles told Binding that Crabb was murdered by MI5 when it was discovered that he intended to defect to the Soviet Union. According to Knowles, Crabb was instructed to carry out a spying operation on the Ordzhonikidze. Crabb was supplied with a new diving partner who killed him during the mission. Knowles alleges that he was ordered by MI5 to identify the body, when he knew it was definitely not Crabb. Binding published this information in an article in The Mail on Sunday on 26th March, 2006.
In November, 2007, Eduard Koltsov, a former Soviet frogman, gave an interview where he claimed that he killed Crabb. It was argued that a tip-off from a British spy (probably Kim Philby) meant that he had been lying in wait. (22) According to Gordon Corera, the author of The Art of Betrayal (2011): "Fearing that Crabb was planting a mine to blow up the ship, the frogman says he swam up from below to slash Crabb's air tubes and then his throat with a knife. The body was so small he at first thought it belonged to a boy. But he then found himself staring into the dying eyes of a middle-aged man. According to his unconfirmed account, he pushed the body away into the undercurrents, leaving a trail of blood." (23)