British Broadcasting Corporation
The British Broadcasting Company was set up by a group of executives from radio manufacturers in December 1922. John Reith became general manager of the organization.
In 1927 the government decided to establish the British Broadcasting Corporation (BBC) as a broadcasting monopoly operated by a board of governors and director general. The BBC was funded by a licence fee at a rate set by parliament. The fee was paid by all owners of radio sets. The BBC therefore became the world's first public-service broadcasting organization. Unlike in the United States, advertising on radio was banned.
John Reith was appointed director-general of the BBC. Reith had a mission to educate and improve the audience and under his leadership the BBC developed a reputation for serious programmes. Reith also insisted that all radio announcers wore dinner jackets while they were on the air. In the 1930s the BBC began to introduce more sport and light entertainment on the radio.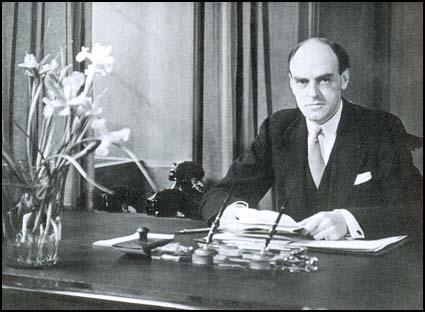 The BBC began the world's first regular television service in 1936. This service was halted during the Second World War and all BBC's efforts were concentrated on radio broadcasting. In 1940 John Reith was appointed as Minister of Information
Writers such as J. B. Priestley, George Orwell, Charlotte Haldane, T. S. Eliot and William Empson were recruited by the BBC and radio was used for internal and external propaganda. This included broadcasting radio programmes to countries under the control of Nazi Germany. These radio programmes went out in 40 different languages
The BBC television service was resumed in 1946 and by the early 1950s it became the dominant part of its activities. Its broadcasting monopoly came to an end with the introduction of commercial television under the Independent Television Authority in 1954. This was followed by the introduction of commercial radio stations in 1972.
It has been claimed that BBC is the most universally recognizable set of initials in the world. For example, by the end of the 20th century an estimated 150 million people were listening to BBC World Service radio.