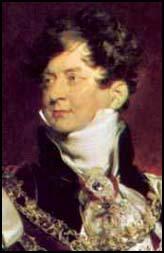 George, the eldest son of George III, was born in 1762. George rebelled against his father's strict discipline. At the age of eighteen he became involved with an actress, Mrs. Perdita Robinson. This was followed by a relationship with Lady Melbourne. The Prince of Wales also rebelled against his father's political views. Whereas George III preferred Tory ministers, George, Prince of Wales, was friendly with the Whigs, Charles Fox and Richard Sheridan.
In 1784 the Prince of Wales, met a fell in love with Mrs. Maria Fitzherbert, a Roman Catholic. Fitzherbert refused to become his mistress and eventually George agreed to marry her. The marriage was kept a secret as under the terms of 1772 Royal Marriages Act, it was illegal for a member of the royal family to marry a Roman Catholic.
By the 1780s the Prince of Wales had become a gambler, a womanizer and a heavy drinker. He was deeply in debt and when Parliament agreed to increase his allowance, George III remarked that it was "a shameful squandering of public money to gratify the passions of an ill-advised young man."
The Prince of Wales continued to overspend and my 1795 he had debts of £650,000. In an effort to persuade Parliament to pay off his debts, George agreed to marry his cousin, Caroline of Brunswick. After the birth of a daughter, Princess Charlotte, on 7th January 1796, the couple lived apart.
In 1811 King George III suffered another bout of insanity. He was no longer able to continue with his royal duties and thePrince of Wales was appointed regent. For years the Prince of Wales had been making promises to the Whigs that he would favour their party when he replaced his Tory father. However, this did not happen, and he quickly became an ultra Tory supporting the policies of Lord Liverpool and his government.
In his youth the Prince of Wales agreed with his friend Charles Fox about the unfairness of the laws that discriminated against Roman Catholics and Protestant Nonconformists. Once in power George changed his views and became a strong opponent of Catholic Emancipation. He also abandoned his support for those Whigswho were arguing for parliamentary reform.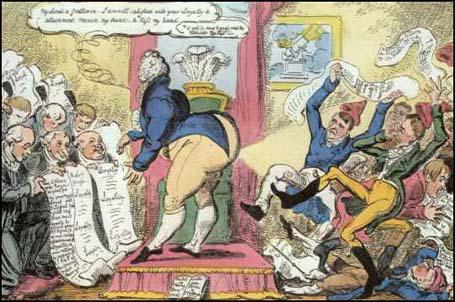 The Prince of Wales was impressed by the work of the architect, John Nash. He commissioned him to design Regent's Park and its environs of curved terraces. He also arranged for Nash to create Buckingham Palaceout of Buckingham House and the rebuilding of the Royal Pavilion at Brighton.
On the death of his father in 1820 George became king. Caroline returned to England to claim her rights as Queen. George IV persuaded Lord Liverpool and his government to bring in an Act of parliament to deprive her of the title Queen and to declare the marriage "for ever wholly dissolved, annulled and made void". The Whigs opposed the measure and their were public demonstrations against the new king.
Queen Caroline appeared at George's coronation but she was turned away from the doors of Westminster Abbey. This resulted in further public demonstrations but this came to an end when Caroline died suddenly on 7th August 1821.
George's indulgent lifestyle seriously damaged his health. By the 1820s he was extremely overweight and was addicted to both alcohol and laudanum. George IV also began showing signs of insanity. He told people that he had been a soldier and insisted he had fought at the Battle of Waterloo. The king became more and more a recluse at Windsor Castle and eventually died in 1830.